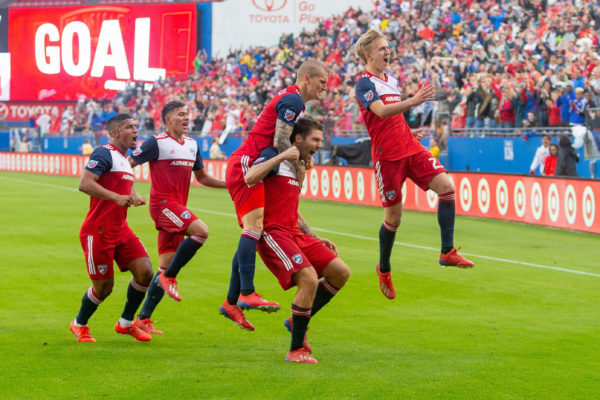 News
MLS Free Soccer Picks & Expert Best Bets For 8/10/19
After one game on Thursday and no games on Friday, it leaves a big slate for Saturday with eight games taking place. Let's breakdown each of the eight games and help you decide where to place your money so you can have a successful day of betting. Here are Pickswise MLS Free Soccer Picks.
Seattle Sounders vs. New England Revolution
I got burned big time on the Seattle Sounders in their last game but I am willing to go back there and play with the fire again. The Sounders did lose their last game at home 3-2 against Sporting KC, but this is a team that has been really strong on their home pitch. They have played 12 games so far this year at home and have won eight of those games. They are facing a Revolution team that hasn't been good on the road and their biggest issue has been the way the defense plays giving up 2.18 goals per game. This game shouldn't take much effort for the Sounders to come out with a win.
Toronto FC vs. Orlando City SC
Toronto FC is at home in this game and will be facing an Orlando City SCsquad that did have to play on Tuesday in the US Open Cup. One thing is for sure when Toronto plays at home, they are going to score a lot of goals, and also give up their fair share. On their home field they are averaging 2.08 goals per game while giving up 1.69 goals during the same stretch. I expect this will be a very open game with plenty of goal scoring chances for both teams. This feels like a 3-2 type of final and that means the over will be covered.
Columbus Crew SC vs. FC Cincinnati
The Columbus Crew have been terrible this season, the good news though is that they have FC Cincinnati coming to town and they have not been good this year. So far this season they have played 13 games away from home and have only won three of them. They are giving up 2.62 goals per game and that has caused them a lot of trouble and will again in this one. The Crew really haven't been good this season, but if they can't beat Cincinnati, it might be time to close up shop and shut down the team. Back the Crew to get the job done on the money line.
FC Dallas vs. Minnesota United FC
Minnesota United FC is hot and currently sit in second place in the Western Conference standings. Over the last five games they have won three of them and played the other two games to draws. They are getting pretty disrespected with the line right now currently sitting over +300. FC Dallas has played to a lot of draws at homes and it feels like that's exactly how this game could work out. The official play is Minnesota United +0.75 but I also think Minnesota on the money line is worth a look.
Sporting KC vs. Real Salt Lake
Kansas City has been a real disappointment this year after being one of the best teams in the MLS last year. They however do come into this game off a huge win in their last game in Seattle, one of the toughest places to play in all of the league. They are facing a Real Salt Lake team who has more wins on the season, but they haven't been great on the road winning only two of the games. Real Salt Lake is averaging only 0.92 goals per game on the road and that is going to cost them in this game. Back Sporting KC to get the job done, and this is one of the best picks on the entire board.
Colorado Rapids vs. San Jose Earthquakes
About a month ago it looked like the Colorado Rapids were going to turn around their season and have success but that hope quickly faded and they are back to their old ways. Over the last five games Colorado has only one win and although it came in their last game, I have zero faith in them in this game. The Earthquakes come into this game having not lost any of their last five games. During that stretch they have four wins and one tie and even on the road, they have a lot of value in this game. They are plus money in this game and that feels like a gift. Back the Earthquakes to come out ahead in this game.
Chicago Fire vs. Montreal Impact
I still can't figure out the Chicago crew so it's probably in your best interest to fade this pick. Whenever I pick the fire to win, they lose, and when I pick them to lose, they find a way to win. Both of these teams have struggled coming into this game winning only one of their last five games, so neither team can really be trusted to get the job done in this one. I would stay away but if you really want to bet on the game, it's a lean to the Impact getting 0.75.
Portland Timbers vs. Vancouver Whitecaps
The Portland Timbers have to be very happy to be out of Minnesota. On Sunday they played Minnesota in an MLS game losing 1-0, and on Wednesday they played them in a US Open Cup game and ended up losing 2-1. They now get a chance to return home, a place they have historically good at, but this season they probably wish they could be a little better. So far this season they have played six games at home and have only won three of the games. The good news in this one is they are facing the Whitecaps, a team that really struggles to score on the road. On the season they are averaging only 1.08 goals per game and I think that will cause them issues again in this game. There is no value with Portland on the money line sitting at -320 but them covering -1.5 goals is the play, I don't love that it's not plus money, but there is no other way to attack the game.