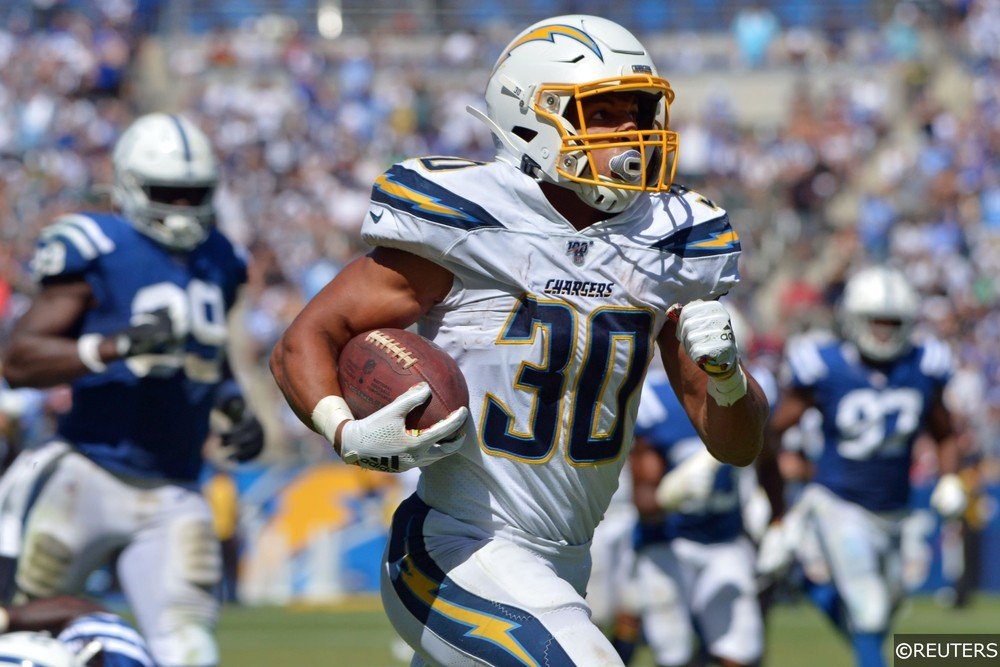 News
2019 NFL Fantasy Football Week 2 Must Start Players
After an exciting first week of the NFL, we start looking toward week two and who needs to be in your fantasy football lineup. Let's breakdown some players who are in good spots to have big weeks and who you need to make sure you start on the way to another winning week of fantasy football.
Lamar Jackson
We had Lamar Jackson as a must-start last week and it paid off in a big way as he threw for 324 yards and five touchdowns. One thing he didn't do much in the game was rush racking up only six yards on three attempts. This week he gets to go against an Arizona Cardinals defense that gave up 385 yards and three touchdowns last week to Matthew Stafford. This week I don't think Jackson will throw for five touchdowns but I think he will rush more, and there is a chance he could have similar fantasy stats as last week. Even if he doesn't quite reach that he is still going to have a good game, and he is a must-start this week.
Josh Allen
Most of Josh Allen's success during week one game in the 4th quarter against the New York Jets but this week he should have a much better week. He gets to face off against a New York Giants who allowed 405 passing yards in week one to the Dallas Cowboys. John Brown, Zay Jones, and Cole Beasley are all deep threats and should attack a terrible secondary for the Giants. He also should get some fantasy points with his legs, and he is someone you need to make sure you have in your lineup if he is on your fantasy team. If you have a quarterback that has a tough matchup it wouldn't be a bad idea to pick up Allen this week.
Austin Ekeler
This one is probably too obvious, but Los Angeles Chargers running back Austin Ekeler is someone you need to be starting. In-game one he had 12 rushing attempts for 58 yards and a touchdown and he also caught six passes. If you are in a non-ppr league he might not be a must-start but there are probably not two other running backs that should be starting in front of him. If you are in a PPR league there is no question, Ekeler needs to be locked in your lineup, no question asked.
Justin Jackson might start taking some carries away from Ekeler but he does a great job catching the ball out of the backfield and that should be enough to keep him as the number one Until Melvin Gordon comes back, Ekeler is probably going to be a must-start every week.
Matt Breida
Matt Breida is someone you need to start, just based on opportunity. Kyle Shanahan wants to be a run-first team and with Tevin Coleman out, Breida is going to get a ton of touches. In week one he really struggled running the ball 15 times for only 37 yards, but the 49ers really don't have any options at running back.
This isn't going to be a guy who is going to run for 150 yards and get you three touchdowns, but he should still be good for at least 10-12 fantasy points this week in a non-ppr league.
Tyrell Williams
One guy who is really happy about Antonio Brown being gone is Tyrell Williams who had a huge first game against a Denver Broncos defense that was supposed to be good. He caught six passes for 105 yards and a touchdown and this week he gets to go against a Kansas City Chiefs defense that is flat out bad.
Derek Carr could also be a guy who probably should be started but I would expect Tyrell Williams to have at least 100 yards this weekend, and it wouldn't be shocking if he caught two touchdown passes.
Marquise Brown
Marquise Brown is only a rookie but he has already proven that he is Lamar Jackson's deep threat and he is someone that should be in line for a lot of work against an Arizona Cardinals secondary that is sketchy without Patrick Peterson.
In week one against the Miami Dolphins, he caught four passes for 147 yards and two touchdowns. Now if you are looking for that type of production out of Brown this week it's probably not going to happen and you might want to reevaluate what exactly you are looking for because that isn't going to be the norm.
If you are looking for someone who will catch a few passes, get around 100 yards receiving, and scoring a touchdown, this is a guy you need to have in your lineup.
Darren Waller
I hope you were quick on the waiver wire and were able to pick up Raiders tight end Darren Waller because he is a must-start again this week. Waller caught seven passes for 70 yards and led the team in targets at eight. It's clear that this is someone that Carr trusts and now he gets to go against the Chiefs. The Chiefs are going to score a ton of points so the Raiders will be doing a lot of passing to try and catch up, which means that Waller will have plenty of chances.
If he can get a touchdown this week, that will just be the icing on the cake. Waller is someone that needs to be in your lineup this week.
Panthers D/ST
We explained this last week but when looking at a defense you shouldn't worry about a team that is going to shut out another team, rather worry about what team is going to create turnovers. On Thursday night the Panthers get to face off against the Bucs which means they face Jameis Winston.
In the first game of the season, he threw three touchdowns including two that were returned for a touchdown. It's clear that he hasn't learned how to play good football yet, and the Panthers should create at least two or three turnovers in this game. If one of those is returned for a touchdown that would be an even added bonus.
Get Exclusive Free Sports Picks To Your Email!