MLB
Back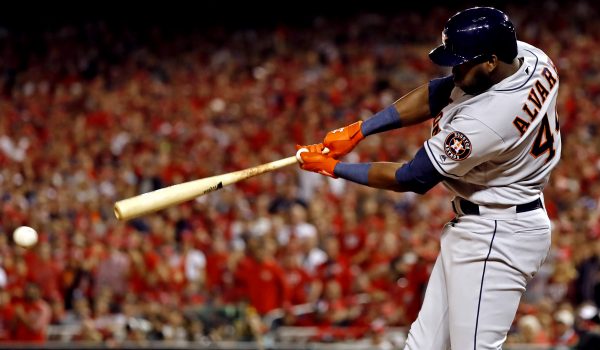 AL MVP: Favor the Sophomores
Before we start dissecting the American League MVP odds, let's get one thing very clear: it always has been (and will continue to be) Mike Trout's award to lose.
This was made clear in the initial futures bets, as the three-time MVP winner was an overwhelming favorite at -115 (which is pretty ludicrous for a futures bet with such a big field). The next highest on the list? That'd be Yankees outfielder Aaron Judge at +1100. That's a whopping, probably-unprecedented discrepancy between the #1 and #2 guys.
So, if you're planning on betting on anyone other than Trout for MVP, you have to create a logical narrative where someone could unseat the undeniable best player in baseball.
Could that be Judge or teammate Gleyber Torres (+1200)? Sure, but they've struggled with injuries, and their full-season numbers are still inferior to Trout's numbers. While Indians shortstop Francisco Lindor (+1600) and Astros third basemen Alex Bregman (+1400) have generally stayed healthy, they've also had plenty of time to unseat Trout. Is that really going to happen now? Could new Yankees ace Gerrit Cole (+3000) do it? If he couldn't do it in Houston, he sure as hell isn't doing it in New York.
Ultimately, the best bet to unseat Trout would have to be a younger player who's only scratched the surface of their potential. Fortunately, we saw a number of rookies last year who exploded on the scene, and if any one of them can take the next step, there's a chance they could be on the same tier as Trout by the end of the 2020 season.
Vlad Guerrero Jr. (+4000), Blue Jays
Little Vlad's rookie campaign didn't necessarily go as planned, as he finished with underwhelming counting stats (15 HRs, 69 RBIs) and an average OPS (.772).
However, the rookie took a significant step forward as the season went on, finishing with an .825 OPS in July (100 plate appearances) and a .977 OPS in August (101 plate appearances). He took a major step back in September, but that's to be expected from a hefty young player who's completing their first regular-season marathon.
If those July/August numbers are Vlad's norms, and if he can build off those norms (he'll be freaking 21 on opening day), then Guerrero could be in the MVP convo sooner than later.
Eloy Jimenez (+4000), White Sox
While Vlad stole all the headlines, the player who was consistently right behind him in the prospect rankings arguably had a better season. Jimenez finished his rookie campaign with 31 home runs and an .828 OPS.
Best of all, Eloy was a monster in the second half, boosting his batting average (.241 in the first half to .292 in the second half), on-base percentage (.303 to .328) and OPS (.785 to .870).
Plus, the White Sox are building towards a playoff appearance. If Eloy is one of the main driving forces for Chicago's postseason run, he'll surely get some love from voters.
Yordan Alvarez (+5000), Astros
Pretty silly that the reigning American League Rookie of the Year wouldn't have higher odds than the players he beat, right? Perhaps it has to do with how highly-touted both Guerrero or Jimenez were, or maybe people are wary of the Astros offense.
Either way, there's no denying that Alvarez looked the part of a future MVP during his rookie season. The scary part is: he got even better as the season went on. The 22-year-old actually had one of the highest second-half OPSs in the entire league (1.044), and he slugged 20 home runs and 53 RBIs in 64 second-half games. Over a full season, you're eyeing 50 home runs and 135 RBIs.
Perhaps voters may avoid Astros for the next few years, although it sounds like the majority of the sign-stealing fiasco took place in both 2017 and 2018. Alvarez didn't join the squad until last year. That's only a positive factor.
Last updated: Tue 11th February 2020