College Football
Back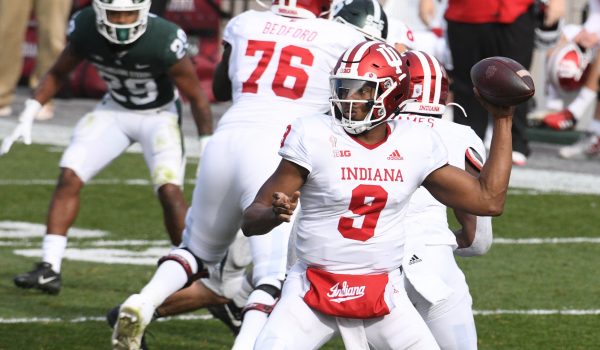 Best College Football underdog picks for Week 12
With college football teams having such a reduced offseason and with all the variance involved, there are bound to be more upsets than ever during the 2020 season. We've already seen some crazy results, and they aren't slowing down anytime soon.
With the public inflating up big favorites, there is often a ton of value on NCAAF underdogs. Each week we'll be bringing you the best underdog picks on the slate, and without further ado let's dive into Week 12:
1. Indiana Hoosiers +20.5 at Ohio State Buckeyes – 12 p.m. ET
Indiana is a top ten team now, but they sure aren't getting treated like one by oddsmakers. Everyone seems to be expecting Ohio State to blow them out, but there's value in this number. Indiana is extremely motivated for what is quite literally their biggest game in decades, and their all-out effort should be enough for them to keep it close. Talented young quarterback Michael Penix Jr. is legit, and he has at least 320 yards in back to back games.
Going up against an Ohio State secondary that has been a bit of a disappointment, he should have some success. I haven't been impressed at all with this Buckeyes defense, and they just gave up 27 points to lowly Rutgers. Given that, I don't see how you could lay a spread this large with them. The Hoosiers aren't a fluke, and they'll prove it here.
2. Oregon State +3.5 vs. California Golden Bears – 3:30 p.m. ET
Getting over a field goal here at home with Oregon State presents a lot of value. The Beavers actually looked really impressive in their loss to Washington last week, and they probably should've won if not for a couple of egregious missed calls by the officials in the fourth quarter. This team is well-coached and I don't just think they'll cover this spread, I think they'll get their first win of the season.
Cal has had their schedule completely messed up by COVID-19 issues already, and they got absolutely smoked in their first hastily scheduled game against UCLA last week. They lost 34-10 to the Bruins, and Chase Garbers averaged only 3.7 yards per attempt while taking five sacks. I think the Golden Bears are going to take a step back this year, and fading them as a road favorite is a golden opportunity.
3. Kentucky Wildcats +30 at Alabama Crimson Tide – 4 p.m. ET
The Wildcats aren't going to win this game outright, but I think this number is a bit inflated. Kentucky's defense is good enough that they can cover a 30-point spread against just about anybody. They've given up 20 points or fewer in four of their last five games, and the one they didn't they still won by scoring 38. If they can hold Georgia to only 14 points for an entire game, I think they'll be able to keep this one within 30.
Alabama is great of course, but they've only won one game by more than 31 points the whole season and that was against lowly Mississippi State. If a team like Missouri can keep it within 19 points against Alabama, then Kentucky should be able to as well. Alabama also had their game last week against LSU postponed, so they could be pretty rusty here.
Want the best college football picks all season long? Make sure to check out our 'NCAAF picks' tab for full game breakdowns. 
Last updated: Fri 20th November 2020