NFL
Back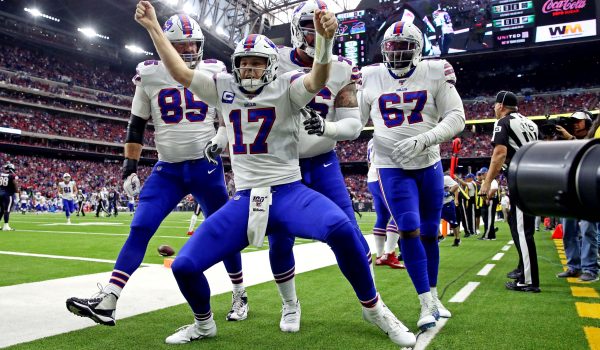 NFL Survivor Pool Picks - NFL Week 7 Survivor Pool Advice
How To Win An NFL Survivor Pool
If you've made it this far into your survivor pool, congratulations! Last week we advised you to go with sub-.500 teams that you wouldn't need to use again. In Week 7, the game plan shifts. The Buffalo Bills and Kansas City Chiefs, both division leaders and preseason contenders, each play arguably their easiest division opponent, making this a good week to give up one of those cards.
If you feel like you can get through this week without having to use Buffalo or Kansas City, that's understandable, but there are certainly some mistakes you shouldn't make. These are our best picks for which games to take – and which to avoid – if you're lucky (or skilled) enough to have made it this far in your pool.
Who to Pick Week 7 NFL Survivor Pool
DO NOT PICK: New Orleans Saints vs. Carolina Panthers
The Panthers started out 0-2 and looked like a lock for an early draft pick after two weeks of the season, especially once Christian McCaffrey got hurt. But they've been one of the biggest surprises in the league since, winning three consecutive games and losing by just a touchdown to the 5-1 Bears last week. The Saints still have a winning record, but their last two wins have been uncomfortably close, and this no longer looks to be the mismatch it seemed to be earlier in the season.
DO NOT PICK: Seattle Seahawks vs. Arizona Cardinals
The Seahawks are the only undefeated team left in the NFC, but they also play in the toughest division in the conference (probably even the league) and they've yet to face a division opponent thus far. Arizona seemed like a clear fourth at the start of the season, but they've kept pace with their division rivals so far. They come into Week 7 with a 4-2 record and have won their last two games by a combined score of 68-20. They'll give Seattle a run for their money.
DO NOT PICK: Green Bay Packers vs. Houston Texans
The Green Bay team that showed up last week in Tampa looked nothing like the squad that started the year 4-0. After scoring at least 30 points in each of their first four games, the Packers put up just ten against the questionable Tampa Bay defense. They take on a Houston team that seems to have found new life after firing coach Bill O'Brien – they won their first game after that and should have won last week if not for a poor coaching decision to go for two when up by seven at the end of the game. The Packers will most likely come through, but if they play like they did last week, this game is far from a guarantee.
PICK: Buffalo Bills over New York Jets
The Bills should be number one on any survivor player's list this week. While they've lost two in a row, both of those have been against first-place teams, and at 4-2 they still lead the AFC East. The Jets have yet to look competitive in any of their six games this season. They were shut out by Miami last week, and at this point it's clear that, with no possibility of reaching the playoffs, they're playing for draft position. The Bills are as heavy a favorite as any team will be this season, so they're the obvious pick in Week 7.
PICK: Kansas City Chiefs over Denver Broncos
If you already used the Bills when they played the Jets in Week 1, or you'd rather take a team coming off a win, this is also a good week to use Kansas City. The Chiefs improved to 5-1 with their win in Buffalo on Monday evening, and their offense isn't even in the same league as that of the Broncos. Denver started the year 0-3 before beating the Jets and Patriots in their last two, but they scored just 18 points in their win over New England, a number that certainly won't cut it against the defending champions. Kansas City should take you into Week 8.
PICK: Los Angeles Chargers over Jacksonville Jaguars
If you've already used both the Bills and Chiefs, or for whatever reason don't feel comfortable using them this week, the Chargers are also a good bet, and they're most likely a team that most players still have in their back pocket. The Chargers have lost four in a row, but three of those have come against the top three teams in the NFC South, and the fourth was against the Chiefs. The Jaguars have now been convincingly outplayed by teams with losing records in four straight games. At 1-5, they may be able to beat the Jets, but there are few other teams in the league they're able to compete with.
What Is An NFL Survivor Pool?
The goal is simple: last as long as you can without incorrectly picking the outcome of a game. You just need to select one game per week, and if you pick the winner right, you move on to the next week. The ultimate goal is to be the last player standing in your pool.
How Does An NFL Survivor Pool Work?
There's just one catch – you can only pick each team once per season. This is where strategy comes in – it would be easy enough to pick the Chiefs every week, but you're only allowed to go with them once, and need to find 16 other winners throughout the season to finish a perfect 17-0.
Pickswise is the home of free NFL picks and NFL Odds. Check out the latest prop bets and parlays as well as expert underdog predictions and computer picks.
Last updated: Fri 23rd October 2020