NFL
Back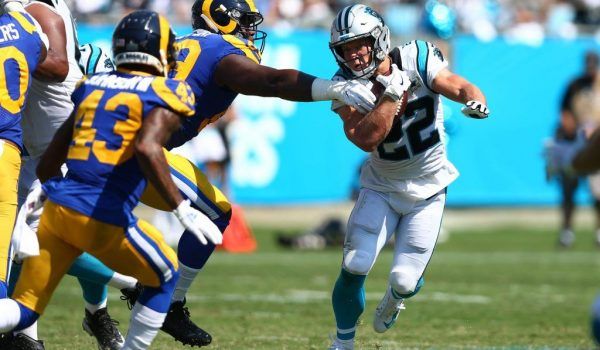 DraftKings Week 17 Cash Game Plays
There are quite a few directions to go when building a lineup for week 17 of the NFL season. A lot of the star players from teams that have already clinched and solidified their spots won't play. For example, the Baltimore Ravens will not be playing any of their key offensive players, including Lamar Jackson. However, this also opens up a few value plays at positions this week. This article, paired with the must-start players article, will help to get you above the cash game pay line in DFS on DraftKings for week 17 of the NHL season. We will look at the top play at the tight end position as well as some of the top plays at the running back and wide receiver position this week.
Christian McCaffrey Breaks the Total Yardage Record
Some people didn't think Christian McCaffrey would have another good season in fantasy this year. McCaffrey is having a season similar to those seasons in the early 2000s that players like Marshall Faulk, Shaun Alexander and LaDainian Tomlinson had. Christan McCaffrey is 216 total yards from the all-time total yardage record, and the Panthers will do everything they can the ensure he gets the record. The Panthers have relied heavily on McCaffrey this season, and I don't see that being any different when they take on the Saints this week. Christian McCaffrey is a must-start on DraftKings, given the bonuses for 100-yards receiving and rushing as he has the chance to get both this week.
DaeSean Hamilton Continues Late Season Breakout on DraftKings
Since Drew Lock took over at the quarterback position, DaeSean Hamilton has posted significant games in DFS. Last week, Hamilton caught six passes on six targets for 65 yards and a touchdown. This week the Broncos take on the Oakland Raiders. The Raiders are allowing the 8th most passing yards per game with 262.4 and are allowing the 2nd most yards per attempt. I look for Hamilton to have another reliable performance against the Raiders, and with the low price, he will return significant value on DraftKings.
Tyler Higbee Continues to Return Value on DraftKings
Over the previous few weeks, Higbee has been one of the biggest DFS producers from the Rams. Higbee was targeted 11 times last week and caught nine passes for 104 yards. In week 15 Tyler Higbee caught 12 passes on 14 targets for 111 yards. Against the Seahawks in week 14 Higbee caught seven passes on 11 targets for 116 yards. This week Tyler Higbee will be going against the team that has been one of the worst in the NFL this season at defending the tight end. Arizona enters this game allowing the 2nd most passing yards per game. I look for Higbee to once again get the 100-yard bonus on DraftKings and score against the Cardinals, making him the top tight end for week 17.
Last updated: Thu 26th December 2019