NFL
Back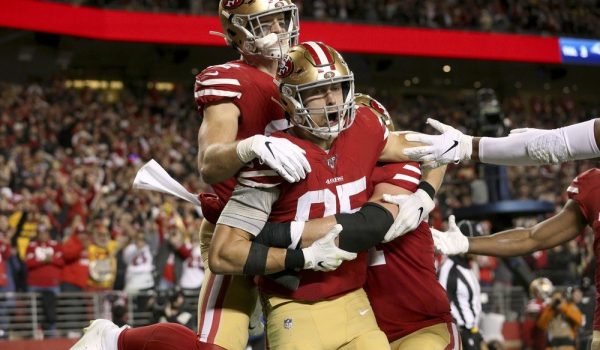 FanDuel Cash Game Plays for Championship Sunday
This week is the final week for full rosters on FanDuel in DFS for football before next season. Let's make this week count and add to the profits we have had this season on FanDuel! This article, paired with the must-start fantasy players article, will help to get you above the pay line this week on FanDuel. I will give you my top value plays at the running back and wide receiver position, as well as my top tight end, picks for Championship Sunday in the NFL. Let's begin by taking a look at the top running back value.
Raheem Mostert Top Value at Running Back on FanDuel
Last week Mostert had to leave the game against the Vikings, which set up a productive day for Tevin Coleman. However, Mostert is still the better back on the 49ers even though he isn't priced that way on FanDuel. The 49ers are one of the top rushing teams in the NFL this season as they enter this game, averaging the 3rd most rushing yards per game with 146.53. Meanwhile, the Packers are most vulnerable to the rush on defense. They enter this game, allowing the 10th most yards per game and the 9th most yards per rushing attempt. I look for Mostert to be one of the key components for San Francisco on Sunday. As a result of his price and the game script, I look for Mostert to be the most significant value at the running back position on FanDuel.
Jake Kumerow Returns Excellent Value on FanDuel
The Green Bay Packers are 7-point underdogs to the San Francisco 49ers in the NFC Championship Game. This means they are going to have to pass to keep it close, and I expect the Packers to use Rodgers and the passing game in this match-up. Richard Sherman will shadow Davante Adams in this match-up, which leaves the other Packer receivers in better matchups. Jake Kumerow is one of the cheapest receivers on Sunday's slate that sees significant action. He also opens up relief for us at other positions.
George Kittle Top Tight End on FanDuel
Last week Travis Kelce was a massive hit for us on FanDuel. This week we are eyeing George Kittle from the 49ers as our top tight end play on Championship Sunday in the NFL. Kittle has been the most significant piece of the 49ers passing offense this season with 85 receptions on 107 targets for 1,053 yards and five touchdowns. The Packers have a history of allowing big games from tight ends, and that was evident in the week 12 game where Kittle had six receptions for 129 yards and a touchdown. Kittle is our top play this week on FanDuel.
Last updated: Sat 18th January 2020