2022 NCAA College Football Transfer Portal Tracker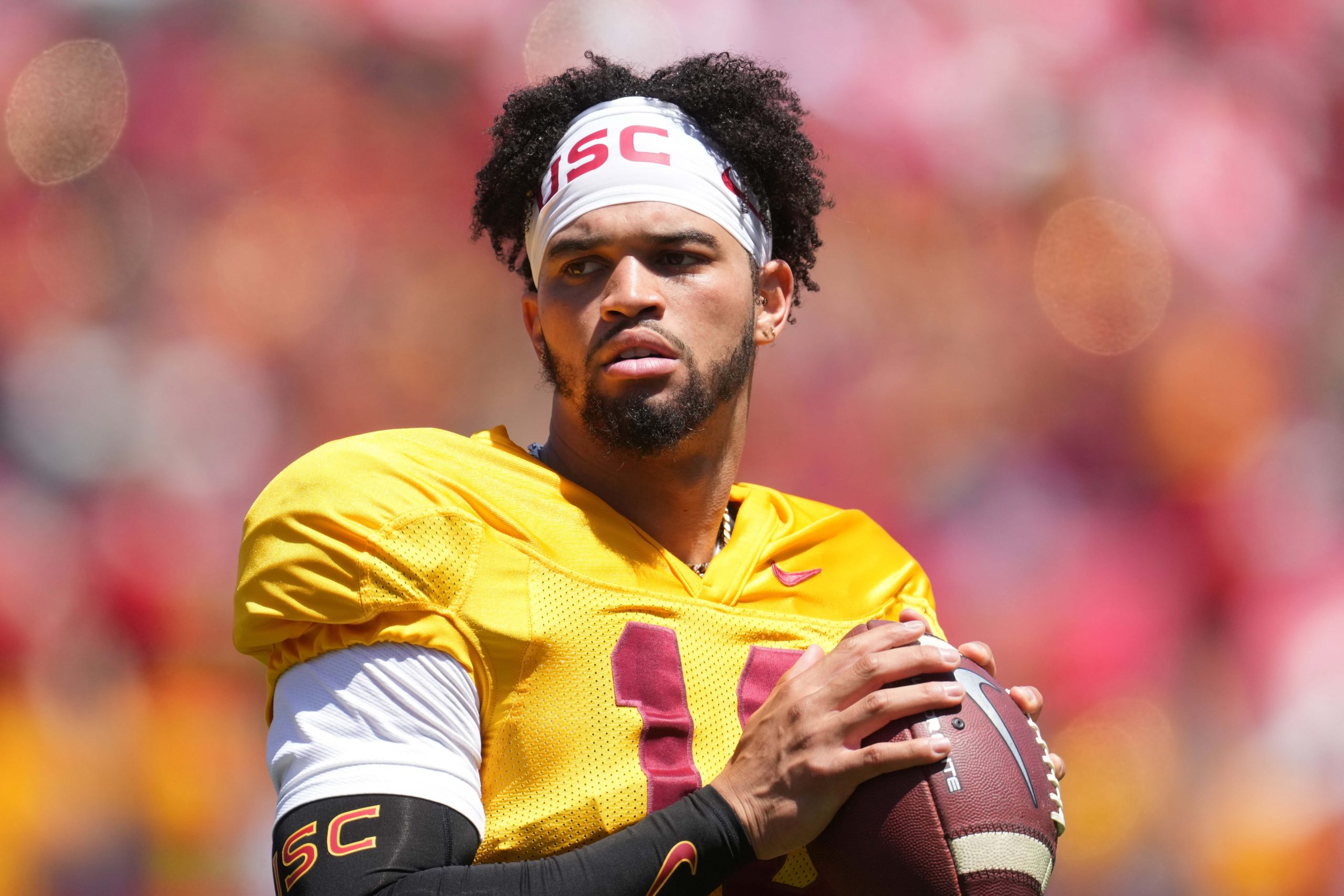 It's hard to keep up with all the transfers in College Football throughout the offseason, so we've made it easy for you. I've gone through every team in the Power Five to find their notable additions and losses in the transfer portal so that you can prepare for the College Football season. Here at Pickswise, we like to try and make your next bet better, so this page will be updated whenever there is a notable addition or loss in the transfer portal from a Power Five school.
Let's get into the Pickswise College Football transfer portal tracker.
Last updated: August 8th
ACC
Boston College Eagles
2021 record: 6-6
Notable additions: WR Dino Tomlin; DL Regen Terry
Notable losses: WR Ethon Williams; WR Kobay White; WR CJ Lewis
Clemson Tigers
2021 record: 10-3
Notable additions: QB Hunter Johnson
Notable losses: QB Taisun Phommachanh; RB Michel Dukes
Duke Blue Devils
2021 record: 3-9
Notable additions: N/A
Notable losses: QB Gunnar Holmberg; WR Jake Bobo
Florida State Seminoles
2021 record: 5-7
Notable additions: DE Jared Verse; RB Trey Benson
Notable losses: QB Chubba Purdy; TE Carter Boatwright
Georgia Tech Yellow Jackets
2021 record: 3-9
Notable additions: TE Luke Benson; S Khari Gee; RB Hassan Hall; OL Pierce Quick 
Notable losses: QB Jordan Yates; RB Jahmyr Gibbs
Louisville Cardinals
2021 record: 6-7
Notable additions: WR Dee Wiggins; RB Tiyon Evans
Notable losses: RB Hassan Hall; RB Aidan Robbins
Miami Hurricanes
2021 record: 7-5
Notable additions: RB Henry Parrish
Notable losses: WR Mark Pope; TE Larry Hodges; WR Dee Wiggins
North Carolina Tar Heels
2021 record: 6-7
Notable additions: LB Noah Taylor; OL Spencer Rolland
Notable losses: RB Josh Henderson; WR Khafre Brown
NC State Wolfpack
2021 record: 9-3
Notable additions: WR Darryl Jones
Notable losses: QB Aaron McLaughlin; DL Ibrahim Kante
Pittsburgh Panthers
2021 record: 11-3
Notable additions: QB Kedon Slovis; WR Konata Mumpfield
Notable losses: RB Todd Sibley; WR Shocky Jacques-Louis; RB A.J. Davis
Syracuse Orange
2021 record: 5-7
Notable additions: RB Juwaun Price; QB Dan Villari; WR C.J. Hayes
Notable losses: QB Tommy DeVito; TE Landon Morris
Virginia Cavaliers
2021 record: 6-6
Notable additions: DE Kameron Butler; WR Devin Chandler; OL John Paul Flores
Notable losses: QB Jacob Rodriguez; OL Joseph Bissinger; LB Noah Taylor
Virginia Tech Hokies
2021 record: 6-7
Notable additions: QB Grant Wells; WR Jadan Blue; QB Jason Brown
Notable losses: QB Braxton Burmeister; QB Knox Kadum; WR Tayvion Robinson
Wake Forest Demon Deacons
2021 record: 11-3
Notable additions: TE Jaeger Bull
Notable losses: RB Christian Beal-Smith
Big Ten
Illinois Fighting Illini
2021 record: 5-7
Notable additions: QB Tommy DeVito
Notable losses: WR Donny Navarro III; WR Deuce Spann; WR Jafar Armstrong; TE Daniel Barker
Indiana Hoosiers
2021 record: 2-10
Notable additions: QB Connor Bazelak; RB Shaun Shivers; RB Josh Henderson
Notable losses: QB Michael Penix Jr.; RB Chris Childers; RB Davion Ervin-Poindexter; WR TE Matt Bjorson; TE Khameron Taylor
Iowa Hawkeyes
2021 record: 10-4
Notable additions: N/A
Notable losses: WR Tyrone Tracy
Maryland Terrapins
2021 record: 7-6
Notable additions: WR Jacob Copeland
Notable losses: RB Peny Boone; WR Brian Cobbs; WR Deajaun McDougle
Michigan Wolverines
2021 record: 12-2
Notable additions: OL Olusegun Oluwatimi
Notable losses: N/A
Michigan State Spartans
2021 record: 11-2
Notable additions: RB Jarek Broussard; LB Aaron Brule
Notable losses: WR C.J. Hayes; WR Ricky White
Minnesota Golden Gophers
2021 record: 9-4
Notable additions: OL Chuck Filiaga; OL Quinn Carroll; DL Lorenza Surgers; CB Beanie Bishop
Notable losses: QB Zack Annexstad; RB Ky Thomas
Nebraska Cornhuskers
2021 record: 3-9
Notable additions: QB Casey Thompson; QB Chubba Purdy; DL Stephon Wynn; DE Ochaun Mathis
Notable losses: QB Adrian Martinez
Northwestern Wildcats
2021 record: 3-9
Notable additions:  LB Wendell Davis; DL Taishan Holmes; DL Ryan Johnson
Notable losses: QB Hunter Johnson; WR Jordan Mosley
Ohio State Buckeyes
2021 record: 11-2
Notable additions: DB Tanner McCalister
Notable losses: QB Quinn Ewers
Penn State Nittany Lions
2021 record: 7-6
Notable additions: WR Mitchell Tinsley
Notable losses: RB Noah Cain
Purdue Boilermakers
2021 record: 9-4
Notable additions: RB Sampson James; WR Tyrone Tracy
Notable losses: QB Jack Plummer; RB Ja'Quez Cross
Rutgers Scarlet Knights
2021 record: 5-8
Notable additions: WR Sean Ryan; WR Taj Harris; OL Curtis Dunlap
Notable losses: QB Cole Snyder
Wisconsin Badgers
2021 record: 9-4
Notable additions: WR Keontez Lewis; CB Jay Shaw
Notable losses: RB Jalen Berger; WR AJ Abbott
Big 12
Baylor Bears
2021 record: 12-2
Notable additions: DT Jaxon Player
Notable losses: QB Jacob Zeno
Iowa State Cyclones
2021 record: 7-6
Notable additions: LB Colby Reeder; DL MJ Anderson
Notable losses: WR Joseph Scates;  S Isheem Young; WR Tarique Milton; DB Kym-Mani King
Kansas Jayhawks
2021 record: 2-10
Notable additions: DE Lonnie Phelps; RB Ky Thomas
Notable losses: QB Miles Kendrick; WR Jordan Brown
Oklahoma State Cowboys
2021 record: 12-2
Notable additions: N/A
Notable losses: DL Jayden Jernigan; DB Tanner McCalister; CB Jarrick Bernard-Converse
TCU Horned Frogs
2021 record: 5-7
Notable additions: RB Emani Bailey; OL Alan Ali
Notable losses: WR Mikel Barkley; RB Zach Evans; RB Ahmonte Watkins
Texas Tech Red Raiders
2021 record: 7-6
Notable additions: LB Dimitri Moore; OL Monroe Mills; OL Cade Briggs
Notable losses: N/A
West Virginia Mountaineers
2021 record: 6-7
Notable additions: RB Lyn-J Dixon
Notable losses: WR Winston Wright; WR Sam Brown; OL Parker Moorer; LB Josh Chandler-Semedo
Texas Longhorns
2021 record: 5-7
Notable additions: QB Quinn Ewers; WR Agiye Hall; WR Isaiah Neyor; CB Ryan Watts; TE Jahleel Billingsley
Notable losses: WR Joshua Moore; TE Jared Wiley
Oklahoma Sooners
2021 record: 11-2
Notable additions: LB Ivan Pace; CB CJ Coldon
Notable losses: QB Spencer Rattler; QB Caleb Williams
Kansas State Wildcats
2021 record: 8-5
Notable additions: QB Adrian Martinez; S Shawn Robinson
Notable losses: RB Clyde Price; RB Jacardia Wright
Pac-12
Arizona Wildcats
2021 record: 1-11
Notable additions: QB Jayden de Laura; WR Jacob Cowing
Notable losses: WR Jaden Mitchell; WR Tayvian Cunningham
Arizona State Sun Devils
2021 record: 8-5
Notable additions: DT Nesta Jade Silvera; QB Paul Tyson
Notable losses: QB Jayden Daniels
California Bears
2021 record: 5-7
Notable additions: DL Xavier Carlton; LB Jackson Sirmon; QB Jack Plummer
Notable losses: RB Christopher Brooks; WR Nikko Remigio; OL McKade Mettauer; CB Jaylen Martin
UCLA Bruins
2021 record: 8-4
Notable additions: QB Dillon Gabriel; LB Darius Muasau
Notable losses: WR Chase Cota; WR Keontez Lewis
Colorado Buffaloes
2021 record: 4-8
Notable additions: WR RJ Sneed; OL Tommy Brown
Notable losses: RB Jarek Broussard; WR Brenden Rice; WR Dimitri Stanley; CB Mekhi Blackmon; S Mark Perry; DB Christian Gonzalez
Oregon Ducks
2021 record: 10-4
Notable additions: QB Bo Nix
Notable losses: WR Spencer Curtis; WR Mycah Pittman
Oregon State Beavers
2021 record: 7-6
Notable additions: LB Andrew Chatfield
Notable losses: N/A
USC Trojans
2021 record: 4-8
Notable additions: QB Caleb Williams; WR Jordan Addison; RB Travis Dye; LB Eric Gentry; CB Mekhi Blackmon
Notable losses: RB Kenan Christon; WR Bru McCoy; WR Joseph Manjack; TE Michael Trigg
Stanford Cardinal
2021 record: 3-9
Notable additions: DB Patrick Fields
Notable losses: RB Austin Jones; RB Nathaniel Peat; LB Gabe Reid
Utah Utes
2021 record: 10-4
Notable additions: LB Mohamoud Diabate; LB Gabe Reid; TE Landon Morris
Notable losses: N/A
Washington Huskies
2021 record: 4-8
Notable additions: WR Junior Alexander; QB Michael Penix Jr.; LB Cam Bright
Notable losses: WR Terrell Bynum
Washington State Cougars
2021 record: 7-6
Notable additions: QB Cameron Ward; DL Nusi Malani
Notable losses: QB Jayden de Laura; WR Joey Hobert
SEC
Alabama Crimson Tide
2021 record: 13-2
Notable additions: RB Jahmyr Gibbs; CB Eli Ricks; WR Jermaine Burton
Notable losses: QB Paul Tyson; WR Xavier Williams; TE Jahleel Billingsley 
Arkansas Razorbacks
2021 record: 9-4
Notable additions: DE Landon Jackson; LB Drew Sanders
Notable losses: RB Trelon Smith
Auburn Tigers
2021 record: 6-7
Notable additions: QB Robby Ashford; QB Zach Calzada
Notable losses: QB Bo Nix; RB Shaun Shivers; WR Ja'Varrius Johnson; WR Kobe Hudson; WR Elijah Canion; CB Eric Reed; S Ahmari Harvey
Florida Gators
2021 record: 6-7
Notable additions: OL O'Cyrus Torrence; CB Jalen Kimber QB Jack Miller; RB Montrell Johnson; OL Kamryn Waites
Notable losses: TE Kemore Gamble; WR Jacob Copeland
Georgia Bulldogs
2021 record: 14-1
Notable additions: N/A
Notable losses: QB JT Daniels; WR Jermaine Burton; S Latavious Brini
LSU Tigers
2021 record: 6-7
Notable additions: QB Jayden Daniels; DT Mekhi Wingo; CB Jarrick Bernard-Converse
Notable losses: WR Alex Adams; DL Landon Jackson; CB Eli Ricks
Kentucky Wildcats
2021 record: 10-3
Notable additions: RB Javon Baker
Notable losses: N/A
Ole Miss Rebels
2021 record: 10-3
Notable additions: RB Zach Evans; EDGE Jared Ivey; TE Michael Trigg; LB Troy Brown; QB Jaxson Dart
Notable losses: RB Henry Parrish; WR Jamar Richardson
Mississippi State Bulldogs
2021 record: 7-6
Notable additions: WR Justin Robinson; WR Jordan Mosley
Notable losses: WR Malik Heath; WR Teddy Knox; LB Rodney Groce
Missouri Tigers
2021 record: 6-7
Notable additions: DL Ian Mathews; DL Jayden Jernigan; LB Charles Hicks
Notable losses: QB Connor Bazelak; TE Messiah Swinson; DL Mekhi Wingo
South Carolina Gamecocks
2021 record: 7-6
Notable additions: QB Spencer Rattler; S Devonni Reed; WR Antwane Wells; TE Austin Stogner
Notable losses: N/A
Tennessee Volunteers
2021 record: 7-6
Notable additions: N/A
Notable losses: RB Tiyon Evans
Texas A&M Aggies
2021 record: 8-4
Notable additions: QB Max Johnson
Notable losses: N/A
Vanderbilt Commodores
2021 record: 2-10
Notable additions: LB Kane Patterson
Notable losses: WR Cam Johnson