Advent Health 400 NASCAR betting preview: Will Bell dominate?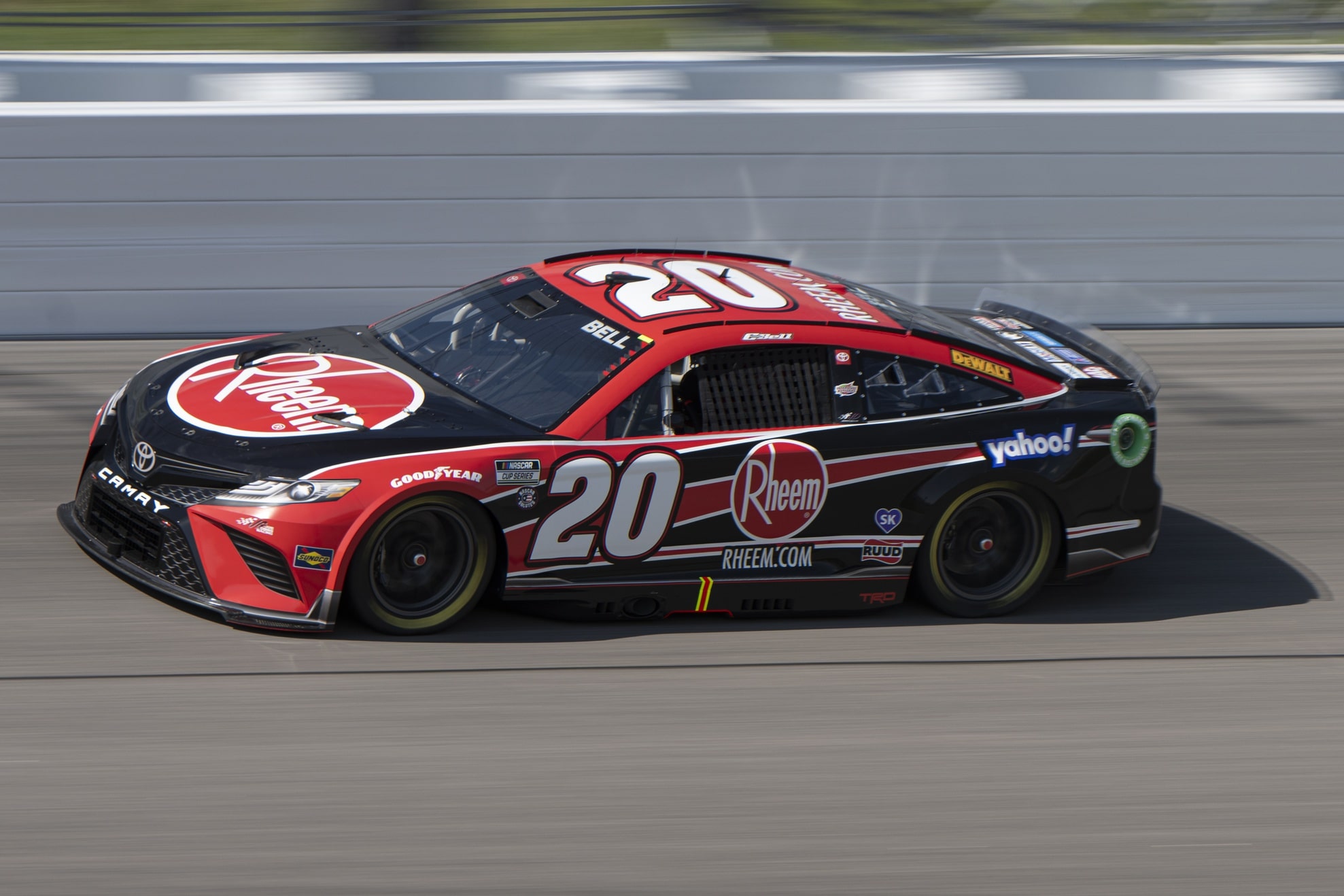 Sunday brings with it the Advent Health 400 at Kansas Speedway. This is the 13th race of the NASCR Cup schedule. Kansas is an intermediate track, or 1.5-mile layout, and while that's the most common track type on the schedule, this isn't a common track. Let's check out why it's not a common track in the Betting Strategy section and then we'll dive into the top bets for the race for winners and props.
Kansas betting strategy
Mile and a half tracks get a reputation for being cookie cutter tracks on the NASCAR schedule. That's not the case with Kansas. It's a track that allows for multiple grooves of racing a couple of different ways. Firstly, the progressive banking in the corners gives drivers a few options. They can either take the shorter way around on the bottom but get less bankings or they can go the high line by the wall and get more banking, but risk bouncing off the wall. The other way it promotes multiple grooves is that the surface is a bit worn. So for Prop betting what does this mean? It means that drivers can move up through the field here and there are often several different leaders throughout races.
For outright winners though, it's a bit of a different story. In the last 10 races here, six times the winner has come from the top-four in the grid. That includes three pole-sitters winning. Aside from one outlier of P23, the rest of the winners have started between P1 and P13. This is a track where track history tends to matter a lot. Check out my free Advent Health 400 Track Breakdown for driver stats for every driver in the field.
Odds available at DraftKings Sportsbook at time of publishing
Advent Health 400 outright
Kyle Busch +700
Busch comes into this weekend with a narrative. He's a new dad for the second time. We all know how dads like to show off for their kids, especially in sports. Oh yeah, plus he's got a fast car, second only to his teammate Christopher Bell. Busch has a history of winning here over the last several races and if he catches a break, should be able to have a good shot at out-dueling his teammate. Let's also not forget that he was winning at Vegas until a restart with 3 laps to go didn't go his way.
Best Bet: Christopher Bell +750
Bell is on the pole. He's there because he earned it by smoking the field in qualifying. He also led all speed metrics in practice. Bell has been sneaky fast in the last several races this year as well as the Toyotas are coming to life mid-season. As was stated in the strategy section, pole-sitters have won here 3 of the last 9 races; we could be in for a fourth.
William Byron +1200
Byron nearly won last week, until Joey Logano ran him over. He also nearly won here last Fall before an unfortunate double pit stop to fix loose lug nuts while he was leading the race late. Byron ran well at Auto Club before a tire issue wrecked him. He also ran well at Vegas this year. The 24-car has been the fastest Hendrick car all year and Kansas is arguably Byron's best track. There's no reason to think the speed won't be there to compete for the Advent Health 400 win following practice and qualifying.
Ryan Blaney +1200
Blaney has been lightning quick all year. He's among the leaders in Green Flag Speed and Total Speed in 2022. He also run faster and better than his results have shown. Blaney has been in contention at some point in nearly every race this year but has gotten caught up in some incident or bad luck on pit road. That changes this week. The 12-car ran P4 in long-run speed in practice and he's starting P10. Kansas is a track where he should have three top-six or better finishes, including a potential win, in the last five races. Had it not been for bad luck that is.
Best prop bets for Kansas
Austin Dillon top-10 finish +125
Has anyone noticed what Dillon has been doing of late? He's posted five top-10s in the last seven races this year. That's on all different styles of track. What's even better? Dillon finished P10 in both races at Kansas last year. Why not take plus money on a guy who's already hit this prop 71.4-percent of the time in the last seven races? Oh yeah, he also showed top-10 speed at practice.
Kevin Harvick top-10 finish +100
All Harvick does is turn out top-10 finishes. That's regardless of track. He's finished in the top-10 half the time this year, including three straight. Even with his recent down turn over the last year and change, he's still got the best average finish here in the field. He's also finished top-10 in every race for the last several trips to Kansas.
William Byron top Chevy +500
If we're betting Byron to win, why not hedge and take him as the top Chevy as well? In the last five races here, only one Chevy has a better average finish than Byron and that's Chase Elliott. However, Byron has been faster than Elliott this year. Let's also not forget the issue last Fall mentioned above. All of this makes Byron too good of a return not to bet this prop.
Kyle Busch +110 vs Kyle Larson
Quite frankly I'm shocked that we're getting plus money on this one. Kyle Busch comes in with the best average finish in the last five races this year of anyone in the field. He's also posted a better average finish than Larson in the last five races at Kansas. We don't need Busch to win to hit, just finish ahead of Larson which is pretty enticing.
Our expert NASCAR handicappers provide race analysis, betting advice and NASCAR Predictions and NASCAR Picks on every race. Check out our latest NASCAR Picks today!