Ambetter 301 NASCAR betting preview: Truex will like the track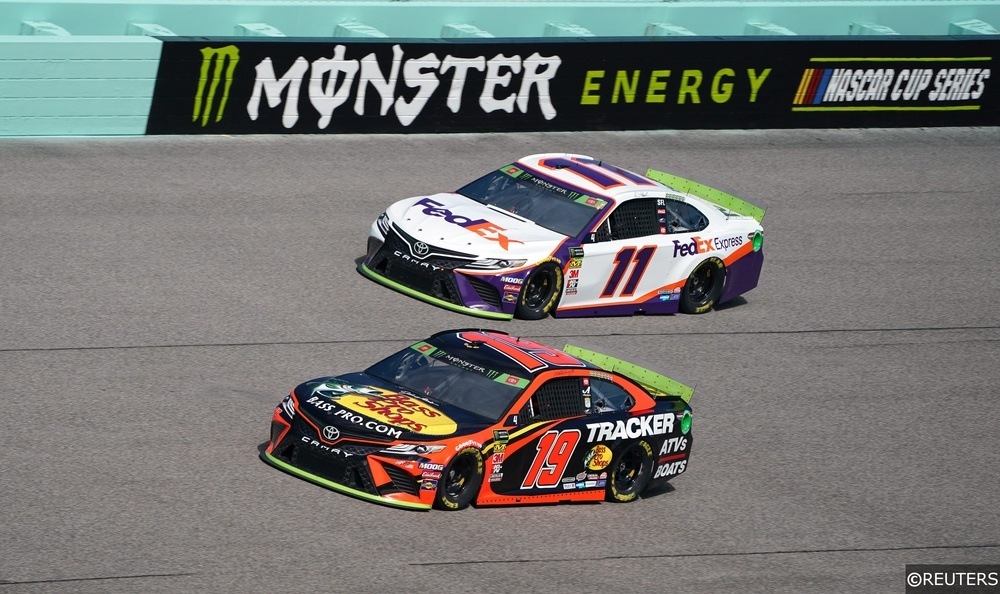 The NASCAR Cup Series heads to New Hampshire Motor Speedway this weekend for the Ambetter 301. It's the lone trip to the northeast track, but that doesn't mean it's a wholly unique raceway. In fact, the 1.058-mile flat track in Loudon, New Hampshire is similar to a few different courses that we have already seen the cup cars race on this year.
Let's take a look at the best bets to be made for this weekend's NASCAR festivities.
New Hampshire race guide and betting strategy
As stated above, NHMS is a fairly short — 1.058-mile — track that's also flat; just seven degrees of banking is the most we see. The surface is a combination of asphalt and granite though it's far from the smooth track. There are grooves, cracks and all sorts of bumps that can play havoc with the grip and ride. While it's one of the shortest tracks on the schedule, it's also one of the trickiest. Let's not forget about the seams as well which can make drivers loose on corner exit.
What does all of this mean for us as bettors? Well, a few things. The shortness of the laps means that track position is king here. In fact, over the last five races at this venue there have been an average of just 3.4 drivers a race to start outside the top 12 and finish inside the top 10. That also means passing is hard and it will take some luck and strategy to move up through the field. This also tends to be a track with several long green-flag runs over the course of the 300 laps and so looking at long-run practice speed is important for finish position bets.
Ambetter 301 outright bets
Odds available at DraftKings Sportsbook at time of publishing
Favorite winner: Martin Truex Jr. +700
Truex has been very impressive at similar tracks. Since his bad Phoenix race, he has been great at places like Richmond, Gateway and Nashville. He is on the pole for Sunday's race, which is always a benefit here to hold the lead and get the best pit stall selection. Truex has been racing a lot better since making his announcement that he's returning for 2023 and that should continue this weekend given the very solid long-run speed he showed at practice on Saturday.
William Byron +1200
Byron has been a guy who has just been missing on the speed the last several races. Well, he's found it. He was top 3 in a few of the key long-run speed metrics at practices before qualifying in the top 5. It shouldn't be a shock that he found speed this week given his runs at Richmond and Martinsville earlier in the year. Starting in the top 5 and with his speed he has a great shot of hanging around and challenging for a win late.
Aric Almirola +1500
Almirola is the defending champion. He also came in to last year's race with about as much mojo as he has now — which is to say not much. This is Almirola's last year in the cup series and he is still looking to make the playoffs; a win gets him in. He is looking for a win at a track he's won at before in a style of racing he excels at — short, flat tracks — and he looked great in practice and qualifying. That's a nice combo at these odds…although we would have loved to have seen him at the 80-1 mark he was when he won!
Brad Keselowski +4000
Okay, have you lost your marbles, Matt? Have you seen how Kes has been running this year and the lack of consistency in his racing? Sure. But, you know what? We only need him to be good this week; that's it. He has been sneaky fast this week and had a stellar qualifying run. That's all well and good, but can he capitalize on it? Why not? He has won here before and he is typically a hard driver to pass on tracks like these. If he can hold his own and catch a break or two, we could be looking at a good return here.
Best prop bets for New Hampshire
Kevin Harvick top-5 finish +160
Harvick simply churns out top-5s here. In the last five races at this track he has two wins, two other top-fives and one P6. He's starting inside the top 10 this weekend and the longer the No. 4 car runs, the faster it is. That's right; Harvick's 15-lap average was faster than his 10-lap average, which was faster than his 5-lap average. At a track like this where long-run speed matters, this is a great spot for Harvick to nab another top-5 finish.
Bubba Wallace top-10 finish +100
There's risk here — not necessarily with Wallace's driving, but more so his pit crew. They've been bad this year to be sure. However, Wallace has shown multiple times he has the speed and skill on the track to make up for it and now he's got the starting spot. He'll roll off the grid in the top-five and all he has to do is not drop back more than six spots during the race for us to get our return. The long-run speed was also top 10, meaning he should hold his spot well.
Weekly Special: Any Hendrick Car to Win +175
Normally I'm not a fan of most of the weekly specials on DraftKings, but this one is too intriguing to pass up. Chase Elliott is starting on the outside pole, Kyle Larson is starting P8 and William Byron is starting P6. All three ran long-run speeds at practice inside the top 5-10 speeds and were each at some point the fastest at practice. The weak link is Alex Bowman in this one, but getting three strong cars with a shot to win to hedge a bit against outright winners is nice.
Riskiest: Harrison Burton Top-10 finish +2000
As if the odds on this didn't say how risky this is…. It's not often we recommend a prop of these odds, but here we go. Burton has run well here in his Xfinity career, finding himself in the top 10 for a bunch of time in his two races. Granted he has just one top-10 (a P5) in two starts, but if you look at the stage breakdowns he was in the top 10 until wrecking out late in one race. Now to Cup stats, he's coming off his first top 10 of his career at Atlanta last week and showed top-6 long-run speed in practice. He is starting back in the field, which is concerning. However, if he can keep passing cars like he has proven to be capable of doing this year and catches a few breaks with pit strategy and wrecks, this could hit. It is a long-shot, though, to be sure.
Our expert NASCAR handicappers provide race analysis, betting advice and NASCAR Predictions and NASCAR Picks on every race. Check out our latest NASCAR Picks today!