BetsByBob College Basketball Saturday Picks: Take the Cowboys against rival Sooners
College Basketball Saturdays; there are no sweeter words to be uttered before tournament time. With 118 Division 1 matchups happening on Saturday (pending COVID-19 cancellations/postponements), we have plenty of options to sort through. Continuing off of a strong Thursday, I have my eyes focused on two plays for tomorrow. The road to +100u is closing in.
NCAAB🏀2/25: 7-2 (+4.85u)
Oregon -1 (+105)✅
Montana -2 (-110)✅
Colorado -3 (-110)✅
Minnesota-4 (-110)❌
Michigan -3.5 (-110)✅
Oregon State -1 (-105)✅
Weber State -6.5 (-105)✅
San Diego State -6 (-110)✅
Washington State +9 (-110)❌

CBB YTD 327-222-13 (+90.70u) pic.twitter.com/pyVxgPSyZP

— Bets By Bob (@BetsByBob) February 26, 2021
Oklahoma State +5 at Oklahoma (-103)
*Playable to +4
We set our focus on a cross-state rivalry, one that most college basketball fans won't want to miss. The Sooners are coming in as the number 7 ranked team in the country, while the Cowboys are unranked. They both have nearly identical records, yet Oklahoma State seems to still be undervalued here. The Cowboys have the clear advantage in my eyes here. Projected top 3 NBA lottery pick Cade Cunningham, a 6'8″ power forward who can beat you at the rim, and punish you behind the arc, will be in the spotlight as the Cowboys look to edge out the Sooners.
Cunningham is a special talent, but the Cowboys are loaded with talent. Add in Kalib Boone, Matthew-Alexander Moncrieffe, Isaac Likekele, and Bryce Williams, and you certainly have your hands full. I am expecting the Cowboys to focus in on stopping the Sooners star point guard Austin Reeves, forcing the rest of the Oklahoma roll players to step up. This should be a tight game all the way to the end, but take the points here and look for the Cowboys to take it to the Sooners.
Be sure to check out our full game preview for Oklahoma State Cowboys vs. Oklahoma Sooners.
Alabama -5 at Mississippi State (-105)
*Playable to -6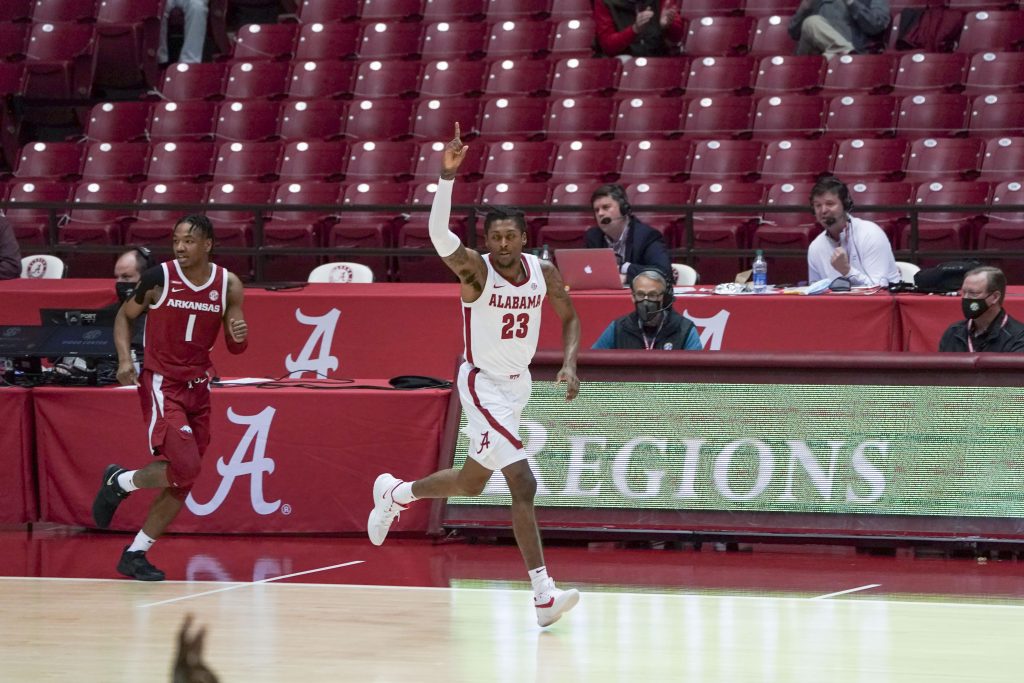 For the second play, we look at Alabama traveling west about 80 miles to take on Mississippi State. The Crimson Tide have been one of the better stories this season. Their offense can bury you in the the blink of an eye, and have shooters all over the floor. The Bulldogs are coming off back-to-back wins, and are stuck right in the middle of the SEC standings. They have a tough task ahead of them with the Crimson Tide looking to rebound off a disappointing loss to Arkansas on Wednesday.
Alabama is going to want to get out on run as they are one of the most up-tempo teams in the nation. The Crimson Tide have struggled against teams who can keep them contained behind the arc, but I don't see the Bulldogs doing that on Saturday. Mississippi State turns the ball over at a very high clip, and that is a recipe for disaster against an Alabama team that can, and will, put up points in a hurry. Look for The Crimson Tide to get back into the win column here in what should be a comfortable road victory against the Bulldogs.
Be sure to check out our full game preview for Alabama Crimson Tide vs. Mississippi State Bulldogs.
Pickswise is the home of March Madness Predictions. Check out all of our March Madness Picks, including daily March Madness Parlays throughout the NCAA Tournament.