College Basketball
Back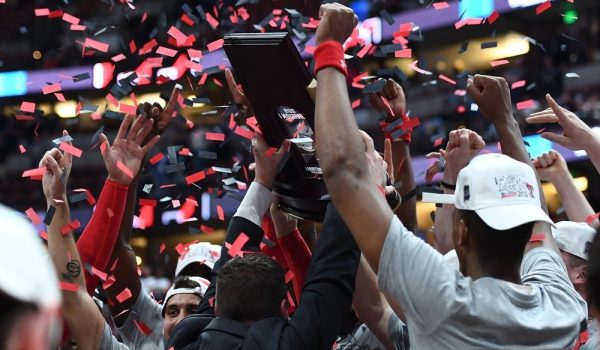 College Basketball Power 16 Rankings: Some Holiday Shuffling
Can you feel it yet? Yes, it's that time of year, Happy Christmas Eve, and with College Basketball action on the Holiday break, its time to take a look at which teams are making the biggest impact throughout College Basketball. The Big Ten still looks like the best conference in the country, yet the team currently atop the standings still sis outside the top 15 in the Power Rankings this week. Let's dive into the College Basketball Power 16 for this week.
1. Gonzaga Bulldogs (13-1) Previous rank: 5th
The Zags take over the top spot, following a pair of number one team's losses throughout the first couple weeks of December. The number one spot in the country remains, with a huge target on it. Can Gonzaga handle it, no games this week with the Holiday's but things only heat up, for Gonzaga. They might be able to hold the top spot for a while. Next Game: none this week
2. Ohio State Buckeyes (11-1) Previous rank: 2nd
The Buckeyes remain one of the best teams and the country even with their surprise loss at Minnesota. They rebounded with a strong neutral sight victory over the Kentucky Wildcats. Next Game: vs. West Virginia (in Cleveland, on Sat. 12/28). 
3. Louisville Cardinals (11-1) Previous rank: 1st
The Cardinals go as star player Jordan Nwora goes. He didn't have his best game against Texas Tech and that resulted in Louisville lone loss to this point. Next Game: vs. Kentucky (Sat. 12/28). 
4. Duke Blue Devils (10-1) Previous rank: 7th
Joey Baker has become a consistent three-point threat for the Blue Devils, and since their upset loss by SF Austin, Duke has picked up their play with road wins at Michigan State and Virginia Tech. Next Game: vs. Brown (Sat. 12/28). 
5. Baylor Bears (11-1) Previous rank: 9th
The Bears have had one game on the schedule between December 10th and 30th and they were able to take of business in a 28-point victory over Tennessee-Martin. Next Game: none this week. 
6. Kansas Jayhawks (9-2) Previous rank: 3rd
The Jayhawks remain in the top six even with a tough one-point loss at Villanova this past weekend. It was Kansas' second loss of the season, but to think they aren't still in the conversation for one of the better teams in the country is crazy. Next Game: @ Stanford (Sun. 12/29). 
7. Oregon Ducks (10-2) Previous rank: 14th
The Ducks were able to pick up a win at one of the hardest venues in the Country, as they rolled into Crisler Center in Ann Arbor and escaped in overtime with a one-point victory over Michigan. They since rolled over Montana and will be looking for more. Next Game: vs. Alabama State (Sun. 12/29). 
8. Auburn Tigers (11-0) Previous rank: 10th
What a start the Auburn Tigers have had, but have they really played anybody yet. They are one of three remaining unbeaten teams in the country, and until they lose they should be among the top teams. Next Game: vs. Lipscomb (Sun. 12/29). 
9. Memphis Tigers (10-1) Previous rank: Team in Waiting
Memphis has put together a really strong start, given likely number one overall pick James Wiseman is no longer with the team. He honestly probably wasn't going to play again this season. So it was better for him to go on and prepare for the 2020 Draft. Watch out for the Tigers. Next Game: vs. New Orleans (Sat. 12/28). 
10. San Diego State Aztecs (12-0) Previous rank: Team in Waiting
The Aztecs can continue to be doubted, but they answer the bell every time. San Diego State is coming off a blowout of Utah by 28 points. The same Utes team that recently took Kentucky down in Las Vegas. The Aztecs are not only unbeaten so far, but they also own some strong wins on the road. Next Game: vs. Cal Poly (Sat. 12/28). 
11. Butler Bulldogs (11-1) Previous rank: 15th
Butler looks to be the class of the Big East, so far, but Villanova is lurking not too far behind. Their lone loss came in a one-point game at Baylor. The Bulldogs also added another quality win in Indianapolis as they handled Purdue with ease. Next Game: vs. Louisiana-Monroe (Sat. 12/28). 
12. Villanova Wildcats (9-2) Previous rank: NR
The Wildcats again proved why they should never be overlooked. They rallied from a four-point deficit to take down number one Kansas. They sure put the Big East on notice. Next Game: none this week
13. Michigan Wolverines (9-3) Previous rank: 6th
The immediate issue for the Wolverines is whether or not they will have Isaiah Livers available moving forward, as he suffered what looked to be a muscle strain, only minutes into their game against Presbyterian. Next Game: vs. UMass Lowell (Sun. 12/29). 
14. Maryland Terrapins (10-2) Previous rank: 4th
The Terrapins take a tumble following a road loss at Seton Hall, who didn't have either of their top two players. The loss was the second straight for Maryland, and second straight on the road. Things only heat up in the Big Ten to start in 2020. Next Game: vs. Bryant (Sun. 12/29). 
15. Penn State Nittany Lions (10-2) Previous rank: NR
Maybe the Nittany Lions are a bit too high in this week's College Basketball Power 16, but they are coming off a resume-building win, as they took down Maryland. Lamar Stevens should be a name to watch in the Big Ten Player of the Year conversation. Next Game: vs. Cornell (Sun. 12/29). 
16. Florida State Seminoles (10-2) Previous rank: NR
Florida State's wins over Florida, Tennessee, and Purdue all were huge at the time, but each has lost a little bit of flavor since. Yet the Noles remain one of the best defensive teams in the country. Next Game: vs. North Alabama (Sat. 12/28). 
Three Teams in Waiting
Michigan State (9-3)
The Spartans are just outside the Power 16, and could easily be back in it to start the new year. Four straight wins, has MSU heating up at the right time. The expected news of Joshua Langford being ruled out the rest of the season dropped, but Rocket Watts looks on his way back to being in the line-up. Next Game: vs. Western Michigan (Sun. 12/29). 
Wichita State (10-1)
The Shockers look to be the biggest threat to Memphis' AAC title hopes. Wichita State's lone loss came against the current #22 West Virginia. They have since rattled off three straight wins over Oklahoma State, Oklahoma, and VCU. Next Game: vs. Abilene Chrisitan (Sun. 12/29). 
West Virginia (10-1)
The Mountaineers have just one loss on the season and look to be a threat in the Big 12. Tests await as WVU will face Ohio State in Cleveland and Kansas in Lawrence in the next two weeks. Next Game: vs. Ohio State (in Cleveland on Sat. 12/28). 
Last updated: Tue 24th December 2019