College football championship week reaction: Young solidifies Heisman case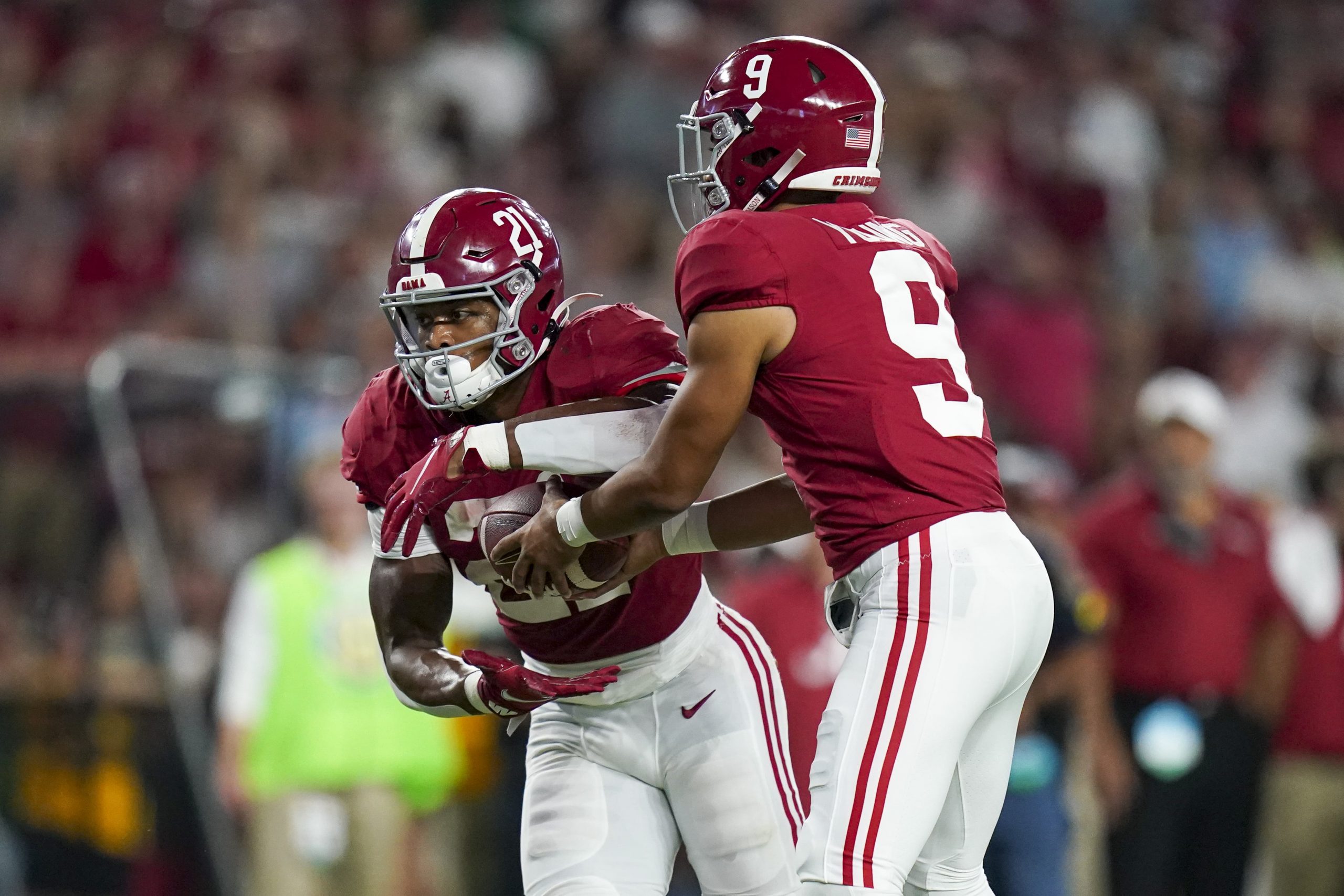 Saturday brought us an eventful day of college football action. Championship week brings extra pressure with every matchup, and some of the top teams in the country delivered convincing performances. More storylines have yet to unfold, as the official College Football Playoff rankings will be released Sunday afternoon. While we wait for that moment to come, let's take a minute to reflect on what transpired this week on the college football gridiron and what it means moving forward.
Young leads Tide to SEC title
The SEC championship game presented a tremendous matchup. No. 1 Georgia (-6.5) went up against No. 3 Alabama (+175 ML) in Atlanta, and the Tide rolled to a 41-24 victory. The win marks their second consecutive SEC title. With the loss, it will be interesting to see where the committee puts Georgia in Sunday's College Football Playoff rankings.
Alabama QB Bryce Young helped his case for this year's Heisman Trophy with his performance against Georgia's elite defense. The Bulldogs were giving up just over 7 points per game this season, but Young and company had no issues generating big plays all game long. The most notable play for Young came early in the third quarter, when he connected with Jameson Williams on a 55-yard touchdown strike. The play gave the Tide a 2-touchdown lead at the time, and put the momentum firmly on Alabama's side. The Tide wouldn't look back after that. Young finished the day with 421 yards through the air to go along with 3 touchdowns. The Alabama QB is now the overwhelming favorite to win the Heisman, as Caesars Sportsbook has Young listed at -2000 to win the award.
AN ABSOLUTE ROCKET FROM BRYCE YOUNG 🎯🎯

(Via @CBSSports)pic.twitter.com/61AYWsfkEr

— Pickswise (@Pickswise) December 4, 2021
Cincy on the brink of history
One of the main storylines in Saturday's college football action involved the No. 4 Cincinnati Bearcats. A win over No. 21 Houston would not only win the AAC title, but make an appearance in the College Football Playoff even more likely. After a close first half, Cincinnati (-10.5) put up a dominant performance in the third quarter and ultimately rolled to a 35-20 win. If selected, the Bearcats would be the first non-Power 5 team to make the playoff. That question will be answered on Sunday afternoon when the official rankings are released, but it's hard to see Cincinnati not getting an invite.
Cincinnati fans can taste the College Football Playoffpic.twitter.com/tQfT3hD7cH

— Pickswise (@Pickswise) December 5, 2021
Michigan keeps rolling
Last week's win over Ohio State was a long time coming for John Harbaugh the Michigan Wolverines. After such an emotional and hard-fought victory, some had to wonder if a natural letdown was coming in Saturday's Big Ten Championship game against No. 13 Iowa. Michigan (-11) quickly removed all doubt, as they jumped out to 14-0 lead in the first quarter. The Wolverines put forth a quality all-around effort, and won by a final score of 42-3. Michigan covered the 11-point spread with ease, which left Iowa bettors feeling down and out.
Every Iowa bettor rethinking their decision to take the points pic.twitter.com/epFqFI3Zxu

— Pickswise (@Pickswise) December 5, 2021
Michigan is playing their best football of the season at exactly the right time. They have a ton of momentum right now, and no matter who their next opponent is, look for the Wolverines to be ready to roll.
At Pickswise we offer free expert College Football Picks andCollege Football Predictions for all games in the Power Five conferences and the top 25 teams outside of Power five, including our College Football Parlay picks each week.