NFL
Back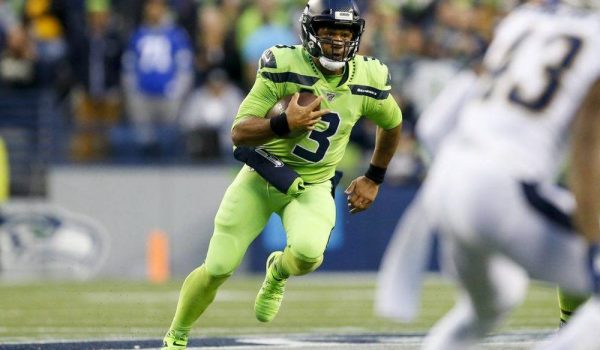 DFS Must-Start Players for Week 16 of the NFL Season
Last week's lineup saw a few duds and a few big games on both DraftKings and FanDuel. This week's slate has fewer options for the main slate on both sites as there are three games on Saturday. There are also a few games that have high implied totals to choose from as well. This article, paired with site-specific plays, will help to get you above the pay line in cash games. We'll take a look at the top quarterback, running back, and wide receiver options for DFS in week 16 of the NFL season.
Russell Wilson Finally Gets Back to DFS MVP Form
Over the previous few weeks, Russell Wilson hasn't put up the huge numbers that we witnessed at the beginning of the season. However, this is a favorable match-up for Wilson to get back to the numbers he was putting up at the start of the season. This week the Seahawks will take on the Cardinals in a game that has an implied total of 50.5 points. The Cardinals enter this game, allowing the most passing yards per game with 290.43. The Seahawks are implied to have the most points this week. As a result, Wilson is at the top of the list at the quarterback position in DFS.
Ezekiel Elliott Helps Cowboys Clinch Division
Ezekiel Elliott finally had the monster game we have been waiting for last week. Elliott had 117 yards rushing with two touchdowns while adding another 43 yards receiving on three receptions. The Dallas Cowboys are our NFL pick in this game, and one of the main reasons is Ezekiel Elliott. This week the Cowboys will travel to take on the Philadelphia Eagles. I look for Elliott to have another significant game this week, and he grades out as one of the top plays at the running back position in DFS.
Julio Jones Finds the Endzone
Julio Jones is 18 catches away from a 100-reception season. Like in previous seasons, Jones has been one of the elite receivers in DFS. However, he continues to be held out of the endzone and needs four touchdowns to reach the double-digit mark. This week, I look for him to get his 7th touchdown of the season when the Atlanta Falcons take on the Jacksonville Jaguars. The Jaguars enter this game, allowing the 7th most yards per passing attempt. I look for Jones to take advantage of the secondary, and he is my guarantee touchdown for week 16 of the NFL season.
Last updated: Fri 20th December 2019