NFL
Back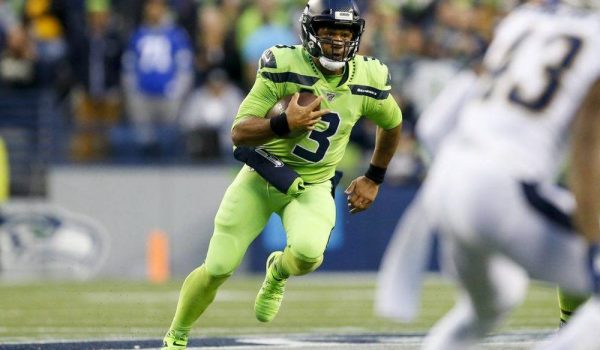 DFS Must-Start Players for Wild-Card Weekend
Welcome to the NFL Playoffs! We now only have two weeks left before the DFS season is over for full rosters on both DraftKings and FanDuel. We will have fewer teams to build around as there will only be eight teams this week and next week to choose from in fantasy football. This article will focus on the top quarterback, running back, and wide receiver for cash game line ups on both DFS sites. Pairing this article with the site-specific articles will help to bring you above the pay line in cash games for Wild Card Weekend in the NFL. Let's begin by taking a look at the top quarterback option this week.
Russell Wilson Top DFS Option at QB
For Wild-Card Weekend, most people will be playing one of two options in Drew Brees or Russell Wilson as they are going against below-average secondaries this week. However, Russell Wilson is cheaper on FanDuel by 600 and is only 200 more than Brees on DraftKings. The Seahawks will be traveling to take on the Philadelphia Eagles in the Wild Card round and are our NFL Pick in this game. The Eagles rank 20th in passing yards allowed per game and 23rd in yards allowed per attempt. Wilson always can take off and add more stats with his running ability, which is why he is our top QB option this week in DFS.
Miles Sanders Has Huge Game Against the Eagles
The Philadelphia Eagles have a banged-up receiving group, and Miles Sanders has benefited from that over the previous few weeks both as a runner and a pass-catcher. This week the Eagles will host the Seahawks in the Wild Card round of the playoffs. The Seahawks rank 22nd in rushing yards allowed per game and 28th in yards per attempt. If the Eagles are going to have a chance in this game, then they are going to have to rely on Wentz and Sanders to get it done.
Michael Thomas "The Stud" in DFS
Michael Thomas followed last season's impressive season with one of the most productive seasons from a wide receiver and broke the all-time receptions record in a season. Thomas is Drew Brees's favorite target in the passing game, and he is priced as such on both sites. However, Thomas is the one stud fantasy player that I am paying up for in DFS this week. The Saints will be going up against the Minnesota Vikings in what should be a favorable match-up in the passing game for the Saints. Minnesota enters this game, allowing the 15th most passing yards per game with 233. This game is in the Dome, which is an added advantage for the Saints. I look for the Saints to look for Thomas early and often in this game, making him my top play of the week in DFS.
Last updated: Fri 3rd January 2020