Diane Knox Balas: Our new Pickswise golf analyst with her Masters best bets, Augusta insights and Tiger talk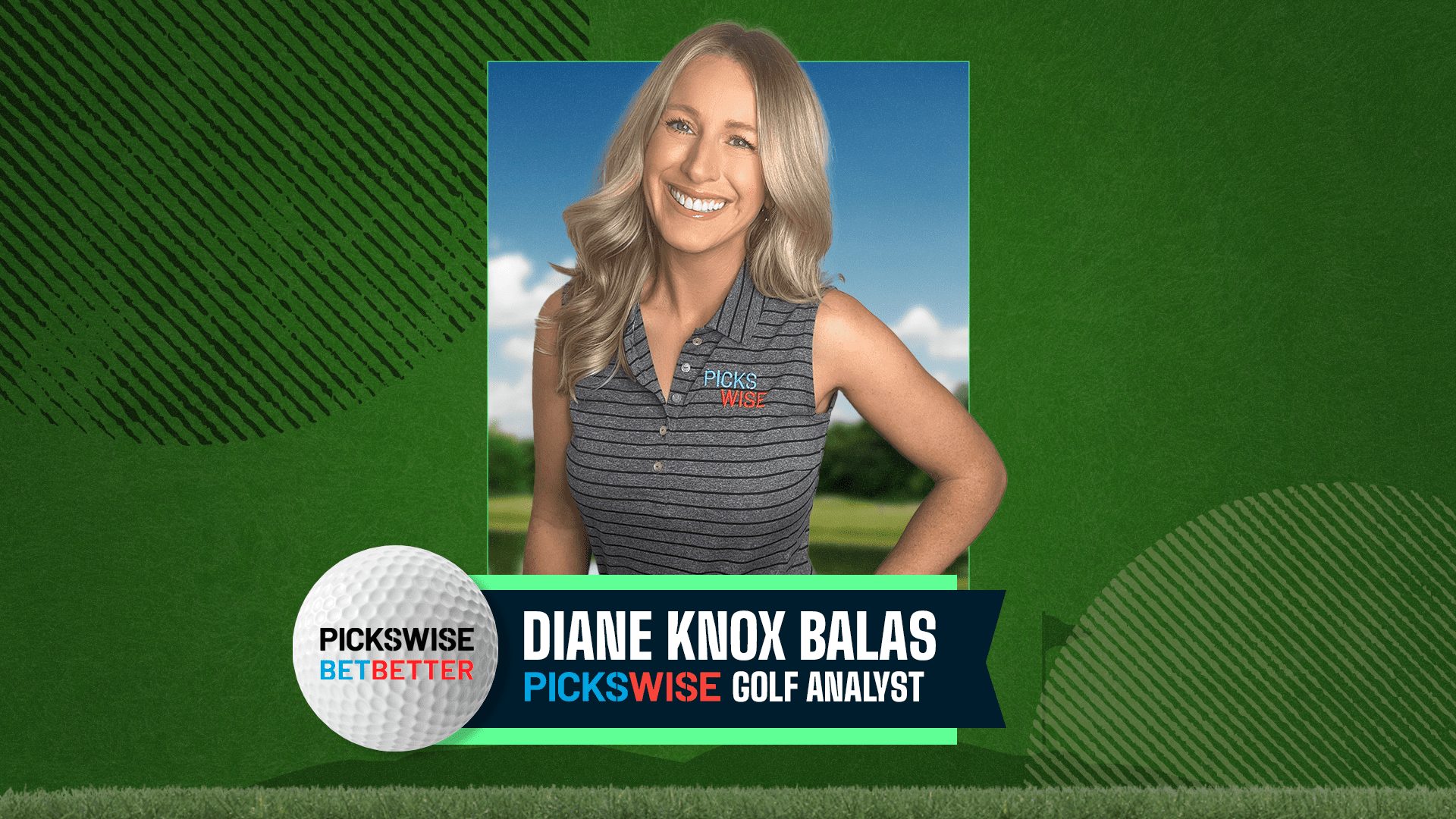 It's here. You can almost smell the azaleas through the TV. If you love golf, you've been counting down to this week since last April. It's the kind of week where the people who don't love golf still feel the excitement and appreciate the legacy of Augusta National's major… and the possible return of Tiger Woods. It seems like the perfect week for me to begin my time with Pickswise. I'm so thrilled to join the team, and having worked in golf media for the past six years, it's fantastic to share my knowledge and picks each week with you right here.
Check out our Masters hub for picks, props, best bets and insight for the biggest golf major of the year!
Tiger Woods – back with a bang?
First things first though, we have to talk about Tiger Woods. After being in a car accident early last year, he admitted he was lucky to not lose a leg, let alone survive. Fast forward to last week, and eager plane-spotters tracked his jet all the way to Augusta. He played (and walked!) 18 holes, spent two days on the range and, as sports fans worldwide waited with bated breath for an announcement on whether or not he'd compete, he remained silent. That is, until Sunday, when he revealed via a tweet that he was on-site and would make a "game-time decision". But hey, he's there, he's playing, he looks great and it's all pointing in the right direction.
On Monday, we saw him on the range, hitting those famous, pure iron shots with ease. The buzz from the course is that he's looking, and striking the ball, great. He knows each hole inside out, he's an Augusta National tactician and, being a 5-time Masters champion, you can never rule him out. I mean, the man won the 2008 US Open with a broken leg! I believe the swinging won't be the issue; it's the walking up and down this hilly track. Tiger's +5000 to win (oh my gosh, can you imagine?!) but +400 for a Top-10 finish looks like a great bet to me.
Augusta National course preview: What you need to know
Last week, the sacred grounds of golf were unveiled for 2022 at the Augusta National Women's Amateur. We got to catch a glimpse of the modifications to holes 11 and 15 – the 11th hole is now 15 yards longer with a wider fairway and trickier bailout to the right of the green. So the 86th edition of The Masters will play as the longest ever.
If you're ever lucky enough to attend the Masters, there are a few things you'll tell anyone who asks when you return. Firstly, the course is a lot hillier than it appears on TV, and the green complexes look much more undulated when you're standing right beside them. Secondly, the grass could be fake. Like seriously, everyone reaches down to touch it to make sure it's real, and to pay homage to the greats that have walked on that turf. Lastly, everything for sale at the concession stands is impeccably cheap; a famous pimento cheese sandwich will set you back a mere $1.50. But I'm not here to pick sandwiches; I'm here to pick some winners!
So what do you need to know before you select your golfers and place your bets? For one, experience is key around AGNC. Just look at Tiger in 2019 – regardless of his recent form he was still one of the pre-tournament favorites at +1400. There's a reason why there's only been one rookie champion donning that green jacket on Sunday (Fuzzy Zoeller in 1979). It's a tough course with a lot of subtle nuances that only the experienced pros know how to navigate. Will Zalatoris in 2021 was almost the exception, finishing solo 2nd in his Masters debut, only one shot behind champion Hideki Matsuyama.
Having said that, long(er) shots can prevail. Patrick Reed (+4000), Danny Willett (+5000) and Matsuyama (+6000) all made some bettors a lot of money when they won the first Major of the year.
Head over to our Masters best bets page for our 3-star plays, including a +4500 First Round Leader pick
Knox's Knockout Masters picks
Scottie Scheffler (+1600)
Available with FanDuel Sportsbook at time of publishing.
The 23-year old Texan has surged in recent months, all the way to No.1 in the world. A fantastic performance at the Ryder Cup, followed by his debut win at the WM Phoenix Open in February, a second victory at the Arnold Palmer Invitational and his most recent success just two weeks ago at the WGC-Dell Tech Matchplay – incredible! Three wins in his last five starts equal stellar form and confidence, and it's no surprise Scheffler is one of the favorites.
Cameron Smith (+1500)
Available with FanDuel Sportsbook at time of publishing.
It's a fact that you have to putt well to win a PGA Tour event and few putt better than the Aussie. Did you see him at The Players Championship?! Throw in his past performances at AGNC and there's value with Cam at the top of the board. He's had three Top-10 finishes in his last four appearances at the Masters, and one of those was a tie for 2nd in 2020. That year, he also set a new Masters record as the first person in tournament history to shoot all four rounds in the 60s. He's refreshed and rejuvenated after a $3.6 million payday at TPC Sawgrass, having skipped the Matchplay to spend time with his family, but this week it's back to business for the mullet.
Marc Leishman (+8500)
Available with FanDuel Sportsbook at time of publishing.
When Cameron Smith won The Players, he was asked why he thought Australians had a great track record around TPC Sawgrass. He said they grew up playing "creative" golf. Well, creative golf is a requirement at Augusta National too, and Leishman has a solid Masters record. His results boast an impressive three Top 10 finishes in nine appearances, including a T5 in 2021. Also, a nice wee sidenote, Dustin Johnson & Hideki Matsuyama both won the Masters at their 10th attempt… and this year will be Leishman's 10th. I'm a big fan of a pattern! Approach and around-the-green shots are important this week and a real strength of his game.
Masters Prop Bets
Will Zalatoris Top-5 Finish (+600)
Available with DraftKings Sportsbook at time of publishing.
I mentioned him earlier, but anyone who finishes higher than every player apart from one in his Masters debut deserves a second look. And Zalatoris broke par in all four rounds. Will's super play has continued this year, with a real premium on ball striking. He almost won at Torrey Pines, and is coming off a T5 finish at the Match Play a couple of weeks ago. The elephant in the room with Zalatoris is the putting – the short putts to be specific. But it seemed as though he'd figured something out at Austin Country Club. Here's to hoping that's the case, because his overall talent is unbelievable.
Abraham Ancer Top-10 Finish (+500)
Available with DraftKings Sportsbook at time of publishing.
I was pretty shocked to see Ancer at such high odds, but his mysterious WD from the Valero Texas Open last week probably has something to do with that. It's a shame as he played well at the Matchplay and was entering his hometown event in great form, but I still think he's worth a look at. He finished T13 in 2020 with the putter turning ice cold on the Sunday, but he still shot three rounds in the 60s. A T26 finish in '21 but Ancer's a more accomplished player now after gaining his first win on the PGA TOUR. Accurate off the tee with really good putting stats.
Cameron Young Top-10 Finish (+1000)
Available with FanDuel Sportsbook at time of publishing.
If I'm looking at a rookie to make a charge up that leaderboard, it's Cameron Young. After a strong start to his first season the PGA TOUR, the 24 year old surged into the OWGR Top 50 thanks to two runner-up finishes – and one of those was at Riviera CC, which is a tough course to crack. He hits the ball a mile, so will capitalize on the par-5s, and his putting stats are really solid. Definitely one to watch out for.
Don't miss our predictions for First Round Leader, including picks at +4500 and +8000!
Pickswise is the home of free expert Masters Golf Picks. Our PGA handicappers preview the entire field to find the best Masters Predictions, including our favorite Masters Prop Bets.