F1 Miami GP betting preview: Max Verstappen a lock to win?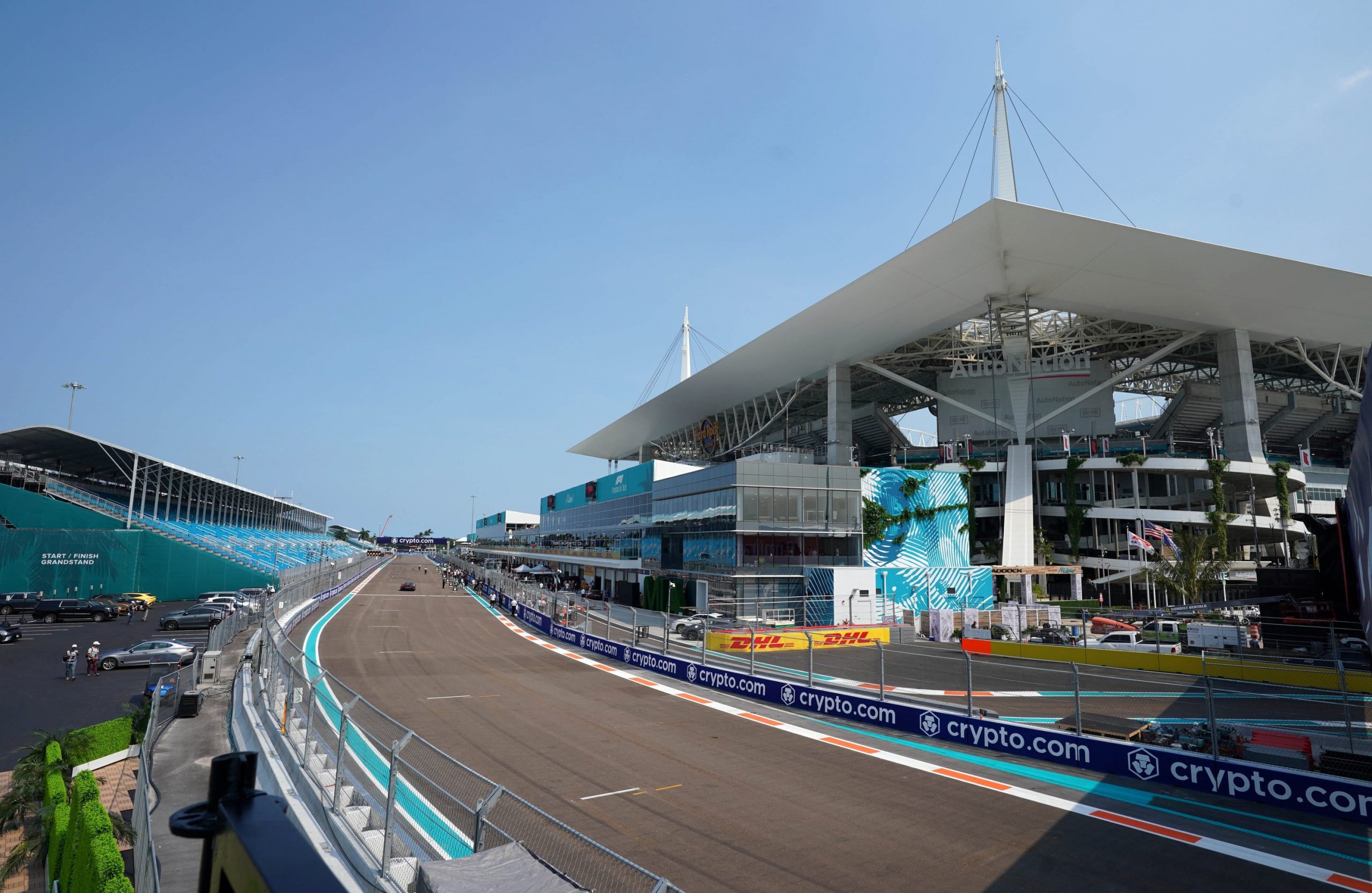 The hype couldn't be bigger for the Miami GP this weekend for the first F1 race stateside this season. It's the first time they'll be racing at this track — a temporary circuit — but that doesn't change how we're betting it. Firstly, we'll get three practices and a qualifying session before Sunday's Miami GP. Secondly, the track compares, in part, to a few of the other circuits that have been raced at this year already. Let's check out the betting strategies for this F1 race and then we'll look at the outright winners and prop bets I'm liking for the Miami GP.
Miami GP betting strategy
With this being a new track, how do we go about betting? Well, we can infer some data from what we've seen happening this year on similar tracks to Miami. What are those tracks? There's some Baku, Jeddah, and even Imola in this layout for Miami. If you haven't seen the layout, I have included a breakdown for it in my free Miami GP preview on fantasyalarm.com. The long, fast, straights including the 1.2-km back straight could wreak havoc on teams that haven't figured out porpoising. There is also a good mix of high-speed and low-speed turns that are similar to both Baku and Imola. We should see overtaking here with three DRS zones in play and a few of the corners being passing chances if a driver brakes differently than another.
Odds from DraftKings Sportsbook at time of publishing.
Editors Note: Picks and props will be updated throughout the weekend following qualifying and practices.
Outright win
Max Verstappen EVEN
It's tough not to take Verstappen at even or positive odds on a track like this. He dominated at Imola to weeks ago, winning by 16+ seconds. Red Bull is shaping up to dominate this weekend with how this track finishes their racing style and what we've seen them excel at this year. They've been the one team so far that's had the best straight-line speed this year and this track should fit their strengths. If you want longer odds that still might pay, Sergio Perez is going off at +1200 and has out-qualified Verstappen this year.
Charles Leclerc +120
If we're not looking at Verstappen, we've got to look at the Championship leader in Leclerc. What Ferrari hasn't been able to make up in straight-line speed, they gain in the corners. If they can avoid the strategy mistake from Imola, they should be able to challenge for the win. Let's not forget that Leclerc has been a master at using DRS this year to immediately overtake once passed. With three DRS zones for the Miami GP, that could be a factor.
Miami GP prop bets
Red Bull double podium finish +150
What is DraftKings doing? First it's even odds on Verstappen winning and now it's this line on a double podium for Red Bull? We'll take it. As we said for Verstappen, this track fits their setup well. At the faster tracks this year, like Jeddah and Imola, we've seen Red Bull outpace the field easily. It appears it's Red Bull's time to start taking the fight to Ferrari, so let's take advantage of the nice return.
Favorite Prop: Fastest lap and race winner: Max Verstappen +175
I'm really not trying to load up on Verstappen this week but it's hard not to with these lines. He pulled off this exact feat last race and nearly did it at Jeddah as well. If we expect Verstappen to be very fast this week and we're betting him to win; why not get a return on what we expect him to do anyway? As a point of reference, he did this three times last year as well.
Top-6 Finish: Valterri Bottas +160
Bottas has finished in the top-6 twice this year and arguably should've done it a third time; if not for an issue at the Australian GP. He's still got the skill to be a fast driver and the Alfa Romeos have been quick on tracks like this as well. If he qualifies inside the top-seven, this line will move closer to even so take it now while it's this good of a return. 
Lando Norris podium finish +450
The McLarens are starting to find the speed we saw from them last year. He finished P3 last race at Imola as well. Norris' finishes have been getting better each week as well. He finished P15 in the first race, then P7, then P5, and then P3 in Italy. With only a few teams capable of being fast on tracks with long straights, it minimizes the competition for podium spots. Norris is squarely in the mix for a spot in the top-three though this week.
Alfa Romeo double top-10 finish +550
This is perhaps the riskiest prop of the picks but there is still good merit behind taking it. The duo of Valterri Bottas and Guanyu Zhou have been deceptively solid this year with Bottas finishing P6 or better three times and Zhou locking down P11 or better thrice as well. Zhou wrecked out in the Sprint race at Imola in a messy start but ran P10 in second practice showing good pace. If he can muster his second points finish of the year, this bet pays nicely. Especially for an under-the-radar team coming into the Miami GP.
At Pickswise we offer free Formula One Picks for today's race including analysis and F1 betting advice from expert Formula One handicappers.