NBA
Back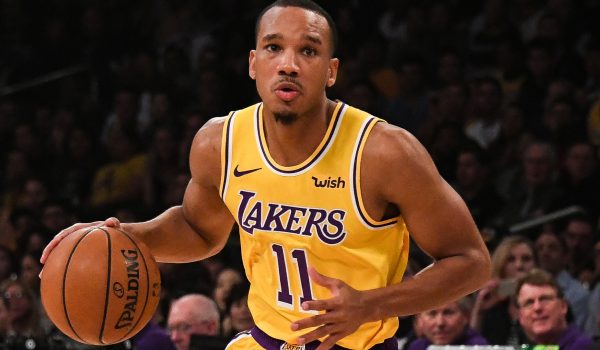 Los Angeles Lakers' Avery Bradley opting out of NBA restart
Los Angeles Lakers guard Avery Bradley is opting out of participating in the NBA restart and he will not be traveling to Orlando to be with the team once the league begins again. ESPN Adrian Wojnarowski broke the news on Tuesday evening. Bradley is one of the few players to question whether the league should restart. Wojnarowski reported that the well-being of his three children is the primary factor in Bradley's decision. Even though Bradley will not be with the team come July, the Los Angeles Lakers should still thrive in the playoffs.
The Lakers veteran noted that his six-year-old son has a history of struggling to recover and respiratory illnesses and likely wouldn't be medically cleared to enter the Orlando bubble after the first round of the playoffs when the family can join the players in the complex. Here's the statement Bradley gave to the NBA on Tuesday.
Will the Los Angeles Lakers struggle without Avery Bradley? 🏀

The 29-year old stated he will opt out of the rest of the NBA season. pic.twitter.com/h4fvtfDtt0

— Pickswise (@Pickswise) June 24, 2020
"As committed to my Lakers teammates and the organization as I am, I ultimately play basketball for my family," Bradley told ESPN. "And so, at a time like this, I can't imagine making any decision that might put my family's health and well-being at even the slightest risk. As promised also, I will use this time away to focus on the formation of projects to help strengthen my communities."
Bradley is not entirely alone in his decision to call time on the current season. Davis Bertans and Trevor Ariza have also decided not to participate in the NBA's return.
Bradley was a key rotation player for the Lakers averaging 8.6 PPG and 2.3 RPG per game.while shooting 44.4 percent from the field, 36.4 percent from beyond the arc and 83.3 percent from the free-throw line. The 29-year old played in 49 games in the 2019-20 season. In his absence the team will lean heavily on Alex Caruso, Caldwell-Pope, and Rajon Rondo although Los Angeles will now be eligible to sign a substitute player to replace him. According to Woj, former Cleveland star J.R. Smith is a front-runner to join the roster.
I wonder how LeBron James feels about that.
Last updated: Wed 24th June 2020