NFL
Back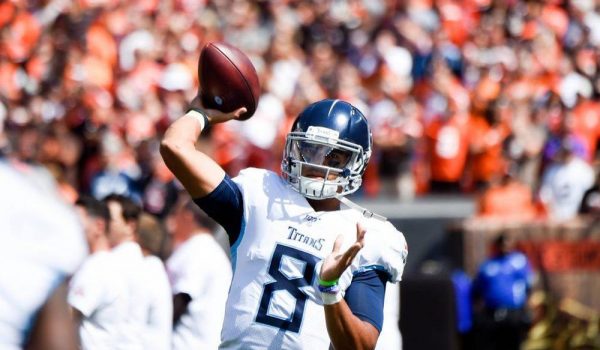 Marcus Mariota will beat out Derek Carr in Las Vegas
The Las Vegas Raiders obviously didn't end up getting Tom Brady, but they did raise plenty of eyebrows around the league by adding a different veteran quarterback in Marcus Mariota. Head coach Jon Gruden and general manager Mike Mayock have both hedged all offseason when talking about Derek Carr, and while he will remain the starter going into the offseason program, there's no guarantee he is under center long-term. Mariota will be breathing down his neck the entire way, so let's take a look at the case for each signal-caller:
Derek Carr:
Carr has had two full seasons under Gruden now, and the results have been middling. His numbers were better this past year than they were in 2018, but he still appeared far too timid at times and Gruden appeared to be visibly frustrated with his overly cautious play. The fact that the Raiders flirted with Brady and by Gruden and Mayock both publicly equivocated when talking about Carr's role with the team speaks volumes. If they were sold on Carr being their starter than they wouldn't have acted the way they did all offseason, it's that simple. Carr has thrown for 22 or fewer touchdowns in three straight seasons, and I'm not sure he has the upside that Gruden is looking for.
Marcus Mariota:
Mariota is in an interesting spot, and he will now have the opportunity to do to a different quarterback what happened to him this past season. He entered last year as Tennessee's starter, but when the Titans traded for Ryan Tannehill last offseason, the writing was on the wall. He didn't play well with Tannehill looming over his shoulder, and it wasn't long before he was replaced. He is almost three years younger than Carr, and almost certainly has a higher ceiling, which could be what the Raiders are looking for as their other free agency moves signal that they are all in on 2020. Mariota showed plenty of flashes early in his career, and he was the second overall pick for a reason. He certainly didn't sign with Vegas just to become a back up and hold a clipboard indefinitely.
The bottom line:
I think this is going to be Mariota's job before too long. He never had a great supporting cast in Tennessee or an offensive-minded coach, and Gruden likely thinks that he will be able to work wonders on him. Back when Mayock was still a draft analyst he had Mariota as his top quarterback in 2015, ahead of first overall pick Jameis Winston, so there are a lot of things working in his favor.
If the team was thrilled with Carr they would have said so, and no quarterback plays well with a potential replacement waiting in the wings and causing controversy. Carr will be replaced as soon as he falters, and at this point it would be very surprising if he makes it the entire season. He clashed frequently with Gruden on the sidelines last year, and despite their public denials, it looks like that relationship is tenuous at best. Teams simply don't bring in high-profile backups for no reason, as Mariota learned the hard way with the Titans.
The Raiders are currently +1000 to win the AFC West at legal sportsbooks like Draftkings.
Last updated: Thu 19th March 2020