NFL DFS Monday Night Football showdown lineup advice: Raiders vs Browns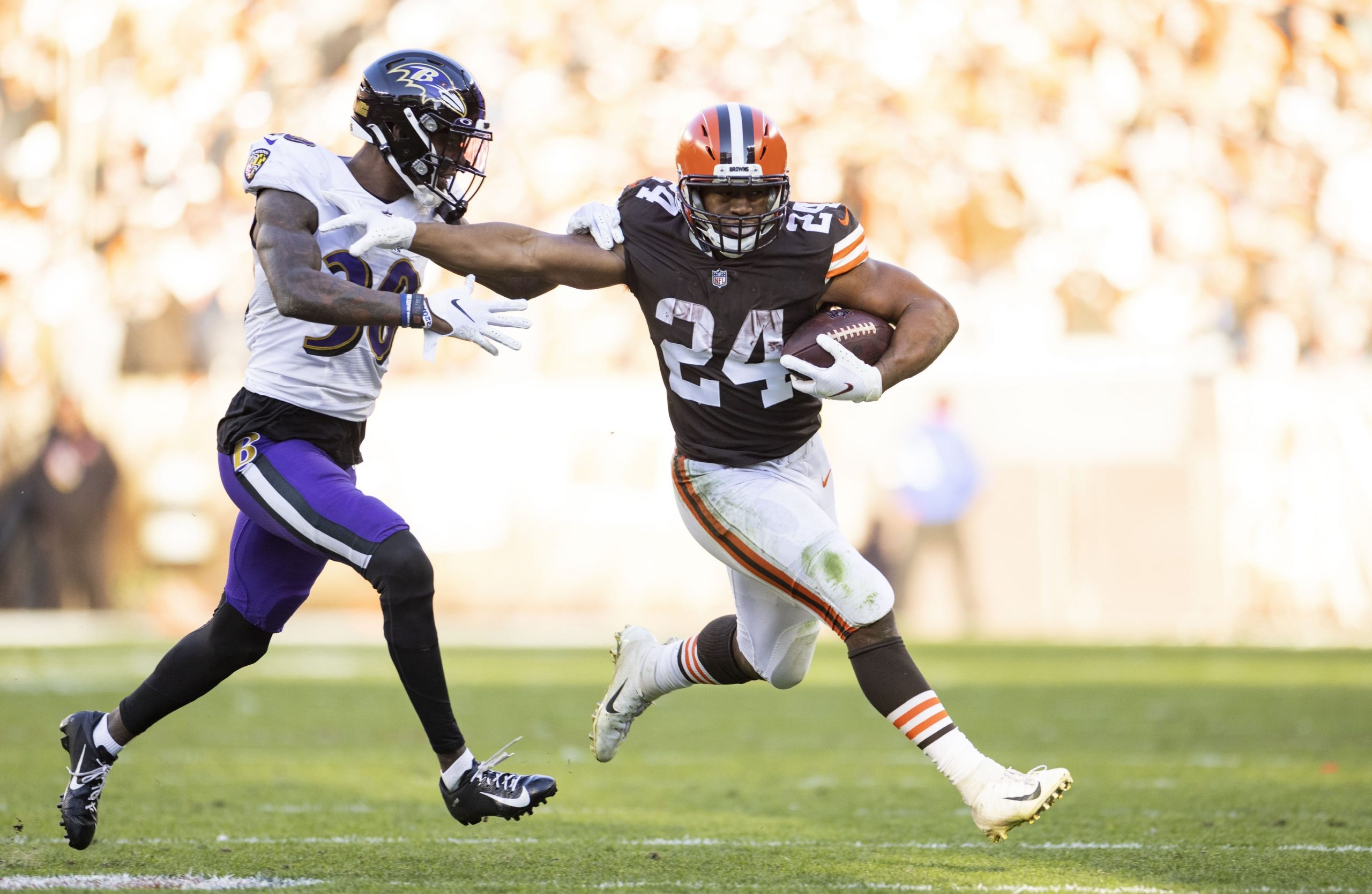 Welcome to daily fantasy football, Pickswise Nation. For those who haven't yet dipped their toes into the DFS pool, allow me to introduce myself. My name is Howard Bender and I have been working in the fantasy sports industry for more than 20 years. I am the head of fantasy sports content for Fantasy Alarm and DFS Alarm as well as a bi-weekly columnist for the New York Post. We've enjoyed tremendous success over the years, but this NFL season has been one of our best as our Playbook and Showdown write-ups have already brought in a $1,000,000 winner on FanDuel, as well as several others who have enjoyed six-figure wins. We promote the process and teach you to be a better DFS player and that has certainly been the case this year. Welcome to the #FAmily…
Due to the COVID-19 outbreak around the NFL, the league moved the Raiders-Browns game to Monday and the two teams will square off at 5pm ET. As such, the DFS sites will have a Showdown slate for the game, and this might be an interesting one to play. The Raiders haven't lost anyone important so they will be at full-strength while the Browns are going to be using a third-string quarterback, a limited number of pass-catchers and have a makeshift defense that could end up allowing a lot of points to be scored. The lean in your DFS showdown lineups may tilt towards using more Raiders, but don't ignore the Browns completely. There just might be a sneak play or two to check out.
MVP/Captain
Nick Chubb, RB CLE
This should be an interesting match-up for Chubb as the Raiders have been incredibly soft against the run, allowing 125.3 yards per game with 14 rushing touchdowns on the year, but he is likely to be without both starting tackles this week. Jedrick Wills has been a force with his run-blocking all year, so he will be missed, but with so many other COVID cases affecting the passing game (we still don't have confirmation on who the Browns QB will be), you should expect a high-volume game here. Thirty carries will not be out of the question.
Hunter Renfrow, WR LV
He'll be highly-owned in this one as the Browns secondary is in shambles and he's been an absolute target-monster lately with 24 in his last two games and an average of just under 10 per game over his last six. He's coming off three-straight 100-yard efforts and while he's only got one touchdown in his last four games, he's got three in his last six. The Raiders may not have to throw as often tonight, but he'll still get the heavier load than the other wideouts.
Derek Carr, QB LV
While the Browns weren't giving up a ton of yards through the air this season (just 215 per game), they did allow 23 passing touchdowns and opposing quarterbacks posted a 92.7 passer rating against them. Now, their entire secondary has been decimated by positive COVID tests. Carr should have little to no trouble throwing the football today and is likely to be very highly-owned despite some recent subpar performances.
Other Plays
Josh Jacobs, RB LV
While the Browns are allowing just 106.2 rushing yards per game, they've actually allowed 144.7 per game over their last three. Now with the defensive line weakened, you can expect high-volume for Jacobs. The one thing holding me back from pushing all-in is that both Jalen Richard and Peyton Barber will be active. Jacobs had been seeing an average of six targets per game over the last four weeks which has boosted his value tremendously. If Richard comes into play, we may not see the receptions which, obviously hurts his value, especially on Draft Kings.
Donovan People's Jones, WR CLE
Last man standing, right? Jarvis Landry has COVID and Anthony Schwartz is banged-up. The Browns have some random guys who will likely see some snaps, but whomever is quarterbacking this team, the focus will be on the running backs, the tight ends and Peoples-Jones. We don't expect the Browns to throw much and he'll see Casey Hayward in coverage a lot, so things could be lean on the targets. Still, once they get into the red zone, if the Raiders start stacking the box, Peoples-Jones should see a few jump balls thrown his way.
David Njoku, TE CLE
Not only are the Browns light on receivers, but Austin Hooper has COVID and Harrison Bryant is still questionable with an ankle issue. That should put Njoku into quite the spotlight tonight as the Raiders rank 30th in DVOA against the tight end and are allowing the second-most fantasy points per game to them. Njoku's price should allow you to lock him in with some other strong plays, and he is definitely going to be my favorite to use.
Zay Jones, WR LV
With the loss of Darren Waller, Jones has gone from random dart-throw to the second-most targets on the Raiders. He's got 19 over his last three games and while he has yet to turn any of them into a touchdown, he's had five catches in two of his last three which helps boost his value in full-point PPR formats. He could see a lot of Denzel Ward, so keep your expectations in check..
Nick Mullens, QB CLE
He's going to be game-managing tonight and that's about it. Expect him to throw here and there, especially in the red zone, but the Browns are likely to run as much as possible against the Raiders tonight.
Foster Moreau, TE LV
While the Browns rank 11th in DVOA against the tight end, they're still allowing over 50 receiving yards per game to them and are giving up the ninth-most fantasy points per game to the position. Moreau is not Darren Waller, and the Raiders still have an array of pass-catchers, so while Moreau will still see targets, he's not going to be the beast you really want to have.
D'Ernest Johnson, RB CLE
While the Browns will likely give Nick Chubb the bulk of the carries, if they jump out to a substantial lead, Johnson could be the guy they turn to in the second half to chew up the clock. You won't see the volume until the second half, but given how soft the Raiders run defense is, he could end up with a big night on minimal carries, especially with the lack of pass-catchers on the roster for tonight.
Raiders D/ST
As of right now, the Browns are looking at Nick Mullens as their starting quarterback and that's not going to be good for them. There was hope that Mayfield would play but it doesn't sound promising. The Raiders are not normally a defense you want to invest in, but there are worse things out there tonight.
Dart Throws
DeSean Jackson, WR LV
He's really much more of a dart-throw and I'm not even sure the Raiders are going to need to use him often. I could see them taking a few early deep shots just to let the Browns know they are aware of their weaknesses tonight, so if you're building multiple lineups tonight, having a share of him might allow you to get some bigger names into the rest of the lineup.
Rashard Higgins, WR CLE
The Browns simply don't have any other wide receivers, especially if Anthony Schwartz misses the game with his concussion. This is about as big a dart-throw as you can get tonight, so use him only if you're doing some max-entering of some large-field GPP tournaments.