Super Bowl 56 Gatorade Shower Bets
No game in the entire world of sports inspires more betting than the Super Bowl. Given the number of available props, the actual outcome of the game is inconsequential by comparison. You can bet on basically everything (including the National Anthem and the halftime show). The color of Gatorade with which the winning coach gets dumped is no exception. That prop is the one on which we will focus in this piece.
How To Bet On The Super Bowl Gatorade Shower
Most sportsbooks will have Gatorade odds at some point leading up to Super Bowl Sunday. That includes FanDuel, which does not have them available right now but was part of the action for last year's matchup between the Tampa Bay Buccaneers and Kansas City Chiefs. In that Super Bowl, Orange was a +100 favorite but Blue cashed as a +650 longshot.
Super Bowl Gatorade Shower Previous Winners & Trends
Blue was the Gatorade of choice last year for the third time since records of this event started being kept in 2001 — but also for the third time in the span of just seven years. Orange is the only other color with multiple dumps in the last 12 seasons, with 5. Dating back to 2001, Clear/Water is in second place with 4 — all coming in a 4-year span from 2005 through 2008. Yellow is next with 3 douses, most recently in Super Bowl LIII when the Philadelphia Eagles upset the New England Patriots.
Only 3 times since 2001 has the color of the Gatorade matched the winning team's color scheme. Pittsburgh head coach Mike Tomlin's clothes turned Yellow following Super Bowl XLIII, while New England head coach Bill Belichick has twice gotten Blue treatment.
Only 4 times in the last 21 installments of the biggest game in American sports has the winning coach avoided seemingly certain doom. All 4 of those Super Bowls were decided either on the final play or in the last few seconds, thus not giving players necessary preparation time to issue a Gatorade bath.
Here is the list of the last 10 Super Bowl Gatorade shower colors: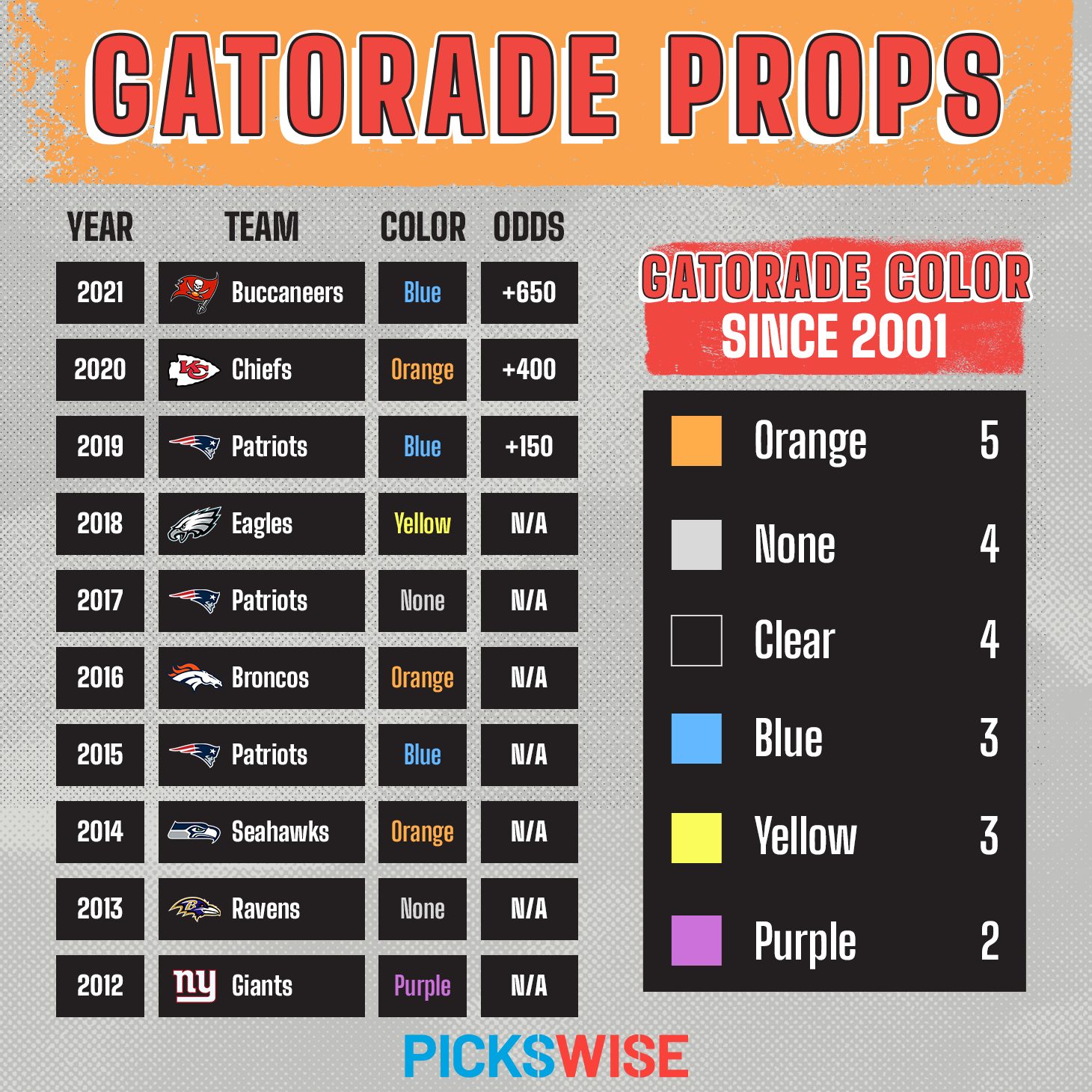 Super Bowl Gatorade Shower Odds
Orange +200
None +300
Blue +400
Yellow/Green +400
Clear/Water +600
Red/Pink +750
Purple +800
Unsurprisingly given its relative dominance in recent years, Orange is the current favorite for Super Bowl LVI on Feb. 13. It is followed by no bath, Blue, Yellow/Green, Clear/Water, Red/Pink, and Purple.
Even though the Gatorade color has matched the winning team's color only a handful of times, you have to think Blue got a boost because of the Rams' participation in this year's Super Bowl (plus they are favored to win, putting Sean McVay more at risk of a soaking than Zac Taylor). Of course, Blue's recent run of cashes may be another factor in its spike in odds (last year Blue was +650; right now it is +400).
The two remaining teams, of course, are the Rams (Blue) and Bengals (Orange). Other than no bath — which could happen in the event of a down-to-the-wire contest — those are the 2 favorites. As mentioned above, the Gatorade color is rarely correlated with teams' uniforms. But those 2 colors have combined for 6 dumps in the last 8 Super Bowls. Even when you don't even factor the teams' color schemes into the equation, Orange and Blue are good bets.
Odds going into the Super Bowl
Super Bowl Gatorade Shower Picks and Predictions
Although Orange is a considerable favorite, it still has good value at +200. After all, we have some recent data to work with when it comes to making that pick. Orange is a comfortable all-time leader with 5 baths since records started being kept in 2001. All 5 of Orange's appearances have come in the last 12 years. Blue is the only other color with multiple dumps during this 12-year stretch, with 3.
I am picking the Bengals to win, and Ross Tucker has 3 stars on them covering a +4.5 spread. If Cincinnati can, in fact, lift the Lombardi Trophy then it makes Orange an even more likely color winner. Give me Orange.
Free NFL Super Bowl 56 picks and other information
Want more Super Bowl novelty props picks and predictions? Be sure to check the rest of our previews to make sure you're as informed as possible before making your bets on the big game!
Want more than our Gatorade Shower Super Bowl Prop Bets? Be sure to check out our latest Super Bowl Predictions for even more expert analysis.