NHL Thursday mega parlay (+1096 odds): Let's make it 2 in a row after last night's win!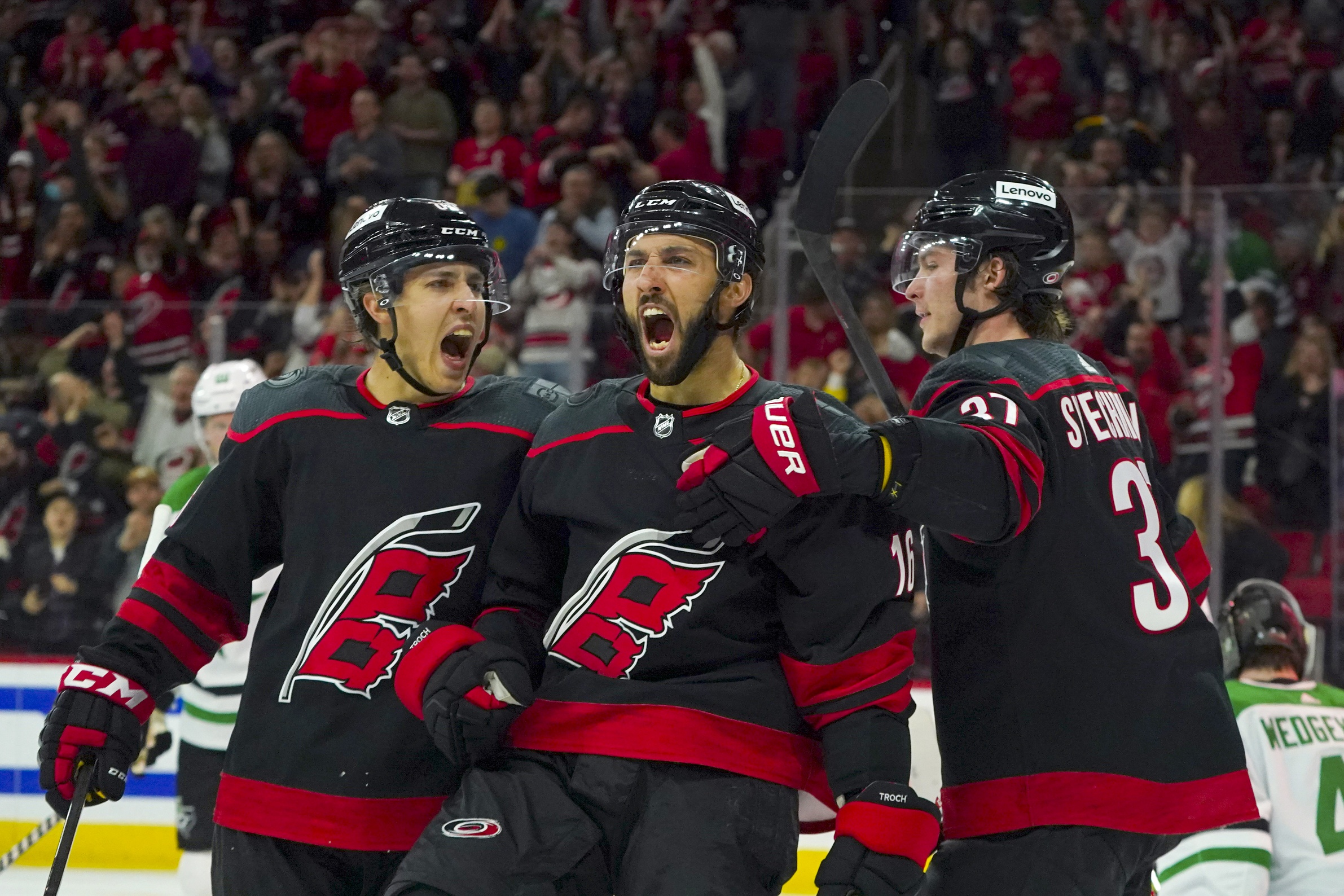 Thursday night could be the last time these 8 teams play on a full 4-game NHL Playoffs slate. But although it is possible that all 4 teams with series leads could close the deal and clinch tonight, it isn't likely. If you parlayed the moneylines of the series-leading teams on Thursday night, the odds would be +1839 as they are all underdogs.
So let's get ready for at least a couple of Game 7s on Saturday. With backs against the wall, Thursday's slate should bring some desperate, physical games. Grab your favorite beverage to enjoy a great Thursday night of playoff hockey!
If you are looking to have action and combine some picks from these games, check out this 3-team parlay that has odds of +1096 at DraftKings Sportsbook.
Carolina Hurricanes ML (+115) vs Boston Bruins
Tampa Bay Lightning -1.5 (+185) vs Toronto Maple Leafs
Los Angeles Kings vs Edmonton Oilers over 6.5 (-105)
Parlay odds: +1096
Carolina Hurricanes ML (+115) over Boston Bruins
Boston got off the schneid against Carolina at home in Games 3 and 4. But sure enough, the Hurricanes made quick work of the Bruins again in Game 5 with a 5-1 win. Going back to the regular season in 8 head-to-head matchups against Boston, Carolina has won 6 of the games and outscored the Bruins 35-14 over the 8 games. They have shown time and again that they are a bad matchup for the Bruins and they used Game 5 to show they were not going to blow the series. After a couple of bad losses at TD Garden, Carolina can come in with a new game plan to take care of business and clinch this series.
The Hurricanes have scored 6 first-period goals in the 5 games of this series. If they can get off to another quick start, it will mean the Bruins have to press that much more that much earlier. Through 5 games, the Hurricanes have scored on average 1.20 goals per game more than the Bruins. At 3.80 goals scored per game and 2.60 goals allowed per game, Carolina is top 5 in both metrics among playoff teams. The Hurricanes have the Bruins' number all around and should quit messing around at TD Garden tonight.
Be sure to check out our full game preview for Carolina Hurricanes vs Boston Bruins
Tampa Bay Lightning -1.5 (+185) over Toronto Maple Leafs
The Lightning have dominated 2 games of this series, had a 60-minute brain fade in 2 games, and squandered away Game 5. Coach Jon Cooper said after that game that the Lightning aren't making the Maple Leafs earn it and are just handing it to the Leafs. Cooper has not historically been one for gamesmanship or disrespect. Toronto will likely use it as bulletin-board material to fuel the chip on their shoulder. But assuming Cooper's comments were strictly frustration and calling out his own players, he'll have his adjustments ready for puck drop. The Lightning are well coached, have great leadership, and experience of high-pressure situations. These NHL playoffs have seen several empty nets with 2-3 minutes to play due to desperation. If Tampa can carry the lead late into the game, they'll have a good chance to cement it with some insurance.
Tampa Bay is 16-0 in playoff games following losses dating back to 2020. That tells a lot about the Lightning's adjustments and resiliency from Andrei Vasilevskiy through the rest of the lineup. Toronto has had playoff letdown after playoff letdown, most recently last season when they blew a 3-1 series lead to Montreal. Could this year be different? It could, but in a Game 6 the ice should tilt in favor of Tampa.
Be sure to check out our full game preview for Toronto Maple Leafs vs Tampa Bay Lightning
Los Angeles Kings vs Edmonton Oilers over 6.5 (-105)
What a strange series this has been. The Oilers have significantly better numbers than the Kings in goals scored, face-off percentage, power-play percentage, and penalty kill percentage. Despite those statistical advantages, they find themselves with their backs against the wall, down 3-2 in the series as they head back to LA. The Oilers are more successful when they attack and it is do-or-die time now, so the Oilers are going to bring everything they have offensively in Game 6.
The 5 games have averaged 7.2 goals per game, even with 2 shutouts. If the Oilers are going to win, indications are they are going to need to score at least 4 goals. They can't completely abandon their defensive play, but Edmonton will need to emphasize their team strength, which is offensive production. The Kings have scored 4+ goals in 3 of the 5 games so they are plenty capable of keeping up in a high-scoring game and doing their part in taking a game total over. This has the makings of another high total.
Be sure to check out our full game preview for Edmonton Oilers vs Los Angeles Kings
Pickswise is the home of free NHL Picks and NHL Predictions. Check back for our daily NHL Best Bets, including our favorite NHL Prop Bets.