NHL Thursday mega parlay (+1158 odds): Can we hit another one after 10/1 winner?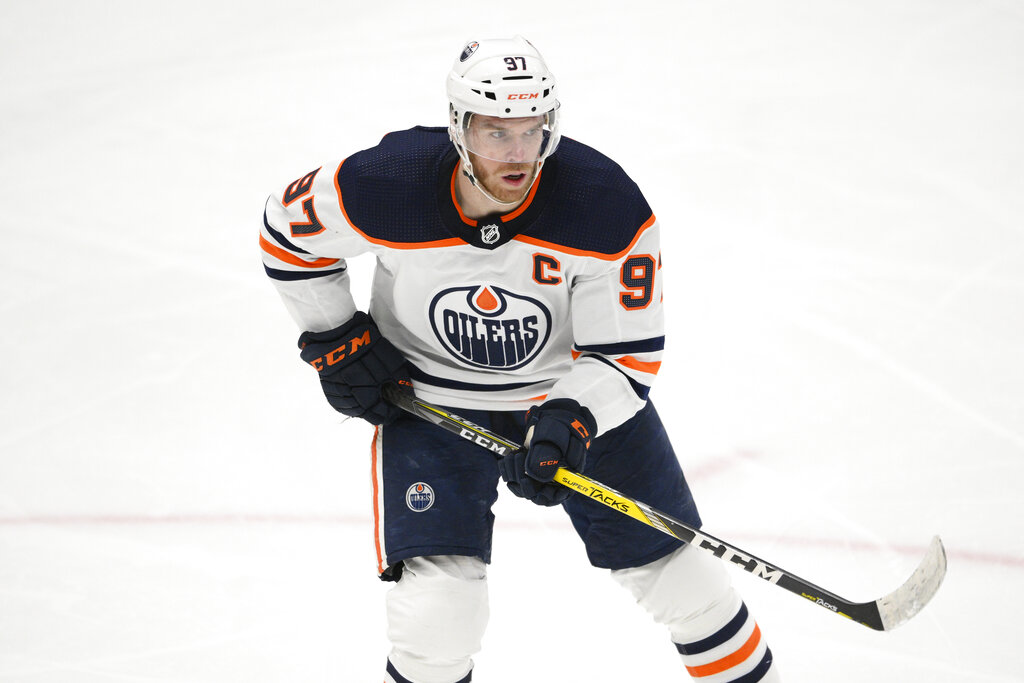 Thursday brings about a large slate with 10 games. Looking through the matchups and one thing pops out: there is going to be potential for some offensive-minded teams to take advantage of some suspect defensive units.  The shift in the way teams are built — with more of an attack-first mentality — has showcased elite offensive talent throughout the NHL. That includes Alexander Ovechkin and Connor McDavid, both of whom are in action on Thursday.
Let's break down each game that is part of the 3-team mega parlay.
Washington Capitals -1.5 (+135)
Chicago Blackhawks -1.5 (+155)
Edmonton Oilers -1.5 (+110)
Parlay Odds: +1158
We are looking at offensively-driven teams that should have a big edge over their opponents.
Washington Capitals -1.5 over Philadelphia Flyers (+135)
The Capitals have been average at best in their 4 games since coming out of the all-star break, going 2-2-0 with the 2 losses to the Blue Jackets and the Senators. They are also slowly losing pace in the Metropolitan Division and need to start a win streak — and fast. Enter their opponents on Thursday — the Flyers, who have been sinking up the joint. They sit tied for last in the Metropolitan Division and have been swarmed with rumors about when their longtime captain, Claude Giroux, will be traded.
Having put up 14 goals in 4 games since the break, the Capitals are a borderline top 10 offense. This high-flying attack will be playing against a bottom 8 defensive team in the Flyers, who rank 30th in expected goals against. Don't expect the Flyers to put up many goals, either, as they are also rank in the bottom 8 in the major offensive categories. Look for Washington to build a winning streak by beating the Flyers by multiple goals.
Be sure to check out our full game preview for Washington Capitals vs Philadelphia Flyers
Chicago Blackhawks -1.5 over Columbus Blue Jackets (+155)
The Blue Jackets wrap a 5-game road trip coming out of the all-star break against the Blackhawks. Even though the Blue Jackets have taken 3 of 4 games on the road trip, they find themselves at .500 and 11 points out of a wild-card spot. It has been a rough year for the Blackhawks, but they did just take 2 of 3 games on their road trip and now start a 6-game home-stand.
The entire defensive unit for the Blue Jackets has been terrible. They rank 31st in expected goals against, 30th in goals allowed per game, and don't have a goalie on their roster in the top 80 in goals saved above expected. They have also allowed 22 goals in their last 5 games. The Blackhawks' offense can take advantage of this Blue Jackets' defense. Chicago has been better recently, averaging 3 goals per game in its last 7. Look for the 'Hawks to jump all over the bad Jackets defense and take the puck line.
Be sure to check out our full game preview for Columbus Blue Jackets vs Chicago Blackhawks
Edmonton Oilers -1.5 over Anaheim Ducks (+110)
The Ducks will visit the Oilers as their second leg of back-to-back games. They are battling for that last wild-card spot at the moment and rank 5th in the Pacific Division. The Oilers, on the other hand, come in winners of 3 in a row after firing their head coach and play this home game before heading back out on the road.
Edmonton boasts a top-10 offense, ranking 8th in expected goals for, 12th in goals for per game, and averaging 3.66 goals per game since the coaching change last week. The Oilers also have the 3rd-best powerplay and the top 2 point-scorers in the league. The Ducks will try to stop that potent offense with a very average defense, as they rank around middle of the pack in all defensive categories. Projected starter Anthony Stolarz is also a massive drop-off from regular starter John Gibson, as Gibson is top 5 in goals saved above expected while Stolarz ranks 35th. Take the rested Oilers playing at home against a backup goalie and bet on the puck line.
Check out all our NHL previews and picks for Thursday
Pickswise is the home of free NHL Picks and NHL Predictions. Check back for our daily NHL Best Bets, including our favorite NHL Prop Bets.