NHL Western Conference Finals: Edmonton Oilers vs Colorado Avalanche series preview and predictions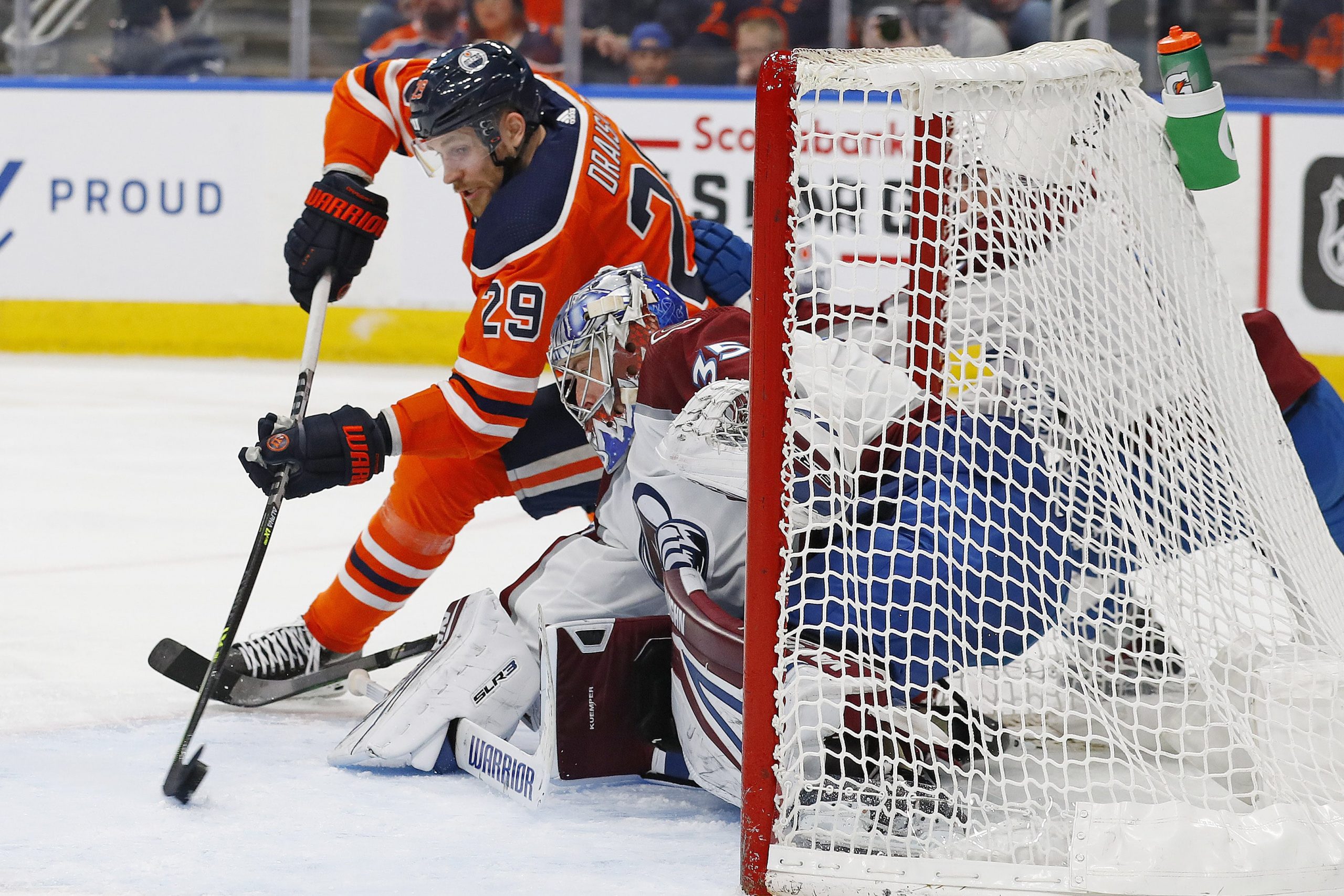 Both the Oilers and Avalanche were tested in the 2nd round, but were able to prevail. The Avalanche have been the Stanley Cup favorites throughout the entire season, and are now 1 step away from the finals. Meanwhile, the Oilers have had expectations to be here for several years now, but have continued to fall short. The most exciting part of this series is that it has the 2 skaters who are considered the best in the entire world. Oiler Connor McDavid and Avalanche Nathan MacKinnon spark the NHL's version of Jordan vs LeBron debates. Let's break down their teams to see who should come out on top.
Breaking down the Edmonton Oilers
The Oilers have been expected to get to this point simply because they have Connor McDavid on the roster. He is widely regarded as the most talented hockey player in the world, and is the favorite for the Art Ross trophy for most points heading into each season. McDavid once again won the award with 123 points this season, and carried that over to the postseason. He has a ridiculous 26 points in 12 games during these playoffs with 7 goals and 19 assists.
However, McDavid isn't the only all-world skater on the Oilers. His teammate Leon Draisaitl also has 26 points this postseason, with the same split of goals and assists. To put that into perspective, the next highest point-scorer in the playoffs has 15 points as of the Hurricanes and Rangers Game 6. Yet somehow, McDavid and Draisaitl's dominance should not come as a surprise. Leon was close behind Connor with 110 points during the season, 55 goals and assists each. With 2 of the top point-scorers in the league, it's clear to see why Edmonton fans have such high expectations for their team.
The Oilers then added to that firepower by signing former San Jose Shark, Evander Kane. He had his off-the-ice struggles, but he's still a great talent. Kane puts pressure on opposing goaltenders by taking a high volume of shots. He has the most goals this postseason with 12, including 3 hat-tricks. More impressively is the fact that those hat-tricks came against the Kings and Flames, 2 of the league's best defensive teams. With such a potent goal-scoring attack, one may wonder why the Oilers aren't at least this deep into the playoffs every season. 
Therein lies their issue of goaltending and overall defense. They ended the regular season with a respectable rank of 15th in terms of goaltending after a few late shutouts. However, it was still very inconsistent and the average was still above 3 goals allowed per game. One of the reasons for their lack of success in that department was swapping starting goaltenders. They went from Mikko Koskinen to 40 year-old Mike Smith. Neither of them is comparable to Lightning goalie Andrei Vasilevskiy, but they have played well enough in the postseason to get them this far. They also aren't aided by the fact that the Oilers allow far too many shots on goal. With an average of 32.3 allowed per game, they were the worst of any team that made the playoffs. If there's a perfect team to take advantage of that weakness, it's the Avalanche.
Breaking down the Colorado Avalanche
For as many things as Nathan MacKinnon does that others cannot, one thing he is known for is his shot-taking. Despite missing 17 games, he still led the team with 299 shots. That 4.60 shots per game average was behind only Auston Matthews, the league's top goal-scorer. MacKinnon doesn't just fire away for fun either; he is extremely effective. In those 65 games, he recorded 88 points. He is always on pace to keep up with McDavid's numbers, but never seems to remain healthy all season.
Thankfully for Avs fans, they have an entire roster of all-star skaters that would be most other franchise's version of MacKinnon. Mikko Rantanen led the team with 92 points, and he too missed 7 games. The former Maple Leaf, Nazem Kadri, took over in their absences and was able to record 87 points in 71 games. Gabriel Landeskog had surgery shortly after the all-star break, but was still able to rack up 59 points in 51 games. Finally comes the young defenseman, Cale Makar. It has already been accepted that the 23-year-old will be a superstar for years to come, and set the Avalanche record for points by a defenseman with 86. All of these incredible skaters make it obvious to see why Colorado entered the season as the Stanley Cup favorite, and never lost that title.
Even with the Panthers winning the President's trophy, the oddsmakers never wavered from the Avs. With all of the aforementioned points, it should come as no surprise that Colorado was one of the highest goal-scoring teams in the league. They ended the season with 3.76 goals per game, and performed even better at home. Their 4.15 goals per game in their own arena should be a major factor with them having the home ice in this series. If there is one area where the Avalanche don't have a household name, it's their goaltender.
Similarly to the Oilers, Darcy Kuemper is no Vasilevskiy. However, he certainly performed better than the duo of Edmonton goaltenders. Colorado finished the season allowing 2.83 goals per game, the 9th-lowest average in the league. It's Kuemper's first season with the Avs, after last season's goaltender, Philipp Grubauer, was let go to the expansion Kraken. Kuemper also sustained an eye injury in the series against the Blues that caused him to miss a game, so that is worth monitoring as well. After the Avalanche have been knocked out in the 2nd round the past 3 seasons, they're hoping Kuemper can be the difference to keep 2022's dream alive.
Edmonton Oilers vs Colorado Avalanche series prediction: Avalanche 4-3 (+420)
After breaking down all of the incredible skating talent across both rosters, this should be a high-scoring series. It should also be a close one. There are few teams that can keep up with each of these teams' goal-scoring, but they can with each other. Therefore, the difference should lie with the slightly better goaltending of the Avalanche. Neither side is world-class, but the Oilers allowing so many quality shots on goal should be what holds them back. MacKinnon, Rantanen, Landeskog, and Kadri are each all-star caliber goal-scorers and can outmatch trio of McDavid, Draisaitl, and Kane.
They may not do so in every game, but the home-ice advantage should prove to be pivotal. The Avalanche should be the favorite in this series, but not to this degree. I would highly recommend looking for combination props such as the Avalanche to win and more than 5.5 games. Of course, there is always the option of an exact series score for an even better payout. With the firepower that each of these teams possesses, I fully expect a longer series with Colorado prevailing in the end.
Pickswise is the home of free NHL Picks and NHL Predictions. Check back for our daily NHL Best Bets, including our favorite NHL Prop Bets.