Saturday's NHL mega parlay: Take three puck-line favorites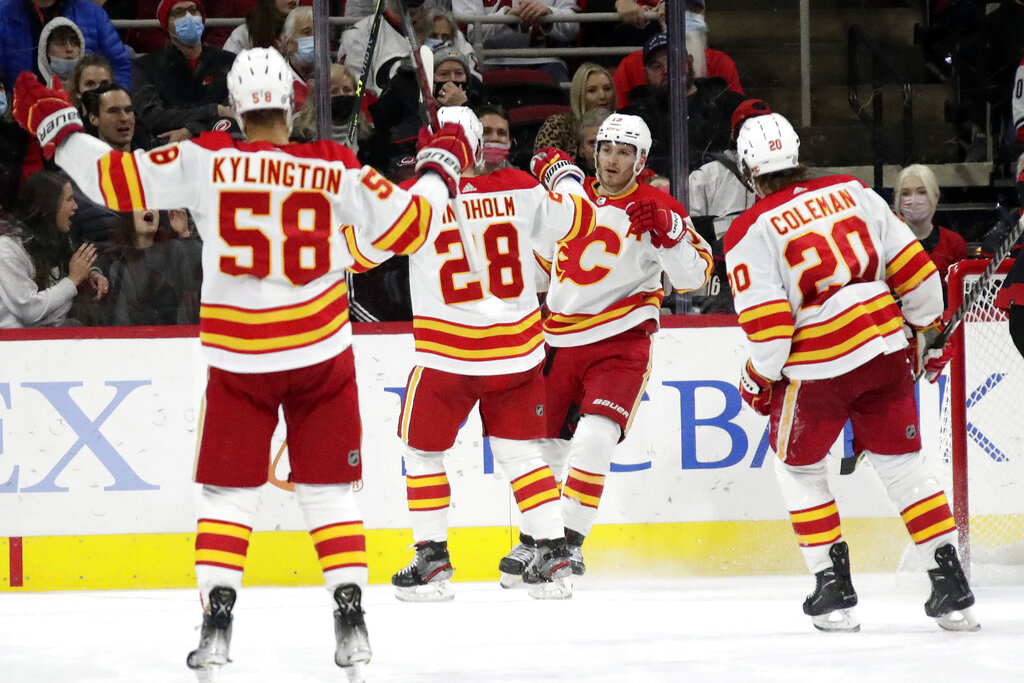 There are 8 games tonight in the NHL. We're looking to parlay 3 of the games into a wager  that will hopefully pay big. I've put together a 3-leg parlay with a potential payout of more than 12/1 with FanDuel Sportsbook. But before we dive in, be sure to check out all of our picks and previews for every game tonight.
Maple Leafs -1.5 (+130)
Blues -1.5 (+135)
Flames -1.5 (+135)
Parlay odds: +1270
Let's break down each of the legs one by one.
Toronto Maple Leafs -1.5 vs Vancouver Canucks (+130)
Goaltender Petr Mrazek is searching for his 5th win in a row as the Leafs take on the Vancouver Canucks. After a not-so-great performance against the Flames, the Leafs are continuing their road trip into Vancouver. The Canucks' offense has begun to dry up just as the Leafs have started to find their groove. The Canucks are scoring the 5th-fewest goals per game in the league, and in their last 10 games they have averaged 2.5 goals. Toronto, on the other hand, is scoring the 4th-most goals per game and has been averaging 4.2 over their last 10 games. They've been getting key contributions from their top line of Mitch Marner and Auston Matthews. Marner has 10 goals and 9 assists in his last 10 games, while Matthews has 18 points in his last 10 games.
The Leafs have the top-ranked powerplay in the league and are dominating the faceoff circles with the best faceoff percentage. If the Leafs can maintain possession of the puck and the Canucks take some penalties, covering the spread might prove to be an easy task. Take the Leafs on the puck line.
Be sure to check out our full game preview for the Toronto Maple Leafs vs Vancouver Canucks
St. Louis Blues -1.5 vs Chicago Blackhawks (+135)
This is a perfect rebound spot for the St. Louis Blues, who have now lost 2 games in a row. The Chicago Blackhawks aren't that great of a team and have won only 3 of their last 10 games. Chicago's goaltending has been spotty and none of their players is excelling offensively. In their last 10 games, the Blackhawks have averaged only 2.6 goals per game. They've struggled to score, and it's tough to imagine the Blues dropping 3 in a row heading into this game against a divisional opponent. The Blackhawks' divisional record is 3-9-4 this season while the Blues are 9-5-2. The Blues are averaging the 6th-most goals per game in the league, the Hawks are averaging the 3rd fewest. Backup goaltender Ville Husso is expected to get the start for Blues. In many ways, he's been outperforming the Blues starter, Jordan Binnington. In Husso's last 5 games, he's covered the spread 4 times. He's posting a 1.90 GAA and .941 SVP. Take the Blues on the puck line.
Calgary Flames -1.5 vs New York Islanders (+135)
The Calgary Flames have been playing some of their best hockey of the season. They're on a 5-game win streak and are getting contributions from top to bottom. Up front, Matthew Tkachuk has 17 points in his last 10 games and has been playing like an elite first line player. The Flames have 2 players operating well over a point per game, while the Islanders have no players even close to a point per game. Skill-wise, the Flames easily outmatch the Isles.
Although the Flames have more offensive talent, this game should be decided in the crease. Jacob Markstrom has rounded back into a potential Vezina-winning goaltender. He's won 6 of his last 7 starts. During those wins, he's allowed 3 goals only once, and he's recorded 3 shutouts. He's been playing incredibly well and is fresh off a 46-save win against the Maple Leafs. With their offense and goaltending clicking, take the Flames on the puck line.
Pickswise is the home of free NHL Picks and NHL Predictions. Check back for our daily NHL Best Bets, including our favorite NHL Prop Bets.