Back
Sports Betting Markets Explained: What Type Of Sports Bet Can You Wager?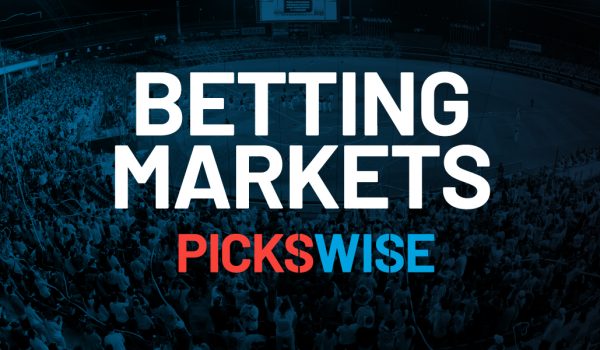 2:06PM
Mon 15th March 2021
2:06PM
Mon 15th March 2021
There are many questions that we hear from both beginners and seasoned bettors around the types of sports betting markets you can wager on, which are the best and how do they work?

Which is the best is impossible to answer really, it's very much an individual thing and how you like to approach betting on sport, and the risk/reward you are looking for.

What we have done below, however, is run through each of the main types of sports betting market with easy-to-understand definitions and a few examples. Everything you need to know about the types of sports betting markets on offer can be found right below.
Money Line Betting Explained
The money line is the simplest form of sports betting. You are wagering on a team to win at the odds set by the sportsbook for them to do so. In certain sports, like soccer, you can bet on a tie but if an NFL game, for example, ends in a tie, the result on the money line will be a push and you get your stake back.

The Moneyline can be found on the main page of any sportsbook once you click on the sport you wish to wager on. You will see a list of matches and odds for the upcoming matches, just like the example below. The Moneyline will usually be under the term 'Money' or Moneyline and the odds will be in an American Format. For more on reading and understanding odds, check out our Sports Betting Odds Explained article.

Point Spreads Betting Explained
 Point Spread betting is the next most popular type of wager sports bettors place, and in some sports such as the NFL, it's often the most popular. Unlike the money line where you are betting on the direct outcome of the game when betting the spread you betting on a point spread which is set by the sportsbook based on which team is favored.

For example, if the Gonzaga Bulldogs are -15 favorites in their opening March Madness match, they will have to win by 16 or more to cover the spread. Conversely, you can bet on the underdog to win or lose by less than 15, and cover the spread. So you can bet on the losing team, but they can still cover the spread and keep the game closer than oddsmakers thought and cash your ticket.

In the example below, The spreads can be found under the spread header, with the spread, or the number of points the team but win or cover by in black, and the odd of the selection beneath it in blue. For you to win a bet on Michigan -8.5, Michigan must win by 9 or more points.

Points Totals Over/Under Betting Explained
Totals or Points Totals are a great way to wager on a game without necessarily betting on the outcome of it. Instead of choosing a side to win on the money line or to cover the spread, you are betting on whether the total points scored will be over or under the line set by the sportsbooks.

In the example below FanDuel Sportsbook has set the over/under line, which can be seen beneath the 'Total' header for the Maryland vs Michigan game at 133. The O 133 is taking there to be 134 or more combined points, the U 133 is for there to be 132 or fewer points. If the points finish right on 133, then the result is a push and your stake is returned. The odds for each side of the Points Total line can be seen in blue, beneath the total, which in this case is -110 for both the over and under. 

Prop Betting Explained
Prop Betting, short for proposition betting is quickly becoming one of the more popular and fun ways to wager on a game. There are two main types of prop bet you can wager on, player prop bets and team prop bets. With a prop bet, you are wagering on the outcome of something within the game either happening or not, and is usually based around scoring, points, and performance statistics.
Player Prop Bets
Player props differ from sport to sport but will typically revolve around scoring or player performance stats. For example the most common NFL Prop Bet would be to score The First Touchdown or Anytime Touchdown Scorer, where NBA Prop Bets will revolve around a player's stat line finishing with over a set number of Points, Assists or Rebound, or even the total of all three main stat lines combined.

In the example below, you can see the current player point props on offer at FanDuel for the Memphis Grizzlies vs New Orleans Pelicans game. Lines will usually be set for each star player, in this case, Zion Williamson Points is set at Over or Under 27.5 at odds of -120 and -102 respectively. If you want to take a bigger chance, at bigger odds you can also play the alternate points lines such as 30+ at +122, 35+ at +320, and take +920 if you think Zion is going to go off and score 40+ points.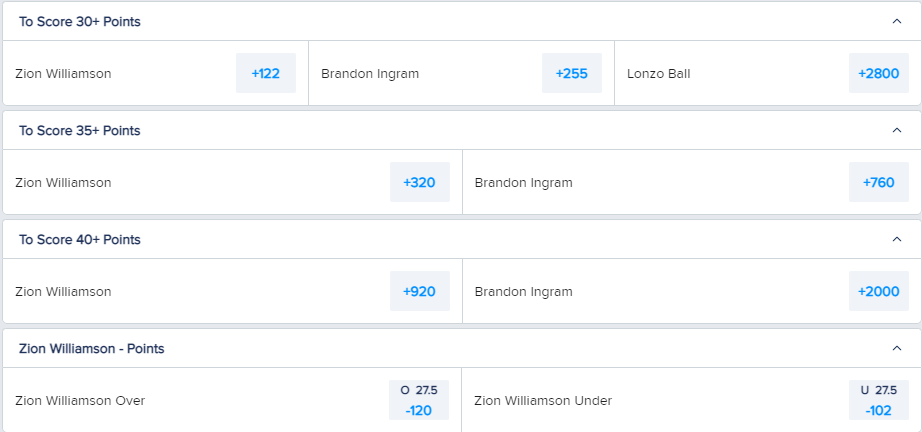 These are great ways to wager on players that you have highlighted as having favorable or a not-so-favorable matchup, or they could be your favorite player on your favorite team and you want to ride with them to have a big night.

Player Prop Bets offer added flexibility to your wagers and with a long history of fantasy sports betting, many bettors enjoy the player props as it's very similar to finding a good matchup for your fantasy team.
Team Prop Bets
Team prop bets are based on one team's performance, rather than both. Although one team's performance is linked to the others in any sport, you may feel more comfortable for example with your March Madness Prediction on Gonzaga scoring over 90 points rather than taking the over 160 total match points and relying on the underdog to do their part in the scoring department too. This just gives you more freedom in your betting if you find one team that matches up well you can ride with them, rather than both teams and the total match outcome.
Futures Betting Explained
Futures betting is, as the name would suggest betting on the outcome of future events. These will typically be based around titles, championships, and awards across the various sports. You can bet on futures bets from before the season starts, such as the Super Bowl Champion or an MVP award winner, or during the season itself. Sportsbooks continually update futures odds in reaction to how the season or competition plays out.
Last updated: Mon 15th March 2021