Sugar Bowl reaction: Ohio State dominates Clemson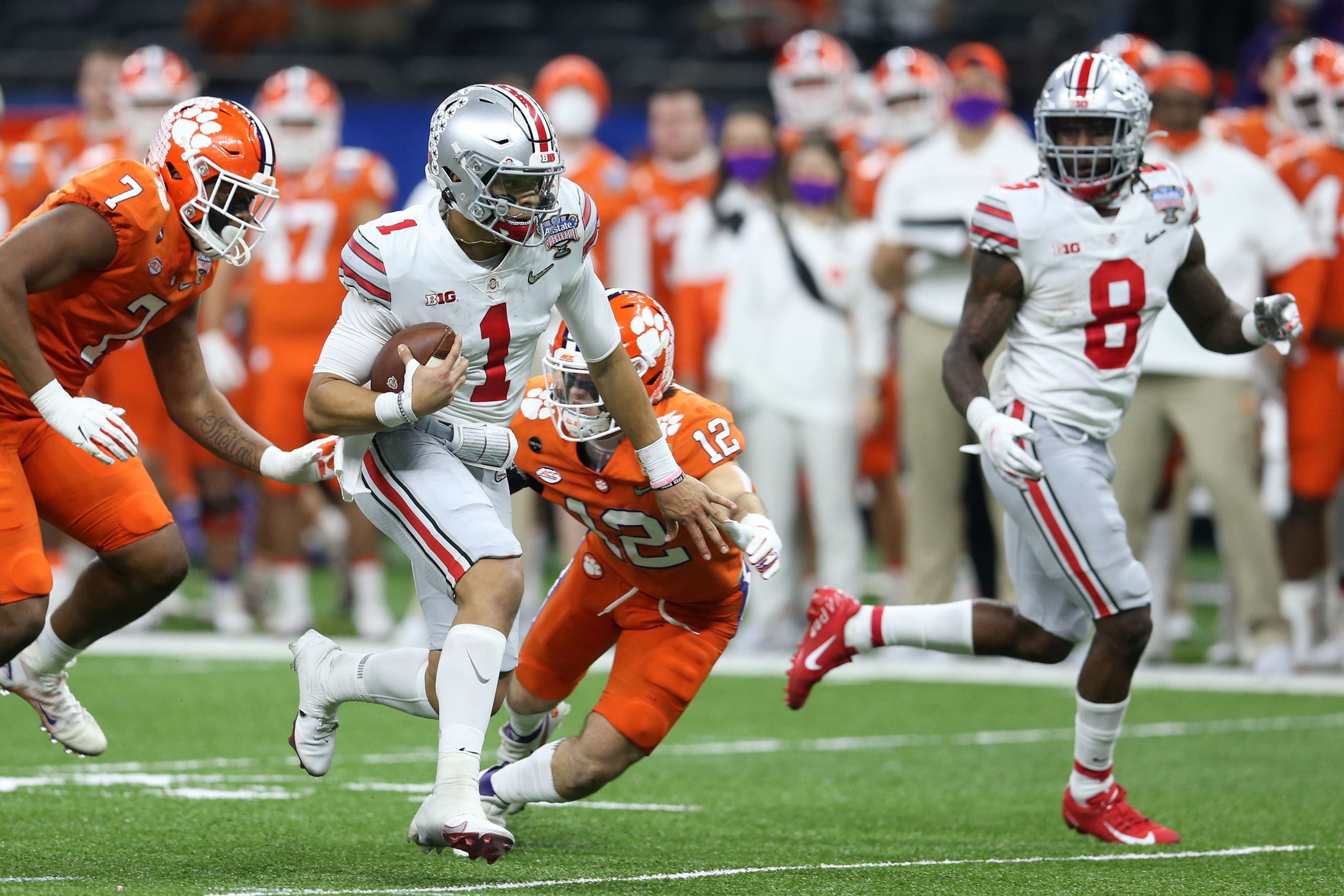 Well I'm not sure too many people saw that coming. The Clemson Tigers were only seven-point favorites in the Sugar Bowl, so an upset from the Ohio State Buckeyes certainly wouldn't have been too out of the ordinary. But what we just witnessed wasn't just any old upset, it was a thorough domination in the College Football Playoff semifinals.
Clemson looked outclassed on both sides of the ball as Ohio State cruised to a 49-28 victory and advanced to the national title game, where they'll take on Alabama. A lot of people (including Dabo Swinney) have egg on their faces, and there's a lot to digest from this one. Let's dive in to a couple of the biggest takeaways from a truly shocking Sugar Bowl:
Clemson was fraudulent
Clemson didn't beat anybody good this year except Notre Dame (and they also lost to the Fighting Irish as well). As Notre Dame's own blowout loss at the hands of Alabama showed, the ACC just clearly wasn't very good this year. Miami and Wake Forest, the only two other ACC teams to play in bowl games so far, also lost.
In hindsight there were plenty of warning signs along the way that we should've paid more attention to, like when they only beat Boston College by six (albeit without Lawrence although his backup played very well). Or when they gave up 47 points in the first meeting with Notre Dame. The defense just clearly wasn't as talented as in years past, and they got picked apart by the Buckeyes in both phases.
Sure the ejection of linebacker James Skalski due to a targeting call didn't help, and there were a couple injuries, but the defense was struggling mightily before that happened. There are no excuses, Justin Fields just did what he wanted all night long. Lawrence's numbers weren't bad at all, but he sure didn't look like the best player in the nation like he usually does after going up against a tougher and more physical defense.
Swinney talked a big game, and even more or less openly declared that Ohio State didn't deserve to be there. After Friday night, it's clear it was Clemson that didn't belong there all along.
The nail in the coffin for Clemson -7 bettors?

Could be…😐pic.twitter.com/xXKRC8OiSB

— Pickswise (@Pickswise) January 2, 2021
Ohio State deserves their respect
Swinney was downright disdainful of the Buckeyes, criticizing them for only playing six regular games, and ranking them 11th on his own Coaches Poll ballot. There's been a lot of media disrespect toward Ohio State, and the Big Ten in general, which now looks ridiculous given what we've seen.
Everybody ripped into Fields and the Buckeyes for failing to put away Northwestern easily in the Big Ten title game, but as Northwestern showed with their dominant win over Auburn in the Citrus Bowl, their defense is just really good. The issues for OSU were always overblown, and Fields showed Friday night why he's going to be an early first-round NFL pick in April.
In fact, Fields might have even put himself in the top overall pick conversation after throwing for six touchdowns while averaging a ridiculous 13.8 yards per attempt in the Sugar Bowl. The Buckeyes controlled the game in the trenches, getting great push in their run game and consistent pressure on Lawrence on defense. They showed the Big Ten still has the big boys up front to hang with anybody.
A tough test against Alabama awaits, but there's no reason to believe they can't pull it off after Friday night. They'll be underdogs, but perhaps that's the way they prefer it. No matter what happens in the National Championship Game though, they've already proved everybody wrong, and then some.
Pickswise is the home of College Football Picks and Predictions. Check out our latest College Football Picks including our College Football Parlay picks and our College Football Best Bets.