NFL
Back
Ranking The Top 10 Super Bowls Of All-Time | Which Is The Greatest Ever Super Bowl?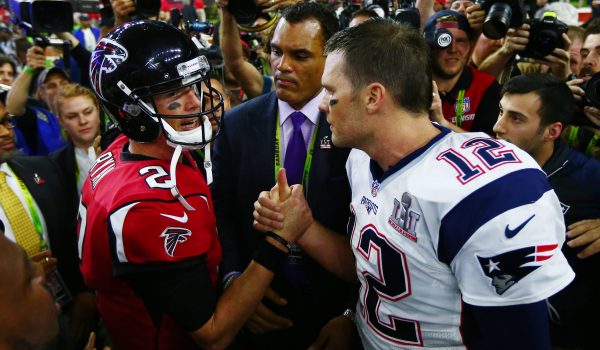 NFL
3:00PM
Thu 4th February 2021

NFL
3:00PM
Thu 4th February 2021
Phil Agius
See Bio
Phil Agius

@philagius
phil.agius@racingpost.com
I've been writing about the NFL and a host of other sports for the UK's top daily betting paper the Racing Post for more than 20 years. An incurable Browns fan (1-31 survivor), I also specialise in all kinds of motorsport betting including F1, MotoGP, IndyCar and NASCAR.
By Phil Agius

@philagius
phil.agius@racingpost.com
See Bio
I've been writing about the NFL and a host of other sports for the UK's top daily betting paper the Racing Post for more than 20 years. An incurable Browns fan (1-31 survivor), I also specialise in all kinds of motorsport betting including F1, MotoGP, IndyCar and NASCAR.
This Sunday, the 55th Super Bowl will take place between the Kansas City Chiefs and Tampa Bay Buccaneers.
We've been treated to some incredible contests over the years, from monumental comebacks to last-second game-winning scores. While you can find out our picks on the side and total for this weekend's Chiefs vs. Bucs matchup, right now it's time to rank the top 10 Super Bowls of all time.
1. Super Bowl LI: New England Patriots 34, Atlanta Falcons 28 (OT)
Conscientious compilers of lists ranking events over long time periods must do their best to avoid recency bias — favoring those that happened nearer the time of the assessment over older ones they do not know as well. 
But even with that in mind, there's no escaping the fact that NFL fans in the last decade have been treated to some of the most dramatic season-ending games ever seen, and that view is backed up by plenty of old-timers who saw the early games too.
Top of the rankings must be the great comeback by the Patriots — or collapse by the Falcons if you prefer — in Houston in 2017.
New England came back from 28-3 down late in the third quarter against Atlanta to force the first overtime period ever played in a Super Bowl and then win the title.
The game launched a thousand social media memes and the Falcons seem to still be traumatized by it as they blew a number of big leads this season.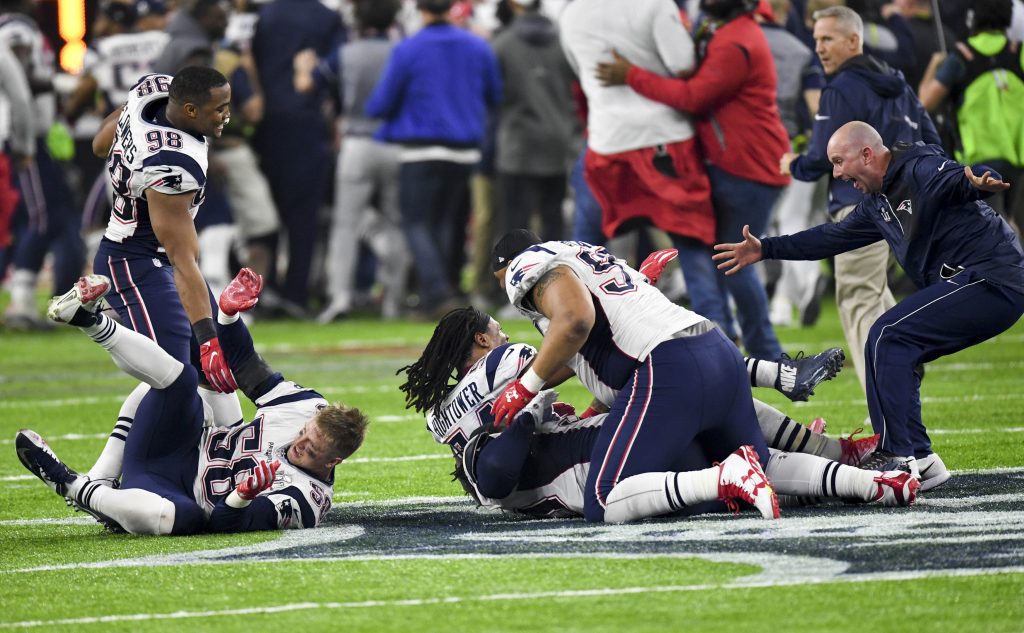 2. Super Bowl XXV: New York Giants 20, Buffalo Bills 19
The 1991 Super Bowl remains the only one decided by a single point — but it would have had a two-point winning margin the other way if Buffalo kicker Scott Norwood had converted a 47-yard field goal with eight seconds left.
With current Colts coach Frank Reich holding on the Bills' special teams unit, Norwood's kick was wide right.
The Bills were no doubt confident they had a team capable of returning to the Super Bowl and they did, only to lose three more times in succession.
3. Super Bowl III: New York Jets 16, Baltimore Colts 7
The Super Bowl might never have become the iconic event that it is without this early upset.
In the early clashes between the then AFL and NFL, the AFL representatives were seen as inferior and NFL champions Green Bay had scored comfortable wins in the first two AFL-NFL World Championship Games as they were then known.
That all changed in 1969, though, as AFL champions the New York Jets won 16-7 as 18-point underdogs against NFL winners the Baltimore Colts.
Baltimore had gone 13-1 in the regular season but Jets quarterback Joe Namath had "guaranteed" his team would win and delivered on that promise.
4. Super Bowl XLII: New York Giants 17, New England Patriots 14
If you're looking for a big upset, the disruption of a dominant dynasty in their prime, the denial of a perfect season, and a spectacular game-changing catch, then the 2008 Super Bowl is the one for you.
The Patriots were double-digit favorites after a 16-0 regular season and they were 14-10 ahead when the Giants got the ball back at their own 17 with two minutes and 39 seconds left.
This Super Bowl is known as "The Helmet Catch Game" for the amazing 32-yard grab made by wide receiver David Tyree, holding the ball against his helmet with one hand after under-pressure QB Eli Manning had launched the ball skywards into his general direction.
Wide receiver Plaxico Burress scored the winning TD with 35 seconds remaining in a game with only 31 points but three fourth-quarter lead changes.
5. Super Bowl LII: Philadelphia Eagles 41, New England Patriots 33
Ten years after the helmet catch, Patriots faders were cheering once more after another Super Bowl largely remembered for one play.
The "Philly Special" game saw Philadelphia break their Super Bowl drought in wild fashion with quarterback Nick Foles catching a TD pass himself after suggesting the trick play to head coach Doug Pederson.
New England trailed 22-12 at half-time but had got their noses in front at 33-32 in the fourth quarter before the Eagles reached deep into their playbook.  
6. Super Bowl XLIX: New England Patriots 28, Seattle Seahawks 24
After two Patriots defeats in a row comes a New England victory in a game that looked lost.
Defending champions Seattle and their famed Legion of Boom defense had led 24-14 as the Patriots were bidding for their first Vince Lombardi Trophy in 10 years.
Seattle coach Pete Carroll got the blame for this one after most fans expected him to punch in the winning touchdown from the one-yard line with 26 seconds left and running back Marshawn Lynch at his disposal. But he instead called a pass play and defensive back Malcolm Butler snared a game-winning interception.
Six years ago, Malcolm Butler sealed Super Bowl XLIX with a goal-line interception 👀

(via @nflthrowback)pic.twitter.com/FLcCBUB1hl

— ESPN (@espn) February 1, 2021
7. Super Bowl XXXIV: St. Louis Rams 23, Tennessee Titans 16
The Rams team dubbed The Greatest Show on Turf arguably underachieved by winning only one Super Bowl – and they were made to sweat for that after Tennessee got within one yard of potentially catching them in January 2000.
The Titans trailed by seven late in the game and were in sight of victory when wide receiver Kevin Dyson was hauled down by Rams linebacker Mike Jones at the one-yard line as time expired, giving undrafted QB Kurt Warner his only Super Bowl win.
8. Super Bowl XLIII: Pittsburgh Steelers 27, Arizona Cardinals 23
This was a sensational game for the neutral observer as underdogs Arizona went close to securing their first Super Bowl win only for the Steelers to rally and become the first team to win six times.
The Cardinals, who had gone 9-7 in the regular season, were 17-7 behind at half-time after James Harrison's 100-yard interception return for the Steelers and trailed by 13 at the start of the fourth quarter.
They staged a storming comeback including a 64-yard touchdown by Larry Fitzgerald to go 23-20 ahead before Santonio Holmes got Pittsburgh back in front with just 35 seconds left.
That game was at this year's Super Bowl venue, Raymond James Stadium, and no-one will be complaining if the Chiefs and Buccaneers can put on a similar show.
9. Super Bowl XIII: Pittsburgh Steelers 35, Dallas Cowboys 31
Another historic game that has stood the test of time is the 1979 clash between the Steelers and Cowboys, a repeat of the line-up from three seasons before.
Legendary quarterbacks Roger Staubach and Terry Bradshaw threw seven touchdown passes between them as Pittsburgh went 35-17 up before a late Dallas rally saw them score two touchdowns in just over two minutes after a successful onside kick recovery.
10. Super Bowl LIV: Kansas City Chiefs 31, San Francisco 49ers 20
Last year's Super Bowl can overcome any claims of recency bias to take a place in this list.
It was a classic battle of offense against defense — the slick Chiefs were led by the flamboyant skills of QB Patrick Mahomes while Kyle Shanahan's San Francisco relied on their marauding defense and relentless running game.
"Defense wins championships" disciples were crowing when the 49ers led 20-10 with less than seven minutes remaining, but Mahomes, the youngest Super Bowl MVP winner at just 24, rallied the Chiefs with three late touchdown drives of 83, 65, and 42 yards.
The Chiefs won their second Super Bowl exactly 50 years after their first — the third could arrive just 12 months later.
One year ago today, the #Chiefs came back from down 20-10 in the 4th quarter to beat the #49ers in the Super Bowl.pic.twitter.com/Mc87vMc6N1

— NFL Update (@MySportsUpdate) February 2, 2021
Free Super Bowl 55 Picks and Predictions
Be sure to check out our full-game preview for the big matchup:
We've also got plenty of expert articles to make sure you're fully informed before making your Super Bowl bets:
Pickswise is the home of free Super Bowl Predictions. Our expert handicappers break down their best Super Bowl Picks, including our best free Prop Bets.
Last updated: Sun 7th February 2021