Three most under-the-radar college football teams in 2022: Can Houston run the table?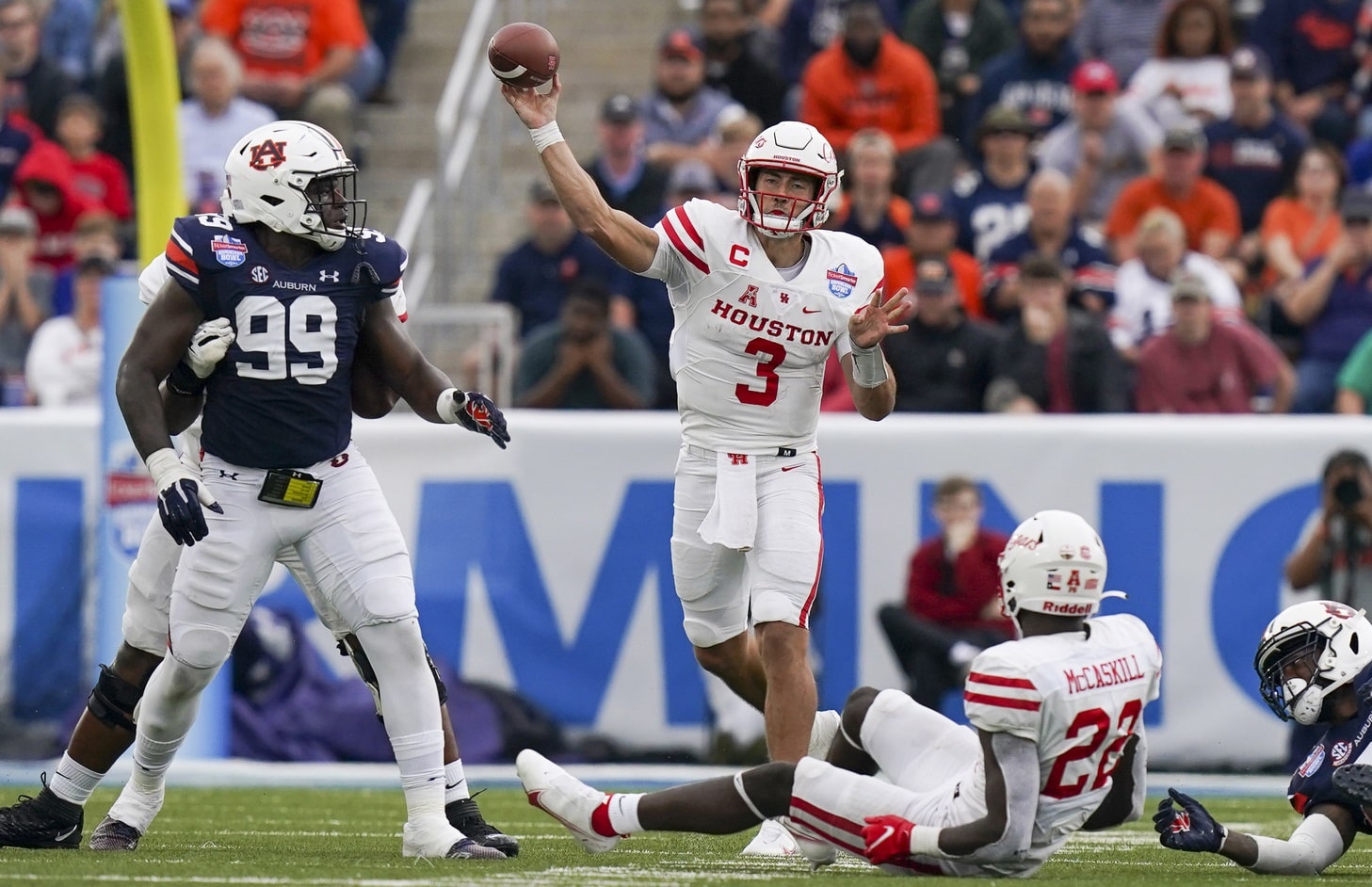 Whereas some teams are overrated in the offseason, there always seem to be a few teams that are flying under the radar every year in college football. We saw it last season when Michigan, who was not ranked in the preseason, finally beat Ohio State on its way to a Big Ten title and an appearance in the College Football Playoff. Oklahoma State was another team that was ranked outside the AP Preseason Top 25 and surpassed expectations by beating Oklahoma, winning 12 games and appearing in the Big 12 title game. Speaking of the Big 12, how could you forget Baylor? The Bears went 2-7 in 2020 and were not on anyone's radar outside of Waco, Texas, but head coach Dave Aranda and the Bears surpassed expectations en route to a 12-2 record, a Big 12 championship and a win over Ole Miss in the Sugar Bowl. 
With a new college football season quickly approaching, identifying a handful of under-the-radar teams early could be beneficial to your bankroll — especially in the first few weeks of the season. Oddsmakers can be slow to catch up to current team trends, which leads to mis-priced lines that give bettors a better opportunity to find the ever-so-important "value" on the board every Saturday in college football.
So, who are those overlooked heading into the 2022 season? Here are a few that come to mind.
Lock in our CFB National Championship best bets, including a +8000 longshot!
Houston Cougars
In their final season in the American Athletic Conference before moving to the Big 12, the Houston Cougars will have a chance to hoist the AAC trophy one more time and go out on a high note. The Coogs won 12 games last season under head coach Dana Holgorsen following a turbulent, COVID-19-shortened 2020 season that ended with just three wins in eight games. Fast forward to this season and the Cougars have something to be excited about.
While Houston did lose some key pieces — most notably on the defense– there is some returning talent on this team. Derek Parish and D'Anthony Jones combined for 71 tackles, 20.5 tackles for loss and 11 sacks last season and will be called upon to take the next step in leading the defensive line and filling in for Logan Hall's lost production after he was drafted in the second round. They will play alongside a couple of talented yet inexperienced players in Chidozie Nwankwo and Nelson Ceaser, for whom the Cougars have high expectations. The linebacker group is experienced and will be led by senior Donavan Mutin, while Houston returns both starting safeties from last year's defense to lead the secondary. There will be some changes at cornerback; Marcus Jones and Damarion Williams are no longer on the roster, but the Cougars should be fine with Art Green, Alex Hogan, Moses Alexander and Jayce Rogers competing for playing time. As a whole, Houston's defense played very well under defensive coordinator Doug Belk, ranking 16th in yards per play and 26th in points per game. While there may be a slight drop off in production, this unit should still be above average in 2022. 
The offense is what excites me most about the Cougars. Quarterback Clayton Tune returns to Houston for his senior season after throwing for 3,544 yards and 30 touchdowns with 10 interceptions and a completion percentage of 68.3. Tune's top target and speedster, Nathaniel Dell, returns for his third season in Houston after posting 1,329 yards and 12 touchdowns on 90 receptions last year. Dell will likely start alongside returning receiver KeSean Carter with a group of transfer receivers and true freshman Matthew Golden competing for the other spots in the starting lineup. Unfortunately for the Cougars, they lost leading rusher Alton McCaskill IV to an ACL injury in the spring, but second-leading rusher Ta'Zhawn Henry returns after posting 524 yards and seven touchdowns on 111 carries last season. Henry will be running behind returning starters in Patrick Paul and Tank Jenkins along the offensive line, in addition to transfer Tyler Johnson (Texas), a former four-star recruit for whom the Cougars are excited. 
At the time of publication, Houston (+250) has the third-best odds on FanDuel to win the AAC with a win total of 8.5. With this schedule, the Cougars should surpass that win total and compete for the conference title. They do not have to play UCF or Cincinnati — the two favorites to win the conference — during the regular season and have a bye week before their matchup with Navy, giving them time to prepare for the option offense of the Midshipmen. The Cougars have the firepower to beat UTSA and Texas Tech in Weeks 1 and 2, which is the only time they face back-to-back road games all season. If they can escape the first two weeks with just one loss or better, they will be a threat to finish the season 11-1. Even if the Cougars lose their first two games, they would still be in a great position to win the conference and maybe even accumulate 10 regular-season wins. FanDuel lists the Cougars at +170 to win 10 regular-season games, and I think that is a great value for the explosive offensive team that could be flying under the radar. 
North Carolina State Wolfpack
The Wolfpack are likely to be ranked in the AP Preseason Top 25, but one could still argue they are being discounted in the ACC due to the Clemson Tigers and the Miami Hurricanes. Per FanDuel, NC State has the third-best odds to win the conference at +800, which is a bit surprising considering they appear to be a more complete and proven team than the Hurricanes going into this season. I suppose it makes sense when you consider the Wolfpack are in the same division as Clemson and would have to get through the Tigers in order to make it to the championship game. FanDuel lists NC State at +500 to win the division, right behind Clemson — which is a -220 favorite to win the Atlantic. 
Devin Leary is one of the ACC's premier quarterbacks and will return to Raleigh after throwing for 3,433 yards and 35 touchdowns with just five interceptions and a completion percentage of 65.7. The Wolfpack will have to replace some elite offensive production, starting at left tackle after Ikem Ekwonu was drafted sixth overall by the Carolina Panthers. However, there is a good bit of returning production in Bryson Speas, Chandler Zavala, Grant Gibson and Dylan McMahon across this offensive line. NC State will also have to replace its top two rushers in Zonovan Knight and Rickey Person Jr, which does leave some cause for concern. However, the Wolfpack ranked 116th in rush attempts per game last season; they relied more on Leary's arm than the run game. To that effect, Leary will have two of his top three targets back this season, as Thayer Thomas and Devin Carter combined for 82 receptions, 1,152 yards, and 14 touchdowns a year ago. Graduate transfer Darryl Jones (Maryland) should be in the mix for quite a bit of playing time, as well, after accumulating 319 yards and 2 touchdowns on 23 receptions for the Terrapins last season. 
Defense will be the Wolfpack's calling card, as they return quite a bit of talent from last year's team. NC State was one of the nation's best defensive units in 201 despite dealing with injuries to multiple key pieces. The Wolfpack held their FBS opponents to 20.8 points per game — which ranked 18th nationally — and were a top 25 defense in yards per game and yards per play, as well. They bring back their top two tacklers in linebacker Drake Thomas and safety Tanner Ingle to headline a defense that returns 14 of its 16 leading tacklers in addition to super-senior Cryus Fagan, who missed most of last season due to injury. If it were not for Clemson, we may be talking about this group as the best defense in the ACC. 
NC State's schedule is favorable, missing two best teams in the Coastal Division — Miami and Pitt. Furthermore, the Wolfpack will have to travel on the road in back-to-back weeks just once this season when they close out the year with Louisville and North Carolina. Non-conference games include a true road game at ECU, as well as home games against Charleston Southern, Texas Tech and UConn — all winnable games for an experienced Wolfpack team that will likely be favored by more than one score at kickoff in each. After UConn, the difficult portion of the schedule begins as the Wolfpack will travel to Death Valley to play Clemson. It will be interesting to see how the experienced defense of NC State matches up with the Clemson offense, as the Tigers were an underachieving group on that side of the ball last year. Defensively, the Wolfpack will have their hands full with a Clemson defense full of NFL talent, but Leary has experience against these Tigers after beating them last year in overtime with four touchdowns and over 300 yards. After Clemson, NC State will play four of its next five games at home, with its toughest test November 5 against Wake Forest, before closing out with the aforementioned back-to-back road games. 
With all eyes on Clemson and Miami in the ACC, NC State is one of the better under-the-radar teams this season. If the Wolfpack's defense can withstand the tests against Clemson and Wake Forest, they could be a Top 10 team with a conference championship and an appearance in the College Football Playoff within reach. 
Purdue Boilermakers
Quarterback Aidan O'Connell returns to the Purdue Boilermakers for his sixth season of college football. O'Connell is an accurate pocket passer who showed he is a great fit in Brohm's system, as he boasts a 123.0 passer rating on deep passes. Last season, he threw for 3,712 yards and 28 touchdowns with 11 interceptions and a 71.6% completion percentage. The Boilermakers will have to replace 51% of his targets and 59% of his caught passes, but the passing game should remain a strength. Broc Thompson and transfer Charlie Jones are poised to lead the receiving core with TJ Sheffield and transfer Tyrone Tracy operating in the slot. Purdue also has a great duo of pass-catching tight ends to accompany wide receivers Payne Durham and Garrett Miller, who combined for 65 receptions, 641 yards, and 6 touchdowns (all scored by Durham). The run game leaves a bit to be desired, but Brohm brought in Central Michigan transfer Kobe Lewis in an attempt to improve things and the offensive line returns its starters on the left side as well as its center. 
In the offseason, Brad Lambert went to Wake Forest to become the defensive coordinator for the Demon Deacons and was replaced by Ron English and Mark Hagen — both of whom were on the staff last season and also carried the title of co-defensive coordinator. On the field, the Boilermakers lost George Karlaftis (NFL Draft) as well as its top two tacklers in Jaylan Alexander and Marvin Grant – who combined for 189 total tackles and 11 tackles for loss last season. However, there is still excitement around this unit. Purdue brings back Kieren Douglas and Kydran Jenkins to lead the linebacking core, while Cam Allen returns after leading the Boilermakers in interceptions to headline a veteran secondary that ranked 5th in the Big Ten against the pass. There is plenty of experience on the defensive line as well with Jack Sullivan, Lawrence Johnson and Branson Deen manning the trenches. The trio of seniors combined for seven sacks and 15 tackles for loss last season. 
The Boilermakers' schedule is extremely favorable; they do not have to play Ohio State, Michigan, or Michigan State — three of the Big Ten's four best teams. They also play on the road in back-to-back weeks just once this season when they travel to Maryland after a game in Minnesota. Their non-conference schedule is nothing to lose sleep over with home games against Indiana State and FAU and a road game against Syracuse. Furthermore, Purdue benefits greatly from the fact that it will host Penn State and Iowa at home. The Iowa game comes after Purdue's road trip to Wisconsin (arguably their most difficult game on the schedule), but there is a bye week in between those two games. 
The Big Ten West has a handful teams that have a realistic shot to win the division, but Purdue appeals to me most with its returning talent and favorable schedule. The Boilermakers are currently listed at +600 to win their division behind Wisconsin, Nebraska, Iowa and Minnesota, and they aren't getting as much respect as they deserve heading into the 2022 season.
At Pickswise we offer free expert College Football Picks and College Football Predictions for all games in the Power Five conferences and the top 25 teams outside of Power five, including our College Football Parlay picks each week.