USFL Week 1 predictions, picks, props and best bets: Stars shine against Breakers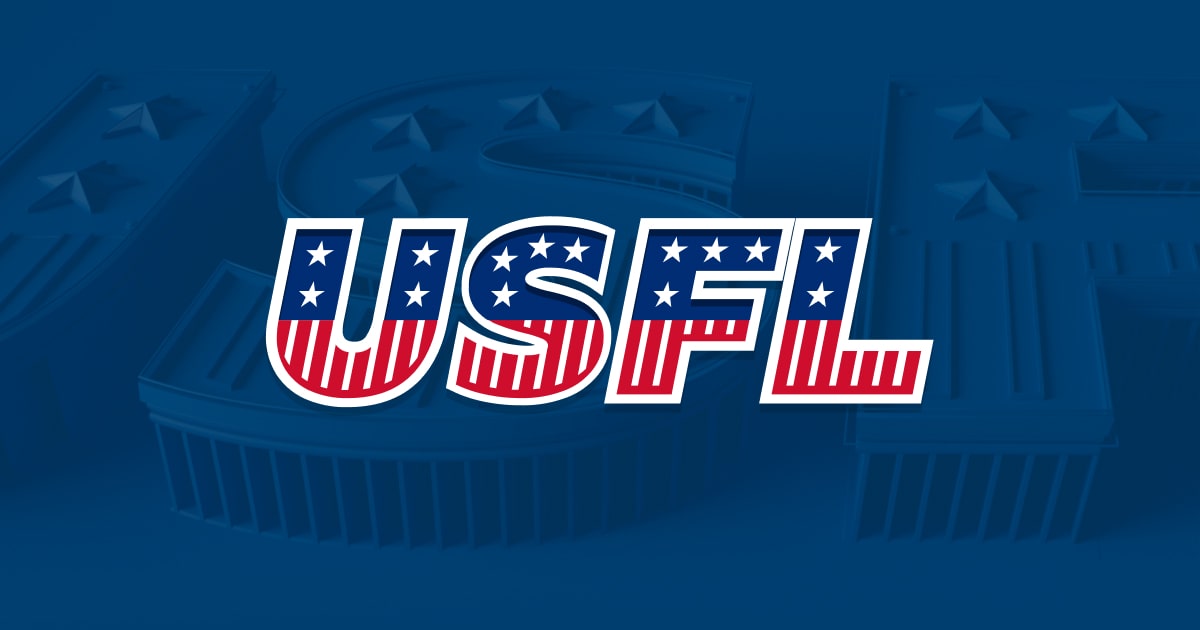 Welcome to the reboot of the United States Football League! For the first time since 1985, the USFL will be back in action this weekend. These alternate leagues have been tried several times before with the AAF, Fan Controlled Football and probably the most popular: the XFL. There aren't a lot of names you know going into this one, but Michigan coach Jeff Fisher, Tampa Bay coach Todd Haley, Pittsburgh Maulers quarterback Kyle Lauletta and Birmingham Stallions receiver Victor Bolden should ring a bell. Interestingly, all games will be played at Protective Stadium in Birmingham, Alabama.  
The rules are definitely skewed in the favor of the offense, but at the same time these players aren't exactly the cream of the crop, which is why they ended up in the USFL. It is hard to say if the offenses will click and give us a fireworks show, or that the timing isn't there yet and offenses will struggle early. The first week of the NFL season is often hard to predict, so the first week of a brand-new league with many players we aren't familiar with is going to be even more unpredictable. But watching games is always more fun when there's something on the line, so let's take a look at some best bets for Week 1 in the USFL.  
How to watch the USFL in Week 1
The USFL regular season will begin this Saturday, April 16 and run through mid-June before the playoffs begin. The opening matchup will see the New Jersey Generals take on the Birmingham Stallions, with kickoff slated for 7:30 pm ET on Saturday, April 16. Believe it or not, the game will air on both FOX and NBC in hopes of drumming up enough early interest in the league to sustain ratings throughout the rest of the season across each network. 
New Jersey Generals at Birmingham Stallions, 7:30 pm ET, Saturday April 16 on NBC and Fox
Houston Gamblers at Michigan Panthers, 12:00 pm ET Sunday April 17 on NBC
Philadelphia Stars vs. New Orleans Breakers, 4:00 pm ET Sunday April 17 on USA
Tampa Bay Bandits at Pittsburgh Maulers, 8:00 pm ET Sunday April 17 on FS1
Tampa Bay Bandits vs Pittsburgh Maulers prediction: Bandits -4 (+100)
If you watched the XFL at all, hopefully you remember Tampa Bay's quarterback Jordan Ta'amu. Outside of Phillip Walker, who got on the field in the NFL after his stint in the XFL, Ta'amu was the second-best quarterback in the league. His decision making was sharp, he could extend plays with his legs, and he had a solid arm. In a week of uncertainty, I am going with the guy I know the best. Tampa should also be able to run the ball with B.J. Emmons, who not only had success in college but at least was on an NFL field (even if it was preseason). Plus, head coach Todd Haley is known for a pretty wide-open offense that likes to push the ball down the field. 
Pittsburgh has a quarterback you've probably heard of in Kyle Lauletta, who was very successful in college at Richmond. He played in one NFL game for the New York Giants, but all five of his passes were incomplete and he threw an interception. Head coach Kirby Wilson was a running backs coach with the Pittsburgh Steelers and seems like he might run a more conservative offense, which might not be conducive to scoring a lot of points. They should have a pretty solid running game, but their three top receivers are six foot or shorter, while Tampa Bay has a taller secondary. Height isn't everything, but it certainly helps down around the end zone. 
Football has turned into a quarterback driven league, and even though this is the highest point spread on the board, we have faith in Ta'amu and Todd Haley getting the most out of him on the field. Look for Tampa to win their opening game by a touchdown or more. 
New Jersey Generals vs Birmingham Stallions prediction: Over 42.5 (+100)
As stated earlier, it is hard to know whether offenses are going to click or be out of sync in the first week of a new league. However, it does feel like the totals are all conservatively low. The main reason we like the over in this game is the head coaching matchup. New Jersey's coach Mike Riley is known to run a west coast style offense, but with more tendencies to take shots down the field than a typical west coast style. On the other side of the ball, Birmingham's Skip Holtz helped transform his legendary father's South Carolina offense into a stellar unit when he spread the field more and ran an exciting passing game. This one should be more about the offense than the defense. 
Riley will have his quarterback guru reputation tested with his starter De'Andre Johnson. Once a highly touted quarterback at Florida State, off-the-field issues cost him his best chance. However, he has a great arm and will likely also be the best running quarterback in the USFL. The question is if he can put his talents together to be successful. 
The Generals also have one of the better running backs in the league with Mike Weber, plus a couple speedy receivers in KaVontae Turpin and J'Mon Moore. On the Birmingham side, I really like quarterback Alex McGough, who was a stud at Florida International and was signed to several NFL practice squads but never saw the field. They have one of the top receivers in the league in Victor Bolden, plus two guys you probably don't know yet but will soon in Emanuel Hall and Osirus Mitchell. Tight end Sage Surratt could be the best in the league. 
We like the matchup of two high-powered offensive coaches with teams that have weapons to go up and down the field. 42.5 points is not a lot to ask here considering the big-play ability of both offenses. 
Philadelphia Stars vs New Orleans Breakers prediction: Stars +2.5 (-110)
The Stars have something that no other team in the USFL has – a head coach and quarterback that have actually worked together before. Bart Andrus has been a head coach in NFL Europe, the Canadian Football League, XFL and Spring League where he and QB Bryan Scott won the championship together. Scott earned high praise at Division III Occidental and was often compared to Aaron Rodgers. The hype around Scott is huge heading into the season, and with tight end Bug Howard and 6'6" receiver Jordan Suell to target, this Stars offense looks set to shine. 
Breakers quarterback Kyle Sloter was signed to several NFL practice squads but never saw the field. In fact, he only started for a year in college at Northern Colorado, and that was after the starter went down with an injury. His only season was fantastic, but again was only a single season. Sloter is one of the bigger wild cards of the league. The New Orleans offense looks like it should be run heavy as they have three very good runners in T.J. Logan, Larry Rose, and Jordan Ellis. They also have solid receivers in Shawn Poindexter, Johnnie Dixon and Taywan Taylor. Head coach Larry Fedora is also a fan of a spread offense, so this game could have a lot of points on the board. 
This one could be the most exciting game of the weekend as both teams look to be poised to be successful. We'll take the points with the Stars based on the coach and quarterback familiarity and the uncertainty with the New Orleans quarterback. 
USFL Week 1 best player prop: Sage Surratt (Birmingham Stallions) Over 22.5 rec yds (-110)
It remains to be seen how much tight ends are used in the USFL, but Surratt is practically a wide receiver. He earned all-ACC honors in 2018 and in 2019 caught 66 passes for 1,001 yards and 11 touchdowns in nine games. Surratt isn't the fastest guy in the league, but at 6'3" and 215 pounds you figure he will have a size advantage on safeties trying to guard him and should still be able to outrun most linebackers at this level. The Stallions have an offensive-minded head coach, a solid quarterback, and a wide receiver in Victor Bolden that will probably get a lot of defensive attention. Surratt may even be able to top this number by halftime. 
Pickswise is the home of NFL Picks. Be sure to check out all of our post-Super Bowl offseason coverage as we gear up for the 2022 campaign.