View from the Front Office: Rams are all in on 2021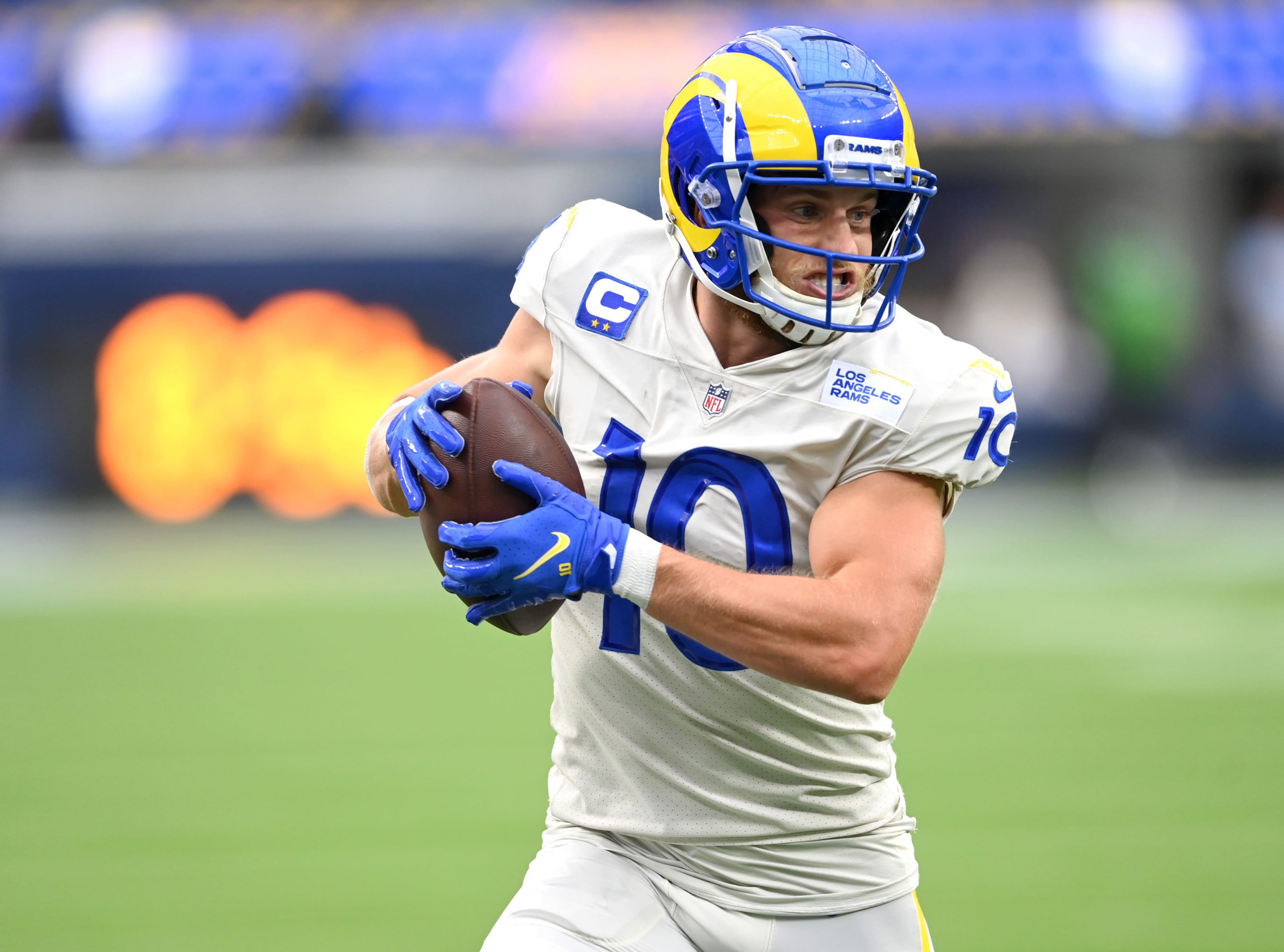 After working 17 years in the NFL as an area scout (Philadelphia and New Orleans) and Director of Player Personnel (Buffalo), I am now back to my true passion that started in high school – using statistics and unique insights to find value. Here you can find my unique perspective on the hottest topics in the NFL, player evaluation and film reviews, plus where I see value in the betting market. Let's dive into Week 8:
Rams are "All In" This Season and Must Win Now
Rams head coach Sean McVay was hired in 2017 to develop former 2016 overall first pick QB Jared Goff and lead the Rams to a Super Bowl. McVay and Goff did just that, as the Rams appeared in the 2019 Super Bowl but lost to the Patriots 13-3. Three points for a McVay offense is unacceptable, yet Rams GM Les Snead (who drafted Goff) decided to extend the QB's contract through the 2024 season. After a 10-6 record last season, McVay made his power play and pushed all his chips in to acquire top-tier talent Matt Stafford, who'd been largely handcuffed in Detroit. 
When I worked for the New Orleans Saints, I was fortunate to see Sean Payton take over the franchise in 2006 and build it his way.  It started with targeting Drew Brees in free agency, but it also meant getting rid of players Payton did not see as culture or talent fits for his system. QB Aaron Brooks was cut in March, and then former first-round receiver Donte Stallworth was traded in August. Long-time playmaker Joe Horn was cut after refusing to take a pay cut in March 2007, and it was clear to me that Coach Payton had a plan and vision for how he wanted his team built. Making tough decisions is part of that process. 
What exactly does "pushing all your chips in" mean for the Rams? It results in not having a first-round draft pick in '22 and '23. It means being ranked 27th and 26th in salary cap space for the 2022 and 2023 seasons respectively. The window to win a Super Bowl is now for the Rams, and that is the gamble the organization agreed to when they made this deal for Stafford.
The results are obvious. Last season, the Rams ranked 21st in yards per attempt. Now, they rank 3rd. The Goff-led offense in '20 ranked 19th in yards per play, but with Stafford the Rams rank 2nd. In points per play, LA ranked 23rd last year versus 5th now. The Rams' offense looks Super Bowl worthy, but stats do not guarantee you anything. Stafford has played in three playoff games in his previous 12 seasons in Detroit. For the "All In" trade to be a success, Stafford is going to have to outplay Aaron Rodgers, Tom Brady, Dak Prescott and Kyler Murray just to win the NFC. McVay would not want it any other way and loves his new hand.
Coach in the Sauna: Clock ticking for Fangio?
Whenever a new GM inherits a head coach, that coach immediately is a candidate to sweat in the sauna. That is exactly the case in Denver where first-year GM George Paton came from Minnesota to join incumbent head coach Vic Fangio. After last Thursday's loss in Cleveland to an injured Browns team, Fangio is certainly being evaluated by the front office. 
Fangio made a name for himself on the defensive side of the ball over his career. He is well respected and the results speak for themselves over his career. Just because you are a good coordinator does not mean you have the vision to build a complete team though. Having the right QB does not guarantee you success, but if you do not have the right starting QB you are not giving yourself a realistic chance to compete for a Super Bowl. 
The Broncos passed on two QBs (Justin Fields and Mac Jones) in the 2021 draft, deciding that veteran Teddy Bridgewater would compete with former 2nd round pick Drew Lock for the starting job. They drafted former Alabama cornerback Patrick Surtain II who is very talented, but does that improve your team enough? The numbers so far say that the Broncos are spinning their wheels. In 2020 they ranked 15th in opponent yards per attempt and currently rank 15th again in that category. In opponent yards per play the Broncos rank 15th in 2021 which is not much improvement from their 19th ranking in '20. They have dropped from 9th in 2020 in sack percentage to 14th in 2021. 
In my evaluation of their current passers, both Bridgewater and Lock are good backup QBs but not the answer as the starter. Who ultimately made the decision to pass on a first round QB is only known behind closed doors, but Paton's job is secure. Fangio is an easy scapegoat for the new front office especially when the stats are not showing improvement on defense for which Fangio is responsible.
Top 5 QBs from week 7
Aaron Rodgers (GB) – He uses every weapon available and not just Davante Adams. He makes plays under pressure, outside of the pocket and with his legs. 

Matt Stafford (LAR) – He carved up Detroit every chance he had. The Lions were making it tough by controlling the ball early, but Stafford never panicked and put the ball in the hands of his playmakers.

Carson Wentz (IND) – Throwing in the bomb cyclone was not easy but Wentz stayed focus the entire game. He put the ball where only his receivers could make the play and they also benefitted from pass interferences down the field where Wentz showed his arm strength in rough conditions.

Joe Burrow (CIN) – Signature win for Burrow's young career. He had a poor redzone INT that did not faze his confidence and he and rookie Ja'Marr Chase have great chemistry, making them the talk of the league right now.

Lamar Jackson (BAL) – The do-everything QB was putting on his usual highlights until the game became out of reach against the Bengals. He is making throws every week that are jaw dropping.
Bottom 5 QBs from Week 7
Teddy Bridgewater (DEN) – He was not 100% healthy against Cleveland and it showed. Poor decisions and lack of accuracy were concerning.

Davis Mills (HOU) – The Texans play offense like they can't wait to punt the ball. Tyrod Taylor should be back soon to relieve the rookie from a rough start to his career.

Sam Darnold (CAR) – Was benched and is not looking confident running the offense, especially without star playmaker Christian McCaffery. He is playing skittish in the pocket.

Jared Goff (DET) – He does not threaten a defense down the field. He did nothing to make former coach Sean McVay miss having him as his QB.

Jameis Winston (NO) – Was not accurate on intermediate throws and missed a wide open TE screen for a TD at the end of the game that would have given the Saints the cover.
Jim Monos' NFL Week 8 ATS picks
Miami @ Buffalo -13.5
Miami is not good on offense (28th in yards per play) or defense (26th opponent yards per play). They have showed a little life since Tua Tagovailoa's return, but that was against Jacksonville and Atlanta and both ended up as losses. Enter a Bills team fresh off the bye that have the #1 ranked defense in yards per play and an offense which rank 3rd in points per play. Buffalo rolls at home against a Dolphins team heading in the wrong direction.
Pittsburgh @ Cleveland -3.5
Whether it's Baker Mayfield or Case Keenum, the Browns can run the football and get Nick Chubb back. The Steelers struggle on offense, ranking 25th in yards per play, and are going against a Cleveland defense that ranks 2nd in yards per play. Ben Roethlisberger is not making throws down the field and not able to move around the pocket which will be trouble against a Browns defense that ranks 3rd in sack percentage. The Steelers are off a bye but don't forget the Browns have extra rest as well, having played last Thursday. 
Make sure you read our picks on the side and total EVERY Week 8 NFL game!
Pickswise is the home of free NFL Picks and NFL Odds. Check out the latest NFL Prop Bets and NFL Parlays as well as expert NFL Underdog Picks and NFL Computer Picks.