View from the Front Office: Trade Tales - Rex Ryan on a yacht & How KC got Mahomes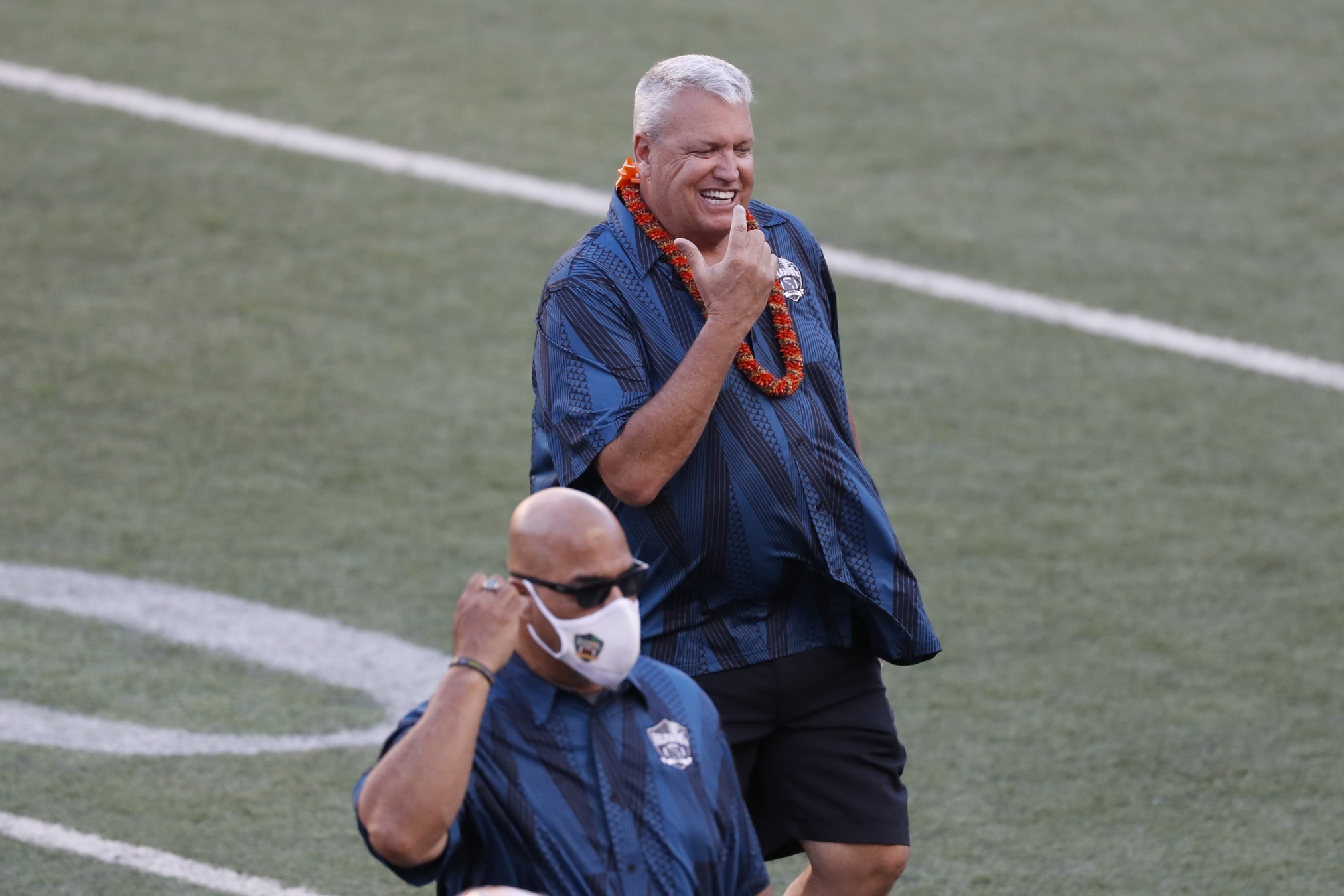 This year's trade deadline saw eight-time Pro Bowl edge rusher Von Miller go from Denver to the "All In" Rams, while Deshaun Watson wound up staying put in Houston as teams tried to figure out what his status is with the league and the law. As was the case with Miller, the players you see dealt close to the deadline are usually veterans who still have value on the field, but are stuck on teams that are not true contenders and want to clear cap space. Pro scouting departments also pay close attention to players on other teams who were free agents in the previous off-season, plus draft picks who are not meeting expectations. That is typically how you can find buy-low trade targets. 
Notable moves around the trade deadline do happen, but not every year and certainly not for every team, so I was actually never a part of a big deadline move as the Director of Personnel for the Bills. However, I was involved in some big trades during my time in Buffalo. Here's how they went down.
Shady almost sends Rex overboard!
Shortly after Rex Ryan was hired by Bills owners Terry and Kim Pegula in 2015, I was part of an unforgettable meeting on the Pegulas' yacht in West Palm Beach, Florida. Attendees included Rex, his new coordinators, then-GM Doug Whaley and me. We were going through evaluations and contract statuses for every player on the roster when during a short break, Whaley received a call from the Eagles asking if we were interested in Shady McCoy. Whaley and I looked at each other and just smiled. Rex and his new staff said make it happen. 
We asked the Eagles who they were looking for in return, and they said LB Kiko Alonso. We waited for more names or draft picks, but that was all they asked. Basically, they wanted to clear cap space by trading McCoy. It was a no-brainer for us, and it was quite possibly the easiest trade transaction you could imagine in the NFL. After terms were agreed, it's fair to say the yacht meeting quickly turned into a yacht celebration, and we nearly had to keep Rex from jumping for joy into the water.
Making way for Mahomes
Before the 2017 draft, former Kansas City GM John Dorsey called us to see if we were interested in trading out of the 10th overall pick. We had just hired head coach Sean McDermott, and as a staff we had decided to keep QB Tyrod Taylor for 2017, knowing the '18 draft class was full of quality QBs. So it made sense to add more draft capital as we built the roster for the new coach. 
The Chiefs were moving up from the 27th pick, so we knew they were aiming to take either Patrick Mahomes or Deshaun Watson, and it of course turned out to be the former. In return, they gave us an additional third-round pick, and more importantly their 2018 first-round pick as well. We selected CB Tre White in '17, and the Bills used their draft power a year later to select a franchise QB of their own, Josh Allen. 
You never know when a franchise-changing phone call may come, and while some may criticize the move in hindsight, it's fair to say that both the Chiefs and Bills ended up with top-tier quarterbacks as a result of that one.
Coach in the sauna: Meyer feeling the heat
Add Jacksonville head coach Urban Meyer to the same sauna that Houston head coach David Culley is in for the one and done, hired and fired for 2021.
Down 24-0 to Seattle in Week 8, the Jaguars scored a meaningless TD with 1:49 left in the game. Simple math tells you to go for two, but Jacksonville kicked the extra point to make it 24-7 which is telling you they are conceding the loss. Meyer decided to onside kick which made no sense after you decided to kick the extra point, and Seattle returned it to make the final score 31-7 and leave everyone confused about the decision-making from the head coach.
Trevor Lawrence is the most talented QB that Meyer has ever coached. Meyer was brought in to develop the rookie, but the offense is hard to watch and showing no signs of improvement. The Jaguars rank 27th in points per play and 30th in yards per pass attempt. For an offense that ranks 15th in rushing yards per game that is unacceptable to be ranked that low in scoring and passing. The offensive line is doing a good job, ranking 5th in QB sacked percentage, proving that the design of the pass offense is not good enough and a direct reflection on the head coach's inability to get the most out of Lawrence.
Jacksonville owner Shad Khan is certainly to blame for the uninspiring hire. Meyer stepped down from the University of Florida in 2011 after creating what the Sporting News phrased a toxic culture. As an area scout for the Saints, I can confirm the headaches that Meyer was creating in Gainesville. He was immediately hired by Ohio State in 2012, but said he was retiring from coaching in 2018 after reports surfaced that Meyer knew about spousal abuse allegations for one of his assistant coaches that led to his suspension for not upholding the values of the University.
Meyer's success in college is undeniable but recruiting and signing the most talented players is not the same as having to draft, sign free agents and build a roster in the NFL. Khan is not lacking in reasons to move on from the first-time NFL coach. He can use the current 1-6 record, the hiring and firing of strength coach Chris Doyle — who was accused of bullying and racist remarks at Iowa — or the fact that Meyer did not travel back with his team after a loss to Cincinnati and was recorded dancing with a woman who was not his wife. It's time for Khan to show the players that leadership matters and the first step is moving on from Meyer as soon as possible.
Top 5 QBs from Week 8
Justin Fields (CHI) – This is not a typo. Fields not only made highlight runs but was also impressive on third downs, converting on 8 of 15 attempts. I guess he did not need Matt Nagy on the sideline.
Matt Stafford (LAR) – Looked like he was in college, throwing for over 300 yards and not having to play in the 4

th

quarter. 

Jimmy Garoppolo (SF) – Executed the offense to perfection. The running game was dominant which opened the play-action passing game and Jimmy G took advantage, hitting his receivers in stride.
Geno Smith (SEA) – Looked like a very good veteran backup QB. He hit Lockett down the field for big plays and used Metcalf's size to finish drives in the endzone. 
Jalen Hurts (PHI) – He was more impressive using his legs than his arm. He showed his ability to extend drives, going 5 for 10 on third-downs and made the most of his 14 passing attempts.
Bottom 5 QBs from Week 8
Carson Wentz (IND) – It was not just his unacceptable INT for a TD, but he was off target all game. Underthrown deep balls hoping to get pass interference calls is a tough way to make a living.
Trevor Lawrence (JAX) – 54 pass attempts to get 238 yards and 7 points? Not all his fault, but his accuracy is all over the place right now.
Daniel Jones (NYG) – If your defense holds the Chiefs to 20 points you need to win that game, and Jones never took advantage of big stops from the Giants' defense to get momentum.
Matt Ryan (ATL) – Poor decision-making all day against Carolina and couldn't get Pitts involved, which led to a flat Falcons offense.
Jared Goff (DET) – First-year GM Brad Holmes has to be regretting not drafting a QB. Goff shows no playmaking ability and isn't throwing the ball down the field.
Jim Monos' NFL Week 8 picks
Las Vegas Raiders -3 over New York Giants
Bad teams find ways to lose and that is the Giants right now. The Raiders are coming off a bye and need to prove they are a true contender by beating a banged-up New York offense. The Raiders rank 4th on defense in yards per play, going against a Giants offense that rank 23rd on offense in YPP. Vegas proved that distractions do not bother them when they lost their head coach, and now must do the same following the Henry Ruggs incident. I expect the Vegas defense to carry the Raiders to a road victory and cover.
Arizona Cardinals -1 over San Francisco 49ers
This play is only applicable if Kyler Murray is playing. The 49ers' defense could not slow down a poor Bears offense last week which is just what the Cardinals need after a tough loss to Green Bay. The extra rest for Arizona is nice too but so is their first-ranked third-down defense going against San Fran's 30th-ranked third-down offense. The Cardinals should get back on track and I would also recommend taking them on the ML in the first half for some extra winnings.
Make sure you read our picks on the side and total EVERY Week 9 NFL game!
Pickswise is the home of free NFL Picks and NFL Odds. Check out the latest NFL Prop Bets and NFL Parlays as well as expert NFL Underdog Picks and NFL Computer Picks.