View from the Front Office: Urban Meyer was the wrong choice to develop struggling QB Trevor Lawrence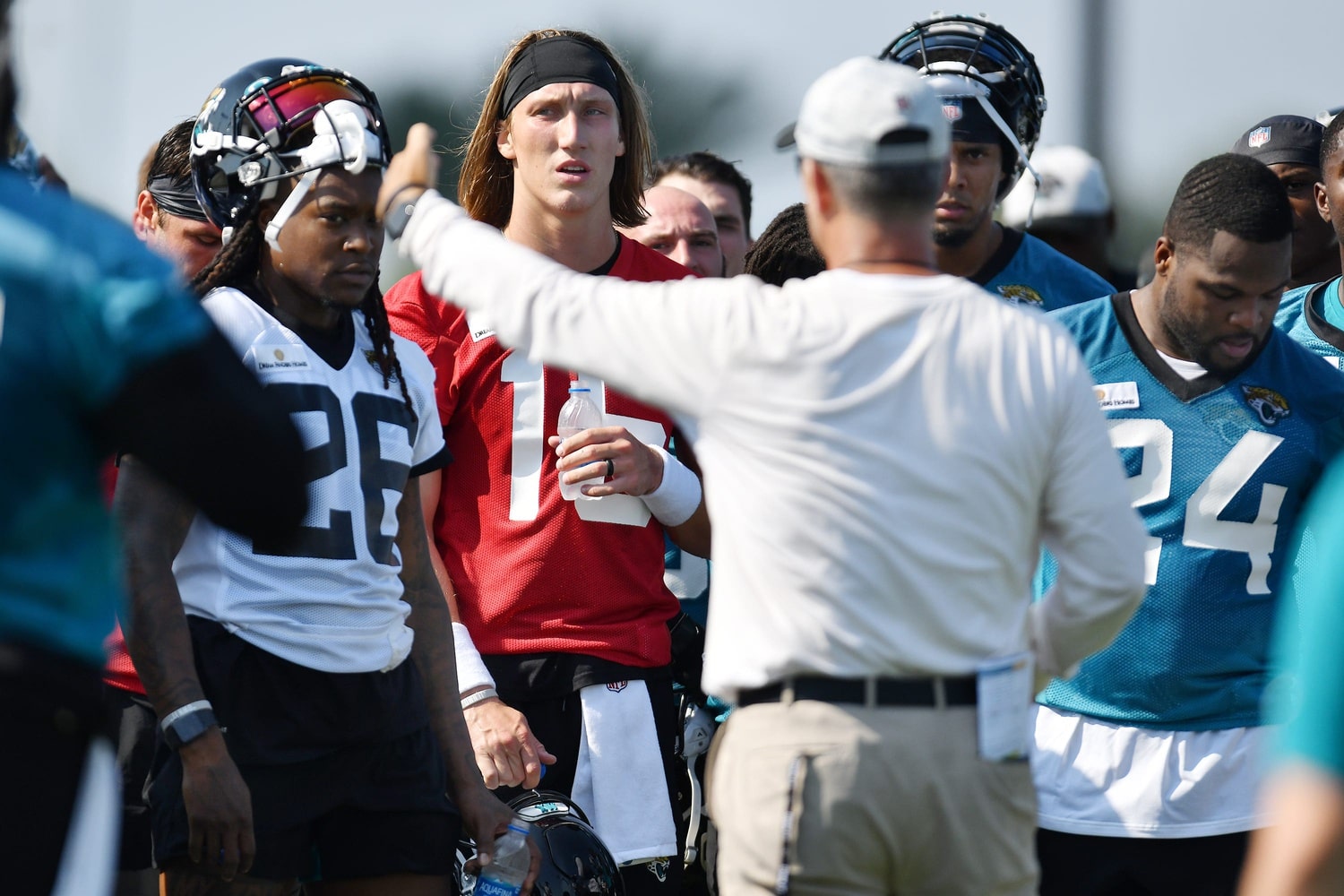 After working 17 years in the NFL as an area scout (Philadelphia and New Orleans) and Director of Player Personnel (Buffalo), I am now back to my true passion that started in high school – using statistics and unique insights to find value. Here you can find my unique perspective on the hottest topics in the NFL, player evaluation and film reviews, plus where I see value in the betting market.
Lawrence's early struggles are down to Meyer
There is a massive difference between being a great college quarterback and a franchise QB in the NFL. Urban Meyer knows the style of QB he needs to run a successful offense at the college level. He also knows how to bring in five-star recruits at every other position to surround his system-style signal-caller. But in my opinion, Meyer is not a developer of professional franchise quarterbacks. 
Meyer gets credit for coaching former #1 overall pick Alex Smith while at Utah, but if you study Smith's career in the NFL it took him almost five seasons to really start to become a good starting QB, and that was under Jim Harbaugh. His other high-profile QBs were Tim Tebow and Dwayne Haskins. Denver did the best they could with Tebow but realized quickly he was not an NFL starter, and Haskins is not even close in terms of accuracy or decision-making, and his professional career has been a disaster so far. What quarterback has Meyer ever seriously prepared for life in the NFL?  
Jacksonville owner Shad Khan needed to put more thought into who is qualified to develop Trevor Lawrence, not who can make him money selling season tickets by giving fans false hopes that the Jaguars could resemble the Florida Gators. I saw the demeaning signing of Tim Tebow as a tight end as more of a Meyer-led PR stunt than putting together the best roster. 
It's laughable how through two games Lawrence is completing 42% of his passes with five interceptions, while fellow first-rounder Mac Jones is completing 73% with zero interceptions for New England.
It is not all off-track for the Jags. GM Trent Baalke put together a talented team in San Francisco from 2011-16. The offensive line has struggled but has experience, and the defense has plenty of talent. But the critical question is, who is developing Trevor Lawrence to unlock his superstar potential? It certainly doesn't seem to be Urban Meyer. This early period is critical for rookie QBs to learn and make gradual progress as they adjust to the pro game. But with each subsequent week of sub-par play, the #1 overall pick's confidence takes a hit and his potential growth is stunted.
Check out our Pickswise Debate where three of our experts give their best outsider pick for which team will make the NFL playoffs
Head coach in the sauna: Zimmer's in the frame
The Vikings are 0-2 and Mike Zimmer has officially entered the sauna. GM Rick Spielman addressed the defense during free agency by signing DT Dalvin Tomlinson, LB Nick Vigil, CB Patrick Peterson, CB Bashaud Breeland, and S Xavier Woods to upgrade a defense who ranked 29th in points per play and 27th in yards per play in 2020. Through two games in 2021, the Vikings defense ranks 25th in points per play and 26th in yards per play, showing very little improvement. 
When I worked for the Bills, owner Terry Pegula hired Rex Ryan in 2015. During his introductory press conference, Ryan mentioned that the Jim Schwartz-led defense that ranked 4th in points per game and led the league in sacks in 2014 was not good enough and he will make the defense rank first. The Ryan-led defense in 2015 ranked 15th in points per game and 31st in sacks per game. Ryan was fired before the end of the 2016 season.
Owners always want to know who the problem is. Is it the players, coaches, or talent evaluators? Spielman has been the GM since 2012 and is unlikely to be on the hot seat. Like most GMs, he has had his share of hits and misses, but owner Zygi Wilf is going to want answers on why the defense is not improving. The Vikings are so close to being 2-0 (which is a point Zimmer would likely make if asked those sorts of pressing questions), but that is the fine line. Zimmer may become the odd man out unless they find a way to show value in their off-season spending on defense.
Make sure you read The Dog House — our three best NFL underdog bets for Week 3!
Week 2 quarterback film review: Carr's on the road to greatness
After watching film of every Week 1 game, I can see which quarterbacks put in great performances and which ones put up what I like to call "fake stats", where their numbers in the box score are misleading. Let's dive in. 
Top 5 QBs in Week 2
Derek Carr (LV) – Bounced back from an inconsistent Week 1, showing accuracy and touch. Answered the Steelers' scoring drives before the half and twice in the fourth quarter to seal the win.
Kirk Cousins (MIN) – He was on point with deep sideline throws all day to go toe to toe with Kyler Murray. A missed 37-yard FG ruined a perfectly run two-minute drive and kept Minnesota out of the win column.
Lamar Jackson (BAL) – He was the biggest star of the primetime matchup against Mahomes. Showed strong mental toughness to overcome two early interceptions to put his team on his back and take advantage of the Chiefs' fourth-quarter turnovers.
Tom Brady (TB) – His placement on fade routes makes it impossible to cover. Until someone can find a way to consistently pressure him, he will just carve defenses apart.
Ryan Tannehill (TEN) – He is a different QB when the play-action is a threat. Natural with his timing and accuracy to keep targets moving after the catch.
Bottom 5 QBs in Week 2
Jimmy Garoppolo (SF) – Not able to sustain drives early due to his lack of accuracy. Deebo Samuel made the stats look good on basic throws.
Jacoby Brissett (MIA) – Replaced the injured Tagovailoa early and it didn't seem fair. The Bills were relentless with their pressure, consistently hitting Brissett. He can play better and will get the chance to prove it with Tua ruled out of Week 3.
Trevor Lawrence (JAX) – There is no flow to their offense. Looked prepared in their opening drive, but then fell apart after that with shaky decision-making and accuracy.
Zach Wilson (NYJ) – Interceptions and careless decisions are becoming too normal for the rookie. The game seems too fast for him right now, but he's too talented to not improve.
Jameis Winston (NO) – The roller coaster ride has begun for the former first overall pick back in a starting role. Frantic decision-making and lack of a running game led to a poor performance.
Make sure you check out our best Week 3 teaser picks and parlay!
Week 2 picks and best prop bets
New York Giants -3 over Atlanta Falcons
Atlanta is ranked 30th on third-down offense while the Giants rank 14th on third-down defense. Matt Ryan is very limited at this point, ranking 28th in yards per attempt, whereas Daniel Jones is coming off a tremendous game against Washington last week. A little extra rest for the Giants should have them ready to get their first win of the season.
New England Patriots -3 over New Orleans Saints
Both defenses are playing well in terms of yards per play, but the Patriots rank 5th on defense in sack percentage which is a big advantage when going against the turnover-prone Jameis Winston, who was skittish last week against Carolina's heavy pressure.
Make sure you read our picks on the side and total EVERY Week 3 NFL game!
Pickswise is the home of free NFL Picks and NFL Odds. Check out the latest NFL Prop Bets and NFL Parlays as well as expert NFL Underdog Picks and NFL Computer Picks.