View from the Front Office Week 10: Some stunning mid-season draft grades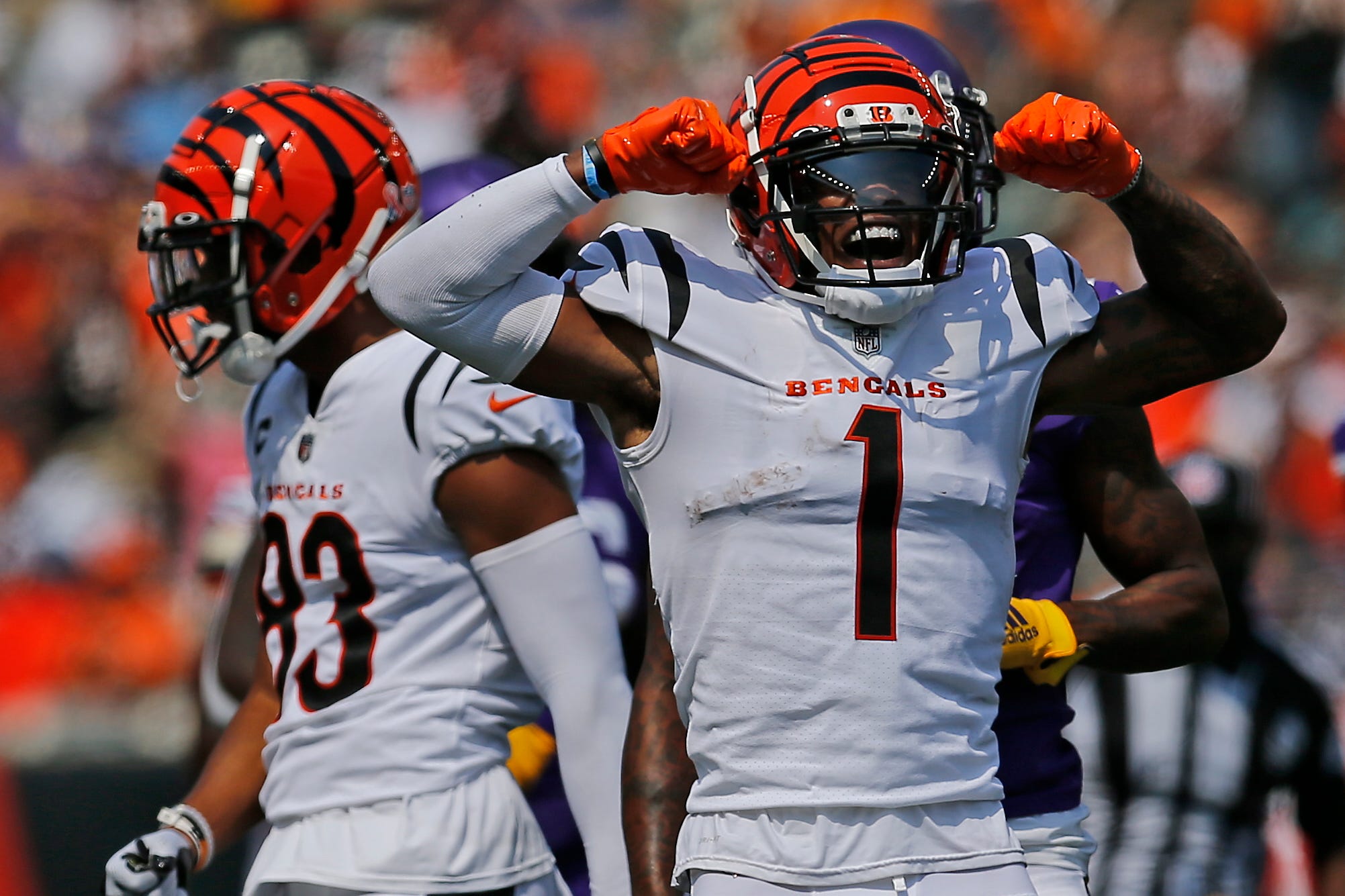 Draft grades come out immediately after a player is selected, despite the fact that they have never played in an actual game in the NFL. Therefore, with half of the regular now in the books it's a good time to make some more informed evaluations. Here are some of my grades after watching hours of film of a few high-profile rookies and some others who've caught my eye.
Bengals WR Ja'Marr Chase and Falcons TE Kyle Pitts are clearly battling for Offensive Rookie of the Year honors. They are dominating defenses like they did in college, presenting major matchup problems for defensive coordinators. The one other name that deserves OROY consideration but is rarely (if ever) shown on highlights is Chargers left tackle Rashawn Slater. Cowboys LB Micah Parsons is showing his size and speed to be the front runner for Defensive Rookie of the Year. Those four have been the most impressive to me, but here some other notable first-year players on both sides of the ball.
Rest of the "A" Team
Patrick Surtain, CB, DEN – He plays with natural instincts, combined with ball skills and length that is hard to find.
Javonte Williams, RB, DEN – Runs with vision, agility and speed. What I really love about him is his toughness and hands, making him an every-down back. He is the top RB in this class.
Creed Humphrey, C, KC – The rookie center is playing like a veteran, which is the ultimate compliment. The Chiefs rank 7th in sack percentage protecting Patrick Mahomes.
Justin Fields, QB, CHI – Despite playing behind a poor offensive line and a head coach who has failed before with a rookie QB, Fields shows accuracy, toughness, decision-making abilities and athleticism to prove correct why the Bears traded up to select him.
The "B" Squad
Greg Newsome, CB, CLE – I'm liking his tackling and the way he competes in man coverage. Shows speed and instincts to challenge top receivers.
Elijah Mitchell, RB, SF – He is explosive with finishing speed and is proving to be good find in the 6th round.
Pete Werner, LB, NO – Plays with toughness and speed fitting in immediately on a top defense in New Orleans.
Mac Jones, QB, NE – Shows quick decision-making and accuracy in the intermediate passing. Appears to be the only rookie QB seriously competing for a playoff spot.
Need to "C" More
Alex Leatherwood, OG, LV – He is currently starting at guard because he struggled at tackle. The 1st-round pick is getting pushed around and not showing the ability to sustain blocks.
Jaylen Waddle, WR, MIA – The speedy big-play threat is averaging only 8.9 yards per catch. Inconsistent hands have also been an issue, but he has found the endzone three times.
Trevor Lawrence, QB, JAX – The talent is certainly there, but his inconsistent accuracy and shaky decision-making show that he needs the right coach to get the most out of the abilities that made him the first overall pick.
Coach in the Sauna: Time to start scoring, Kyle
This is more likely a year away, but 49ers head coach Kyle Shanahan needs to start sweating now. San Francisco is last in the NFC West at 3-5 and 11th in the conference entering week 10 against the LA Rams. That's not the position an owner wants to see his team in, having just played in the Super Bowl two seasons ago.
Ultimately Shanahan will be judged on how the team plays once No. 3 overall pick QB Trey Lance takes over full time, which will most likely be next season. But for a coach known for his offensive intelligence, the 49ers rankings in points per play under Shanahan go '17 (22nd), '18 (22nd), '19 (2nd), '20 (19th), and '21 (15th). That is consistently not good enough, with his 2019 season Super Bowl appearance being the outlier.
I was not part of the Buffalo Bills committee to hire a head coach in 2015, but I do know that Shanahan was interviewed. At the time, he was the offensive coordinator for the Atlanta Falcons. Then-GM Doug Whaley shared with me after interviewing Shanahan that the committee could not decide if he was confident or cocky. That's a fine line that players will see through if that latter ends up being true.
The decision to draft Trey Lance was Shanahan's, just as it was his decision in 2017 to acquire Jimmy Garoppolo, whom he now wants to replace.  From my evaluation, Lance did not look ready to be a starter when he played against the Cardinals in Week 5. He has a long release, is not accurate and struggled with quick decision-making. Shanahan will have to prove to ownership in '22 that he can develop Lance and that trading up to draft him with the 3rd pick was the move that will get the 49ers offense back in the top five and competing for a championship like they did in 2019. If not, that may be his last season considering how strong the division looks competing against Matt Stafford, Kyler Murray, and Russell Wilson.
Top 5 QBs from Week 9
Matt Ryan (ATL) – Was lighting up a strong Saints defense all day. His connection with Cordarrelle Patterson has the Falcons competing for a playoff spot.
Justin Fields (CHI) – He did not let a slow start and questionable calls from the officials phase him. Showed leadership in primetime on the road and has all the talent to lead a franchise.
Baker Mayfield (CLE) – His timing and zip in the intermediate passing game was perfect to complement the Browns strong running game.
Carson Wentz (IND) – Bounced back from a poor Week 8 performance, displaying his mental toughness. Needs to play more consistently for the Colts to reach the playoffs.
Colt McCoy (ARZ) – If dictionary had a picture for a "backup" QB in the NFL, he would be the guy. Having said that, the Cardinals offense did not skip a beat and looked smooth under McCoy's leadership.
Bottom 5 QBs from Week 9
Sam Darnold (CAR) – The only consistent thing Darnold does is turn the ball over, which will have the Panthers looking for a new starting QB in 2022. They'll get a closer look at P.J. Walker in the weeks to come with Darnold now sidelined.
Tyrod Tylor (HOU) – Looked very rusty in his first game back from injury. Was not accurate in critical situations, which led to costly turnovers.
Matt Stafford (LAR) – The great equalizer against any QB is a pass rush, as the Titans proved last Sunday night. Stafford was off rhythm and feeling the rush the entire game.
Derek Carr (LV) – Was not able to finish drives in the end zone early due to a lack of accuracy in tight windows.
Trevor Lawrence (JAX) – The Jaguars had a huge upset win against Buffalo, but credit the defense – not Lawrence – who threw for 118 yards and scored 9 points in the Urban Meyer-led offense.
Jim Monos' NFL Week 10 picks
Las Vegas Raiders ML over Kansas City Chiefs (+123)
Crazy to think a Mahomes-led passing offense ranks 24th in yards per attempt, but they do. Meanwhile, the Raiders defense ranks 2nd in yard per attempt and 4th in yards per play. This is a good week for Carr to get back on track against a Chiefs defense that ranks last in yards per play. I like Vegas to win this one outright Sunday night.
Indianapolis Colts -10 over Jacksonville Jaguars
The Jaguars do not score points. They rank 30th in points per play and 31st in passing yards per attempt. The Jags do not stop anyone either (except for Buffalo) ranking 26th in opponents points per play and they are also 31st in turnover margin per game going against the Colts who rank 2nd in that category. Colts on a little extra rest at home should cover and continue to challenge for the playoffs.
Pickswise is the home of free NFL Picks and NFL Odds. Check out the latest NFL Prop Bets and NFL Parlays as well as expert NFL Underdog Picks and NFL Computer Picks.