MLB
Back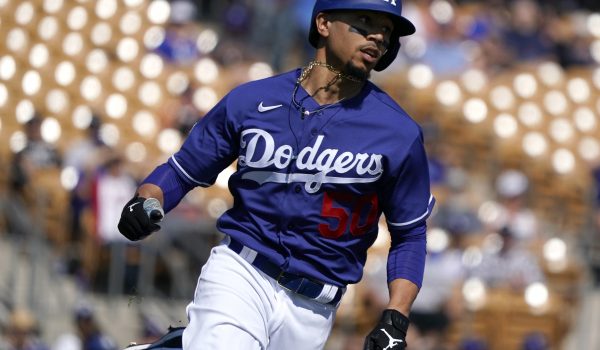 2020 MLB Bets: 3 Best Bets To Win The NL Pennant
As we patiently wait for the MLB and MLBPA to work out a deal to start the 2020 season which could be starting near July, it's the perfect time to take a look at the current MLB National League Pennant odds. If you're interested in my 3 best bets to win the AL Pennant, check those here. Below are the current odds to bring home the NL Pennant. 
Los Angeles Dodgers +165
Atlanta Braves +625
Washington Nationals +750
New York Mets +950
Chicago Cubs +1000
St. Louis Cardinals +1100
Cincinnati Reds +1200
Philadelphia Phillies +1500
Milwaukee Brewers +2000
San Diego Padres +2500
Arizona Diamondbacks +2500
San Francisco Giants +7500
Colorado Rockies +10000
Pittsburgh Pirates +15000
Miami Marlins +25000
Looking at the current 2020 MLB NL Pennant odds, three teams jump out as the best bets to make. Let's take a look at the three best 2020 NL Pennant bets to make before the first pitch in 2020. 
Los Angeles Dodgers  +165 
This has to be their year right? After going to the World Series twice in recent years and walking away with no commissioners trophy, the third time might be the charm. Especially with the recent news of the Houston Astros scandal, Los Angeles is ready to showcase why they deserved to be champions years ago. A powerful Los Angeles lineup consisting of Cody Bellinger, Max Muncy, Corey Seager, and former MVP Mookie Betts is straight-up scary. On the mound, Los Angeles can throw out Clayton Kershaw, Walker Buehler, Julio Urias, Dustin May, Brusadar Graterol, Alex Wood or David Price and see the wins come left and right. This is an easy bet to place.
New York Mets +950
New York got a glimpse of what their future looks like with  2019 NL Rookie of the Year Pete Alonso, as it will only be getting better in 2020. Expect Alonso to once again lead the charge with the bats, but do not blink twice on this Mets pitching rotation. Remember, New York currently has stars Jacob deGrom, Noah Syndergaard, Marcus Stroman, Steven Matz, Michael Wacha, and Rick Porcello. All very credible pitchers who can win with the New York Mets. I'm loving the value of the Mets at +950 as they are my second best bet to make to win the NL Pennant. 
Arizona Diamondbacks +2500
It's time for the traditional longshot bet as it's extremely important to look at the value with the bottom tier teams. I could easily make a case for the Philadelphia Phillies and downward, but getting the Arizona Diamondbacks at +2500 is quite frankly shocking. Last season, they finished with an impressive 85-win season as new sluggers Ketel Marte and Eduardo Escobar shined in the desert. It's time to add another slugger to the mix as the Diamondbacks landed Starling Marte who should spice up the lineup from opening day on. On the mound, they also took Giants legend Madison Bumgarner as he could also perform well with a new team. Arizona could easily land in a wild card spot in the NL West especially if the Giants and Padres continue to sink towards the bottom. Watch out for those Diamondbacks. Getting +2500 is a steal and concludes my third best bet to make to win the NL Pennant.
Last updated: Mon 1st June 2020