2021 March Madness Betting Odds, Analysis, & Early Predictions: Roll with the Crimson Tide
The Super Bowl is in the books, which means we'll all be turning our attentions toward one thing, March Madness. Unfortunately, we didn't get last year's tournament due to the COVID-19 pandemic, but that'll only make this year's all the more special.
It's been an interesting year for college basketball, and in a season unlike any other it's only fitting that the power dynamics have changed so drastically. A lot of the traditional blue bloods, teams like Duke, North Carolina, Michigan State, etc., have fallen off considerably. Throw Kentucky in there as well. A lot of the elite programs will be on the outside looking in for March Madness, which could turn out to be for the best.
Gonzaga and Baylor have been the clear top two teams pretty much the entire way, and neither has lost a game yet. There have been plenty of wild upsets, and we've seen the Big Ten emerge as the dominant conference with four of the top seven teams nationally according to Kenpom. Of course, the opening weekend of March Madness is the biggest betting weekend of the year, and with only a little over a month to go we thought now would be a good time to take a look at some championship odds, courtesy of BetMGM.
March Madness title odds
We've seen some interesting movement on these odds since the beginning of the season, per BetMGM's internal numbers. Gonzaga opened at +800, but their dominance has seen them come crashing down to +300. A lot of people were sleeping on Michigan at the beginning of the year, and you could've got them at +4000 before the season. Same with Illinois as they were +8000.
Perhaps the biggest long-shot that now has a real chance is Missouri, who you could've gotten at a whopping 300/1 before the season. Now that they've started 13-3, that's down to 30/1. BetMGM also revealed what their five biggest liabilities are for March Madness, and it might not surprise you to see Michigan and Illinois top the list. It goes Illinois, Michigan, Tennessee, Alabama, and Gonzaga in that order.
Without further ado, let's break down a couple of the early March Madness futures bets that make the most since.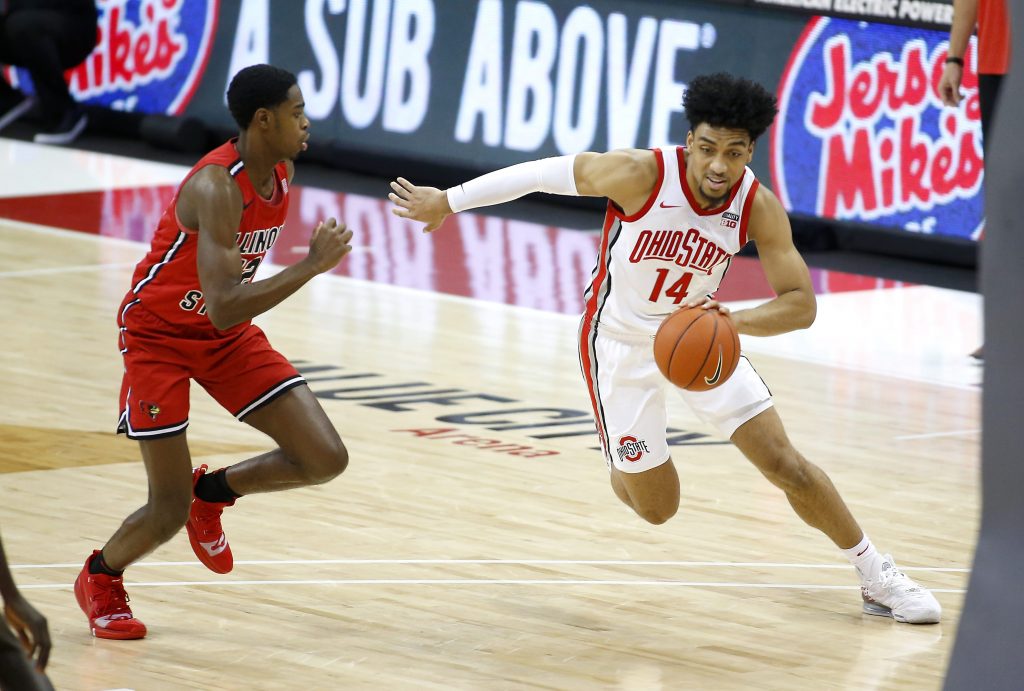 Ohio State to make Final Four +350
You can get this at +350 at FanDuel right now, and I've been very high on this Buckeyes team. They're arguably a top-five team in the nation right now, and ESPN's latest bracketology projections have them as a one seed. For this bet to be worth it at +350, Ohio State would only need to make it 22.2 percent of the time. That seems pretty low for a potential one seed.
Oddsmakers continue to disrespect the Buckeyes, and we should take full advantage. Sure they've played down to their level of competition at times, and so it wouldn't shock me if they ultimately headed for an early exit either. But when you're making a futures bet like this you're really betting on upside, and Ohio State has a lot of it. They've won road games against Illinois, Wisconsin, and Iowa, showing that their ceiling is just as high as anybody's.
Alabama to win championship +1600
Of the teams in this middle range, I think Alabama makes the most sense. Defense wins championships as the old saying goes, and the Crimson Tide have the second-best defensive efficiency in the country per Kenpom. As such an aggressive and physical team, you don't have to worry about one poor shooting game doing them in like you do with a lot of these teams.
They play at the ninth-fastest pace in all of college basketball and still manage to play elite defense. They can outrun any team in the nation, and I think their style of play is going to serve them very well for March Madness. They're also ascending at the right time, as nobody took them seriously early on before they took everyone by surprise over the past month or two.
Pickswise is the home of free NCAA basketball picks and predictions. We will provide predictions on both the side and totals for all of the power-conference and Top 25 games during the 2020-21 season.