Soccer
Back
3 things we learned from the return of Bundesliga soccer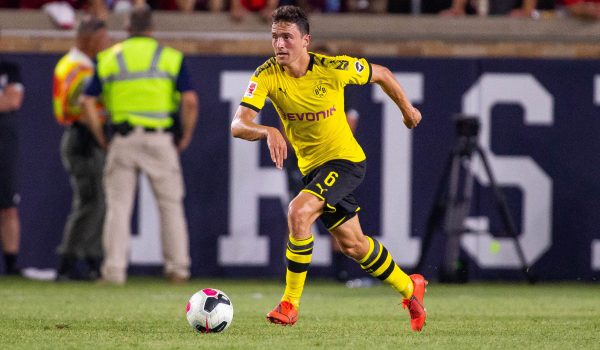 A major sports league returned for the first since the coronavirus pandemic, as Saturday was filled with German soccer for the first time in months. With the Bundesliga returning to play, the new intriguing protocols will pave the way for other sports leagues to follow during this tough time. Even though the soccer league has returned, there are strict rules the league most follow to resume play. While watching 12 teams return to play on Saturday, there were 3 things we learned from the return of the Bundesliga league.
Celebration Changes
It's known in the soccer world, that scoring does not come easy as when one team does score, the whole bench will start to go crazy. Whacky team celebrations are apart of the sport, as players are known for celebrating with their players and managers. However, with the new protocols set for the Bundesliga, players now have to remain a safe distance from each after scoring. Multiple players found the back of the net on Saturday as players did keep their distance and often danced in their own space or did the casual elbow-bump. Times are changing and there will no longer by any more crazy celebrations.
Who else but Erling Haaland to score the first Bundesliga goal on its return 💥

(via @FOXSoccer) pic.twitter.com/4NfJH0IjCK

— Bleacher Report (@BleacherReport) May 16, 2020
Social Distancing 
Even though during the actual soccer match it might be hard to social distance as the game is a strong contact sport, players before, during, and after still kept a strong social distance on Saturday. Before the whistle to start the game, players were far apart from each other passing the ball around and were not shown being close together. The biggest change was during the game when substitutes sat far from each other often more than six feet apart. Following the game, interviews were held at a safe distance and all coaching staff and cameramen wore face masks to help stop the spread of the virus.
Dortmund substitutes sitting apart on the bench and with face coverings on. pic.twitter.com/eSVkLWdHPC

— talkSPORT (@talkSPORT) May 16, 2020
Injuries
There were multiple players in all of the games especially around the 80′ minute where they would fall on the field and need another round of proper stretching before hitting the pitch for the last minutes of the game. The two-month break seems to have caused a good chunk of players to be behind on their stamina as this will hopefully not lead to future injuries. Unfortunately, 17-year-old American Gio Reyna was set to make his first professional start on Saturday but got hurt during warmups. Hopefully, players will continue to build up their strength throughout the rest of the regular season.
Great to have the Bundesliga back. Dortmund thrashes Schalke, players salute empty Yellow Wall (via @FOXSoccer)pic.twitter.com/17uJEOk73r

— Grant Wahl (@GrantWahl) May 16, 2020
Last updated: Thu 21st May 2020