College Football
Back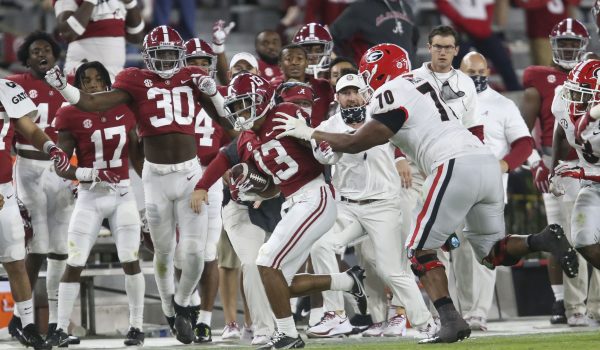 Alabama's defense proved it can be elite again
As many expected, Alabama ran away from Georgia in the second half and ended up winning the game 41-24. They made it clear to Clemson and the rest of the country that they are one of the teams to beat and proved it with another top-5 win.
One of the major talking points this week was the state of Alabama's defense. They just had allowed over 600 yards to Ole Miss the week prior and looked to have many holes. Now Georgia did not come in with an elite offense by any means, but many believed Bama would still allow the Dawgs to move the ball consistently. Given how the game went, it is clear that some questions were answered.
Alabama has an elite ability to create turnovers
One of the main concerns Bama had was being able to get off the field. They created no turnovers against Ole Miss, and Georgia had taken care of the ball so far.
However, the Tide quickly showed they can create turnovers at any moment, considering they picked off Stetson Bennett IV on the fourth play of the game. This was not your normal interception as a defensive linemen tipped the ball at the line and a different guy was able to catch it off the tip.
The Tide forced two more interceptions in the second half, both that led to scoring drives by their elite offense. They looked much more like the defense we are used to in the second half, which is why I believe they will only improve. This was probably their toughest game all season, so the Tide will be ready come playoff time.
Second half defensive adjustments were the key
The Alabama defense did look a little lost in the first half, allowing Georgia to catch them by surprise. That includes an 82-yard catch and run by James Cook that at the time put the Dawgs up 14-7. The Crimson Tide allowed Georgia to rack up 268 total yards of offense, which did not make Saban happy. Right before halftime, Saban made a comment along the lines of, "We need to find #4." (referring to James Cook). At that moment, the feeling that Alabama was going to take over started to creep in.
Remember, Saban was able to coach this game after several negative COVID-19 tests, and showed his ability to make adjustments. So what did Alabama do in the second half? They held this Georgia offense to 146 yards of total offense. The Bulldogs had just 54 rushing yards and 92 yards passing. The pass rush intensified and Bennett started to look panicked every play.
That game against Ole Miss looks like an anomaly at this point, so look for the defense to improve every week now with plenty of explosive plays still to come.
Want the best college football picks all season long? Make sure to check out our 'NCAAF picks' tab for full game breakdowns. 
Last updated: Sun 18th October 2020