Behind the Counter: 1-on-1 with Circa Sports oddsmaker Jeffrey Benson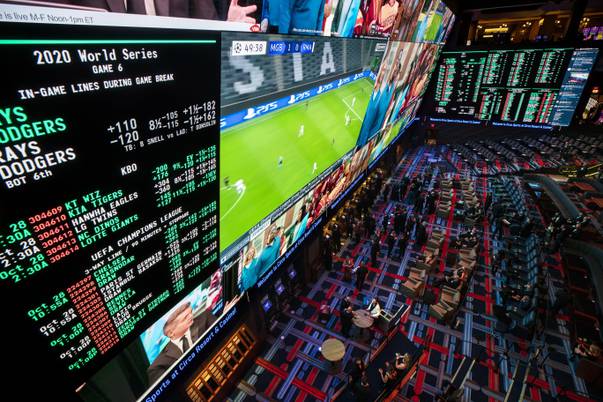 I'm excited to share with you the first in a series of special features that will highlight various bookmakers and sharp bettors in Las Vegas and around the country. Not only will they impart their wisdom and experience about the sports betting industry, but they will also share their expectations about the future of the business and successful strategies they have observed over the years by professional bettors.
Leading off is Jeffrey Benson, one of the rising stars behind the counter at Circa Sports, which is the newest and perhaps hottest book in Las Vegas, founded by Golden Gate and The D Las Vegas hotel owner Derek Stevens in 2019.
In just two years, Circa has built a reputation for being one of the most bettor-friendly shops in Las Vegas. Not only are they unafraid to book high-limit wagers, but they also serve as an originator for college football and college basketball lines. That means they are consistently one of the first shops in town to release odds in those sports, and will typically attract some of the sharpest bettors in town.
College Football 🏈🏆
Conference Championship Games Opening Lines

Current App Limits: $5K-$20K Sides / $1K-$3K Totals pic.twitter.com/1Hnlbr8Xl4

— Circa Sports (@CircaSports) November 28, 2021
Best practices for betting the NFL
The NFL markets are the hardest to beat of any of the major sports, due to the efficiency and the volume, but Benson did offer some strategies to keep in mind when trying to get ahead.
"I would certainly say exploring props would probably be your best bet," he said. "When you look at the prop market in the NFL versus the side and total, the limits are going to be significantly reduced, and that speaks to the niche-ness of the prop market and how it's probably a little more exploitable and beatable. You will also find a little more variance from book to book in terms of the numbers on the board. You look at the sides, most of that stuff is going to be painted across the board."
If you ask bookmakers and sharp bettors, as much as winning the bet is important for tracking results, beating the closing line is a more valuable indicator of how "sharp" of a bettor you are. Once the game starts, randomness takes over, which can skew the results, but if you consistently beat the closing number, your odds of winning over the long haul dramatically increase. Benson believes that feat is becoming increasingly difficult to do in the NFL markets, especially later in the season.
"On a week-to-week basis, especially when you get deeper into the year, oddsmakers are going to have more data," Benson noted. "For example, with lookahead lines, if you have Chiefs -7 one week, it's going to be hard without an injury, based on performance alone, for it to move more than a couple points up or a couple points down. Whereas earlier in the year with not as much data, and a lot more variance early in the season, those lookahead lines – and then ultimately what comes out the following week – can vary on a much wider scale early in the season as opposed to later in the season."
When there are injuries at key positions, which will cause the NFL lines to fluctuate wildly, that's when the sportsbooks become vulnerable to middling opportunities, and sharp bettors beating the market by catching wind of the news before the line has a chance to move. However, there is an important thing to consider when trying to determine if a line has moved too much. In this instance we will use the Cowboys/Vikings and Packers/Chiefs games from earlier this season as examples, when Dak Prescott and Aaron Rodgers were forced to sit out — tilting the odds dramatically towards Minnesota and Kansas City.
"When you talk about the Cowboys going from -2.5 to +4.5, that's not going to be as impactful of a move as the Chiefs going from pick to +7.5, just because of the sheer numbers you're going through," said Benson. "The Cowboys example you're crossing zero, and the difference from going -2.5 to +2.5, even though it's five full points, the relative value there for those numbers less than a field goal is certainly going to be less impactful than going from pick to -5."
How should you play NFL teasers?
Teasers have become increasingly more profitable for bettors over the years as the NFL markets become more efficient. In a highly efficient market like the NFL, moving lines 6 points in your favor can be very advantageous. For that reason, sportsbooks have continued to raise the cost for bettors to tease lines. Some books now charge upwards of 40 cents or -140 for a 2-team, 6-point NFL teaser.
"It's been a challenging year with teasers, bettors have done well with them," said Benson. "There's certain age-old rules to follow. Stanford Wong said it best, when you're doing NFL teasers you want to be crossing those key thresholds. From 0.5 to 2.5 points and taking it over a touchdown, 7.5 to 9.5 and taking it under a field goal. Obviously you want to be crossing 3 and 7 in those thresholds. The higher the total for the game, the less impactful the teaser is. Conversely, the lower the total is, the more impactful the teaser is when you're crossing those numbers. Obviously in the playoffs these teasers have been very popular and have hit at a very high clip. You don't want to be teasing totals, you only want to be teasing sides, and you don't want to be crossing zero."
The truth about parlays
Parlays are the biggest money makers for the book on a consistent basis. For example, in October 2021, New Jersey collected a 17% hold from parlays, while holding just 3-5% from the other major sports in the individual game markets. However, parlays are a fun and entertaining way to go for a bigger payout with a smaller risk, so they will always be a part of a bettor's arsenal. If you are interested in playing parlays, Benson has some advice on how to get the most bang for your buck.
"When you look at 2-team parlays, I would look at 'dog-and-under, favorite-and-over combos," said Benson. "Either you're looking at a full game or halftime and see if you can find some correlations there that can ultimately provide you some value and increase your edge. I would say if I'm looking or advising new bettors and they're dabbling in the parlay market, that would be the way I would encourage people to bet parlays as that would be the most exploitable thing for me."
Expansion of sports betting and what it means for the future of the industry
The sports betting industry has exploded since the repeal of PASPA in May of 2018. Nearly half the states in the U.S. have adopted some form of legalized sports wagering, and that number will continue to grow. Some states, like New York, have gone to extremes in order to capitalize on the boom, implementing a gaudy 51% tax rate on all sports betting revenue. That will make profitability very difficult in the short-term for the conglomerate sportsbooks that were awarded licenses in the state, something Benson thinks will ultimately be passed onto the bettor.
"I anticipate you will see some pass through, whether that's -115 lines or -120 lines on props, but I don't think people are hyper-price sensitive yet, and I think a lot of it is about convenience. The people who are driving to New Jersey to get access to that market and price shop and things like that, for every one of those people, there'll probably be five people who will be content laying the -115. The education of the bettor has definitely increased given the amount of content that's out there, but I still think we're in the first inning."
The amount of options bettors have also continues to increase, which in turn will force bookmakers to stay nimble with their strategy in an attempt to stay relevant and profitable in the long term.
"Competition breeds innovation," said Benson. "As a fan of sports betting and being in the industry for 10-plus years I certainly want to see it grow, and do so in a correct way, and ultimately see a lot of bettors prosper and have access in ways they didn't beforehand."
Circa's strategy: Be first, be fair, and don't be afraid to take big bets
Being an originator is no easy task. Unlike blackjack, in which the dealer has the advantage of not showing their hand until after the bettor either hits or stays, shops that originate lines must reveal their cards first. Oftentimes they are wrong, and that's where the sharp bettors play a major role in helping shape the early stages of the market.
Hold percentage is also a major indicator of a sportsbook's strategy. The hold percentage is simply the margin the book takes in on both sides of a bet. For example, in a standard bet where the odds are -110, that implies a 52.4% probability that the bet will win. Since there are two sides of a bet, you multiply 52.4% times 2, which gets you to 104.8%. Obviously, the probability of two sides of a bet winning can be no higher than 100%, which means the hold of a standard bet at -110 is 4.8% (104.8%-100%).
Sounds simple enough right? Well in certain markets, the odds are higher than -110 on both sides, like props, or have multiple outcomes, like futures. Those are the situations in which sportsbooks are faced with the ethical question of how high is too high of a hold percentage. Obviously sportsbooks want to be profitable long-term, but certain shops are stingier than others when it comes to setting a hold percentage and sticking to it. Legally there is no limit to the percentage a sportsbook can hold, just like there is no limit to the amount a department store can charge you for any item on sale. Most bettors care more about convenience than price, so sportsbooks can get away with higher holds — especially in those more nuanced markets mentioned above where there are fewer options available.
The higher the hold, the more profitable the sportsbook will be, and in turn the less profitable the customer will be over the long term. Circa Sports prides itself in having among the lowest hold percentages in Las Vegas across the board in all of their markets, which is why sharp bettors keep coming back to the window.
"We opened our doors to take bets," said Benson. "We have lower holds, we believe those lower holds will drive a higher volume. That's our approach within the industry. We try to present ourselves as a transparent marketplace that welcomes all bettors. From a moral standpoint, that's the way we want to run our sportsbook. From a business model, we believe it's the most profitable approach in the long term. Obviously when you look at a lot of these sportsbooks around the country, that's certainly not the approach they take. Originating when we can, taking big limits, providing a marketplace that welcomes anyone, whether that's Billy Walters or Joe Schmo."
Pickswise is the home of free sports picks, news, and best bets. Check out our expert NFL picks, NBA picks, NCAAF picks, college basketball picks, NHL picks and Soccer picks for the latest game picks.