NFL Anytime Touchdown Scorer Predictions and Prop Bets for Week 15
With only three weeks to go in the NFL regular season, the importance of everything is ratcheted up a notch. A whole host of games have playoff implications and your fantasy football fate is probably hanging in the balance. As for your bets, well…they are always important.
Let's take a look at four of this week's best anytime touchdown scorer bets, which also gives an indication of the guys we like to be productive for your fantasy team.
Favored to score – Lamar Jackson, QB, Baltimore Ravens (-106)
Jackson appeared to have some kind of midseason crisis earlier in the year, but the Jackson of old (you know, the one that won NFL MVP in 2019), is back. He has accounted for six touchdowns in the last two games, including two on the ground during Baltimore's epic Monday night win over Cleveland. The Ravens are now going up against a Jacksonville squad that is the second-worst team in football and has one of the worst defenses.
Slight underdog – DeAndre Hopkins, WR, Arizona Cardinals (+115)
The Cardinals are facing a Philadelphia defense that is solid against the pass but not exactly a shutdown-type unit. There is no reason not be optimistic about Hopkins' chances on Sunday. He has been targeted by Kyler Murray 24 times in the past two games, marking the first time this year he has received double-digit targets in back-to-back contests. The former Clemson star found the endzone against the Rams in Week 13 for his fifth score of the season.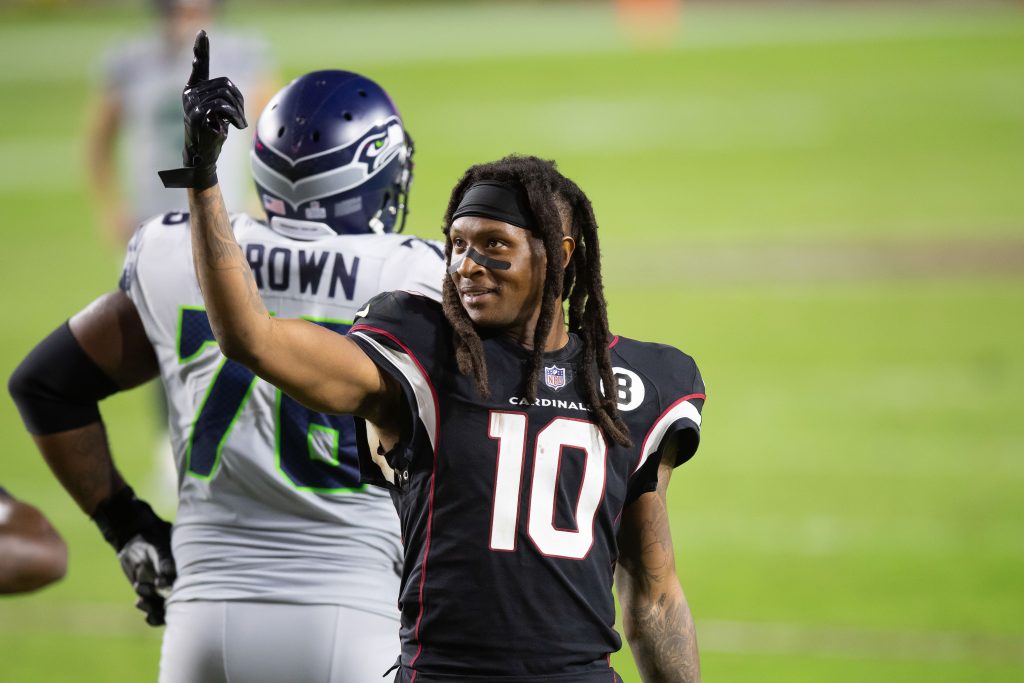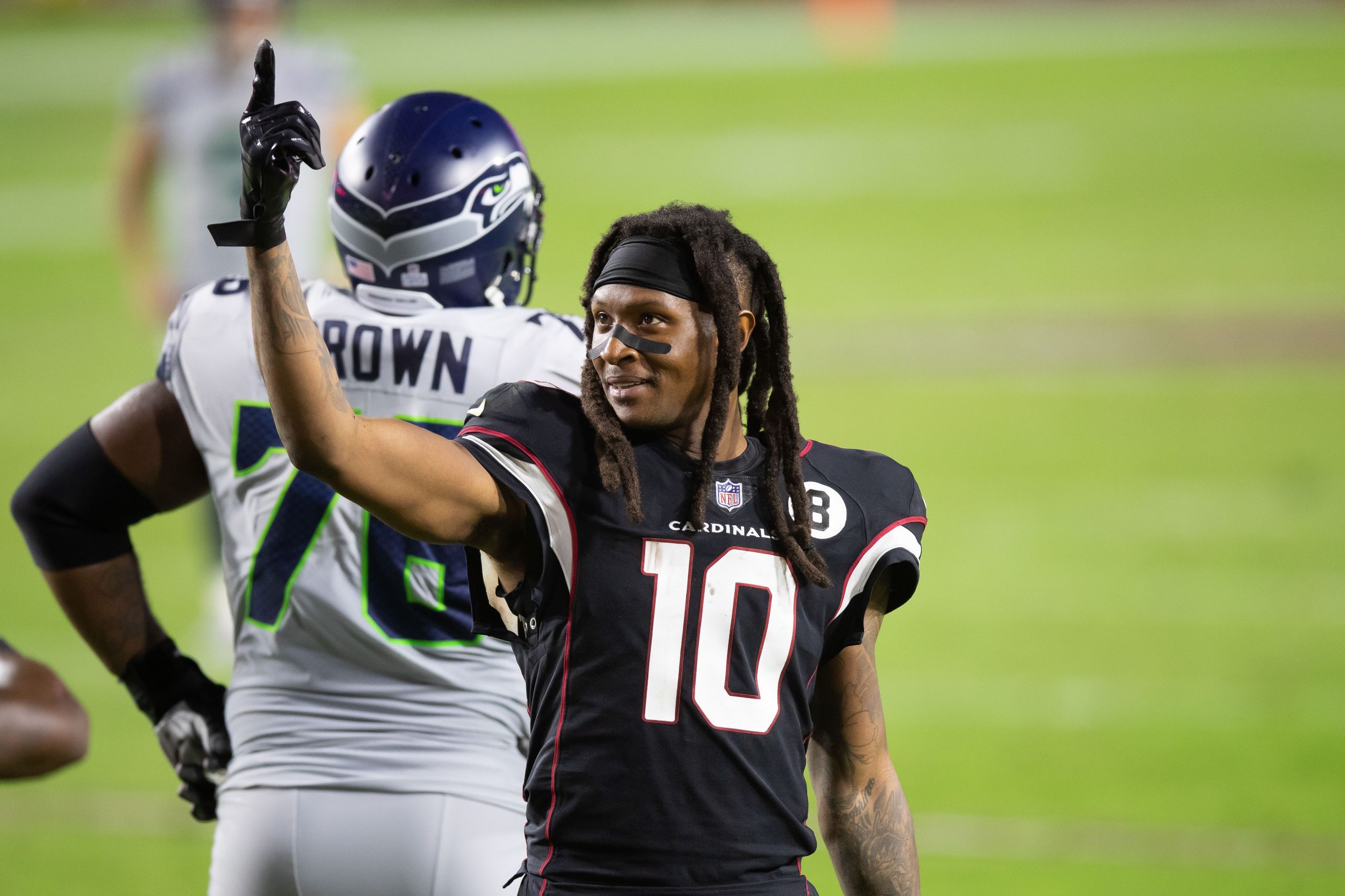 Bigger underdog – Rob Gronkowski, TE, Tampa Bay Buccaneers (+165)
A far more favorable matchup awaits Gronkowski and the Bucs, who will actually grapple with the NFC South rival Falcons twice in the last three weeks. Atlanta is third-to-last in the NFL against the pass and has no semblance of a pass rush. Tom Brady should be in line for a big day, and Gronkowski would obviously be among the beneficiaries. The veteran tight end has five touchdown catches in 2020—all in the past eight games.
Longshot – Terry McLaurin, WR, Washington Football Team (+275)
You absolutely have to love everything about McLaurin this week. The Football Team is facing a Seattle defense that is dead last in the league against the pass. Moreover, Dwayne Haskins is back under center to replace an injured Alex Smith. In the first four weeks of the year when Haskins was at QB, McLaurin had 26 catches on 39 targets for 378 yards and a touchdown. All signs point to a massive day at the office.
Anytime Touchdown Scorer FAQs
What does "anytime touchdown scorer" mean?
Anytime touchdown scorer is a popular player prop bet that NFL bettors can wager on throughout the season. But what is it, and how do you win?
As the name suggests, placing a wager on the anytime touchdown scorer market is when you tip a particular player to score a touchdown during a game. This can be a rushing or receiving touchdown for an offensive player, or you can wager on a team's defense/special teams to score a touchdown by interception return and fumble return or kickoff and punt returns.
If your player or defense scores a touchdown, you win! The odds will differ from player-to-player depending on the sportsbooks' calculated probability of that player scoring.
Does anytime touchdown scorer include passing touchdowns?
Not for a quarterback, no. A player must get into the endzone, himself, in order to qualify as an anytime touchdown scorer. If a quarterback throws a touchdown pass, only the player who caught it counts as the scorer. If Brady throws a touchdown pass to Gronkowski, wagers placed on Gronkowski as an anytime touchdown scorer will cash. However, those placed on Brady as an anytime touchdown scorer will not. See below for more on what the anytime touchdown scorer market means for quarterbacks.
What does anytime touchdown scorer mean for a QB?
For a wager on a QB to be an anytime touchdown scorer to cash, he must follow the same rules as a running back, tight end, or receiver. He must get into the endzone himself, either as a runner or a pass-catcher.
In the age of the mobile quarterback, QBs such as Jackson, Patrick Mahomes, Kyler Murray, and Josh Allen are often seen rushing in for a touchdown on any given Sunday. And don't forget the occasional Philly Special, either. QBs can sometimes catch passes for TDs, too.
Be sure to check out the Pickswise NFL Computer Picks and score predictions. With predictions available across the top NFL betting markets including Moneyline, Totals, and Against the Spread predictions for every game.