NFL Anytime Touchdown Scorer Predictions and Prop Bets for the Wild-Card Playoffs
The NFL playoffs are here and we are in store for the biggest and hopefully the best wild-card weekend in history. There are six games on the schedule for Saturday and Sunday—three apiece. Presumptive NFL MVP Aaron Rodgers and Super Bowl LIV MVP Patrick Mahomes have first-round byes, but there remains plenty of individual star power in the cards. Who will help their teams by finding the endzone this week? Here are our best bets to positively answer that question.
Favored to score – Derrick Henry, RB, Tennessee Titans (-200)
Henry is normally an even bigger favorite than this, but the oddsmakers are putting plenty of respect on the Ravens' name. Yes, Baltimore's defense defense is quite stout. But it is by no means the best defense in the NFL and Henry is good enough to torch even the best defenses, anyway. Tennessee's star running back scored 17 touchdowns during the regular season to go along with his 2,027 yards. He has scored nine TDs in the past seven games. I think there is good value on Henry to be the first touchdown scorer at +550, as well.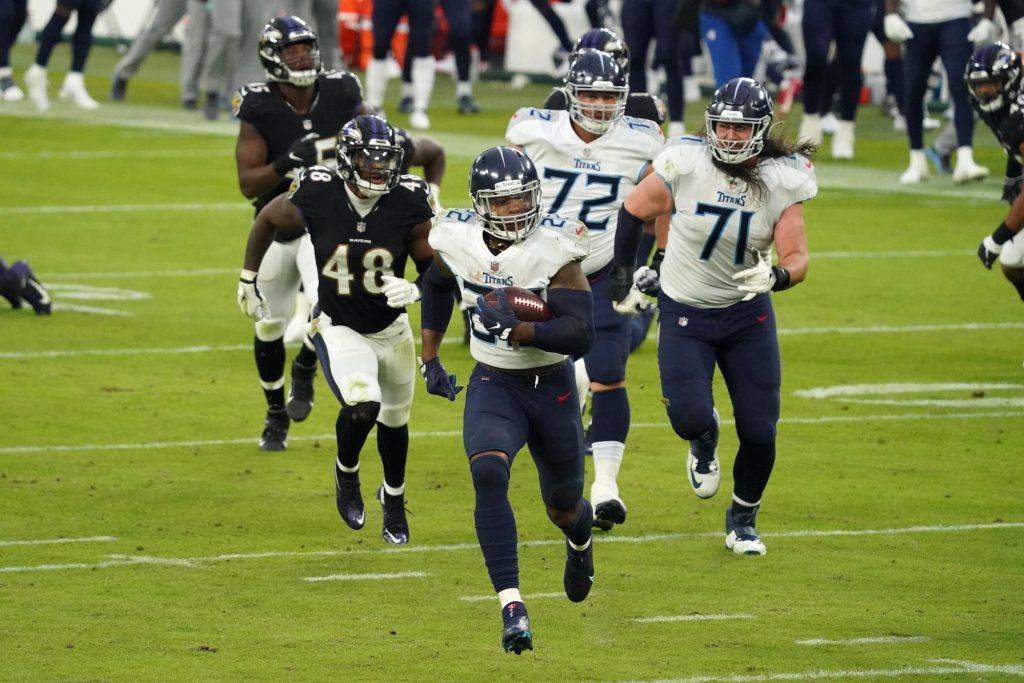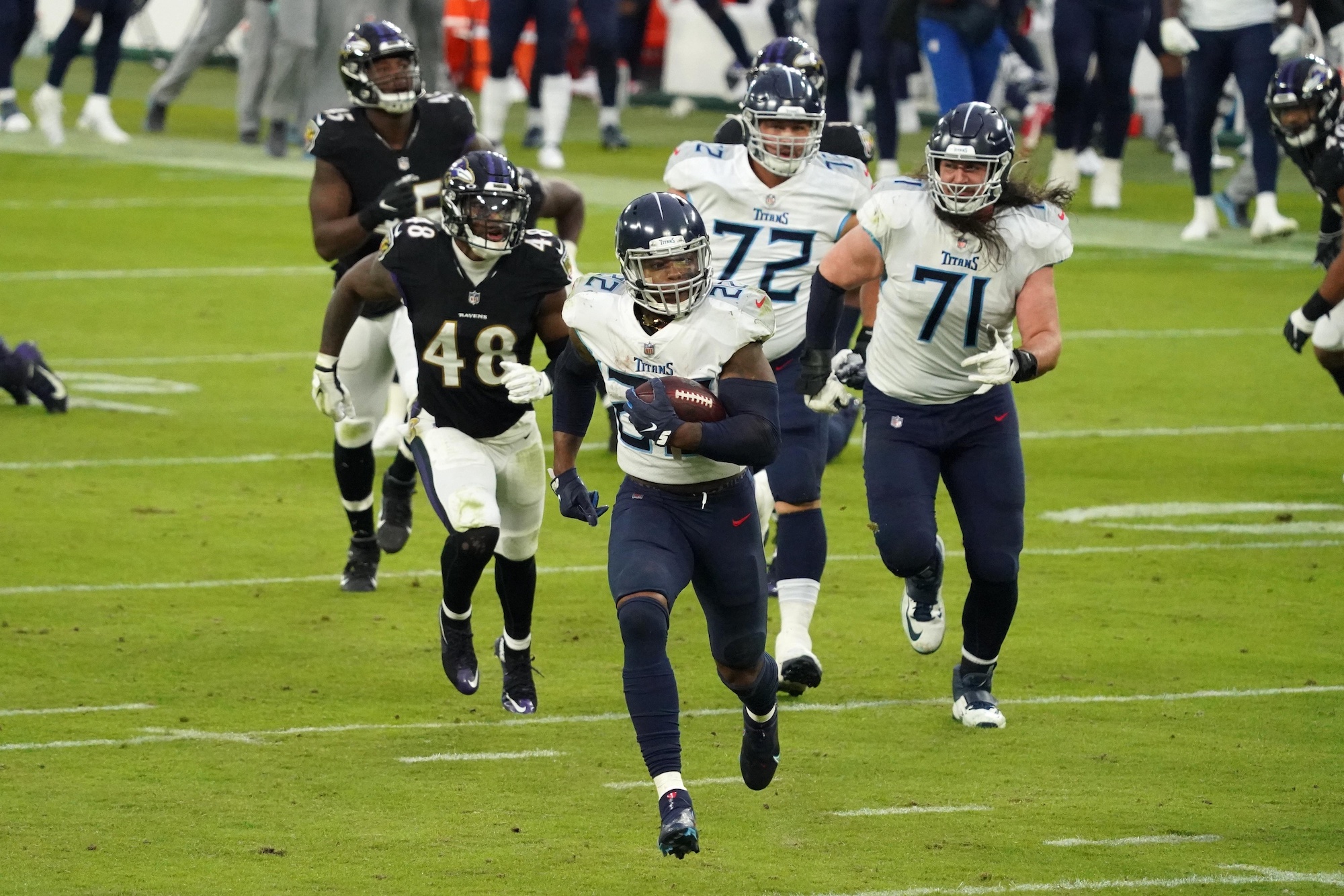 Slight underdog – Nick Chubb, RB, Cleveland Browns (+115)
How is Chubb at plus money to find the endzone? In eight games since returning from a knee injury, the former Georgia has scored in seven of them—including twice on Dec. 14 against Baltimore. Cleveland just faced the Steelers in Week 17 and Chubb found the endzone again while also racking up 108 yards on 14 carries. Of the four players who made this list, Chubb has the best value.
Bigger underdog – Chris Godwin, WR, Tampa Bay Buccaneers (+140)
It is true that Godwin's matchup with Washington is not a great one. The Football Team ranked second in the league in passing defense during the regular season. But don't forget that Godwin has Tom Brady throwing him the football and I would take playoff Tom Brady against basically any defense. Most importantly, Godwin has scored in three consecutive contests—including twice in the regular-season finale against the Falcons, whom he abused for 133 yards.
Longshot – Jared Cook, TE, New Orleans Saints (+210)
Cook was a big winner for us last week in our anytime touchdown scorer props and there is no reason to get off the bandwagon. Drew Brees has been improving with each game since returning from his rib injury and New Orleans' offense is once again a well-oiled machine. Chicago's passing defense is nothing special, with 231.6 passing yards per game allowed and 28 TDs given up through the air. Cook has scored in three of the Saints' last five outings.
Anytime touchdown scorer FAQs
What does "anytime touchdown scorer" mean?
Anytime touchdown scorer is a popular player prop bet that NFL bettors can wager on throughout the season. But what is it, and how do you win?
As the name suggests, placing a wager on the anytime touchdown scorer market is when you tip a particular player to score a touchdown during a game. This can be a rushing or receiving touchdown for an offensive player, or you can wager on a team's defense/special teams to score a touchdown by interception return and fumble return or kickoff and punt returns.
If your player or defense scores a touchdown, you win! The odds will differ from player-to-player depending on the sportsbooks' calculated probability of that player scoring.
Does anytime touchdown scorer include passing touchdowns?
Not for a quarterback, no. A player must get into the endzone, himself, in order to qualify as an anytime touchdown scorer. If a quarterback throws a touchdown pass, only the player who caught it counts as the scorer. If Tom Brady throws a touchdown pass to Rob Gronkowski, wagers placed on Gronkowski as an anytime touchdown scorer will cash. However, those placed on Brady as an anytime touchdown scorer will not. See below for more on what the anytime touchdown scorer market means for quarterbacks.
What does anytime touchdown scorer mean for a QB?
For a wager on a QB to be an anytime touchdown scorer to cash, he must follow the same rules as a running back, tight end, or receiver. He must get into the endzone himself, either as a runner or a pass-catcher.
In the age of the mobile quarterback, QBs such as Lamar Jackson, Patrick Mahomes, Kyler Murray, and Josh Allen are often seen rushing in for a touchdown on any given Sunday. And don't forget the occasional Philly Special, either. QBs can sometimes catch passes for TDs, too.
Be sure to check out the Pickswise NFL Computer Picks and score predictions. With predictions available across the top NFL betting markets including Moneyline, Totals, and Against the Spread predictions for every game.