Best player props for Saturday's NHL slate: Svechnikov looking to lead Carolina again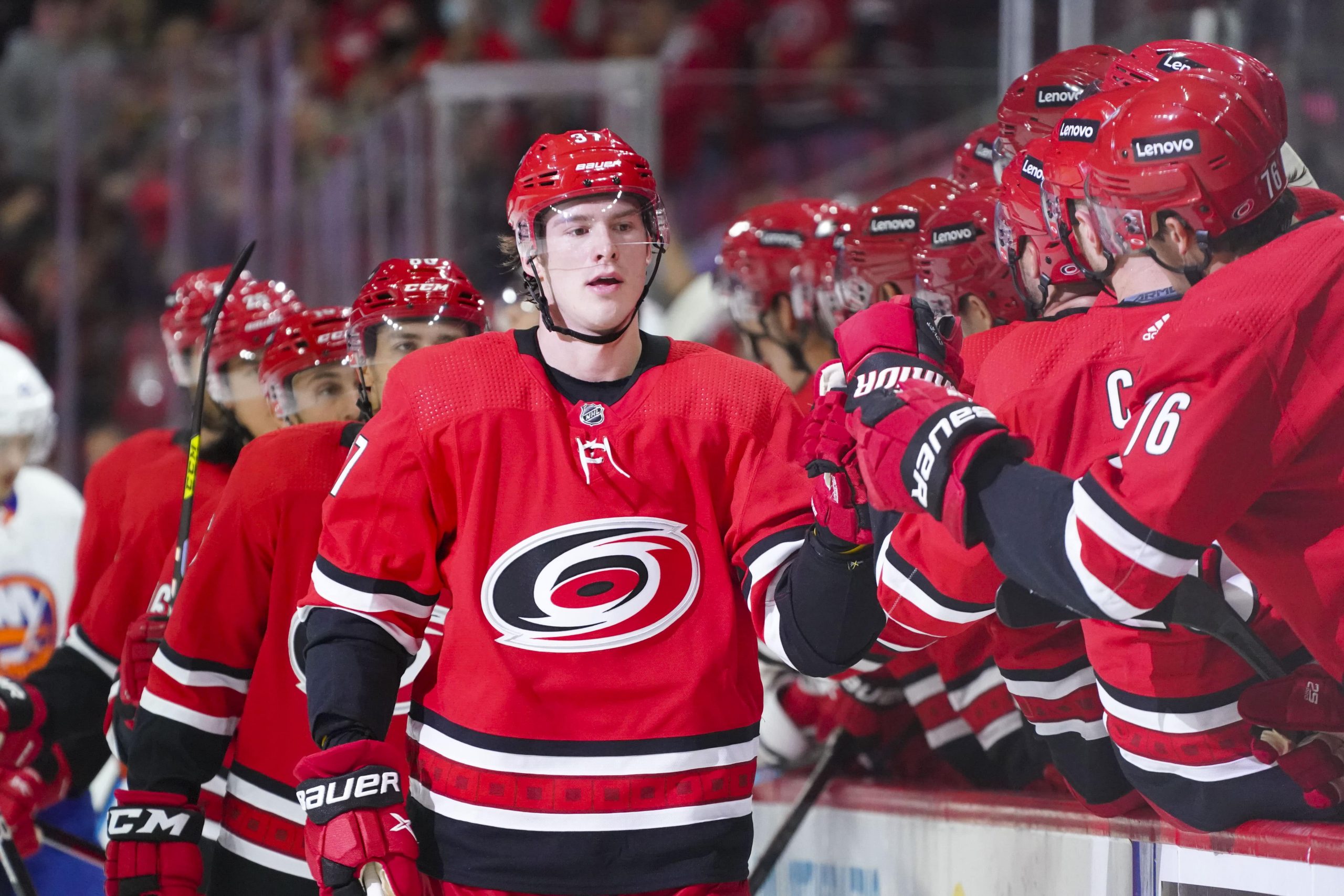 Not only is today full of college football and MLB postseason action, but it is the first Saturday of the NHL season. It is a great time to be a sports fan, and an even better time to be a sports bettor. I have a pair of player props in mind for today's NHL slate, and I will share those here. Along with these props, be sure to check out our full game previews for each game today.  You can also follow me on Twitter for added plays throughout the season.
Andrei Svechnikov over 2.5 shots (-130)
Line available at DraftKings at time of publishing
Andrei Svechnikov started the 2021-22 season in a big way. The 21-year-old was a large part of Carolina's 6-goal effort on Thursday, as he found the back of the net twice and added an assist. He put 4 shots on net, and he can carry the momentum from that game into tonight's contest against the Predators. Svechnikov was able to post those numbers against an Islanders team that is very stingy defensively, and while the Predators have strong pieces, they lack proven depth, and their roster is quite a bit younger than it was a year ago.
Svechnikov has registered 29 shots on goal in 11 career games against the Predators. He sees plenty of ice time and can make things happen in a hurry. Look for Svechnikov to come out firing again in hopes of leading another big day for the Carolina offense.
Be sure to check out our full game preview for Carolina Hurricanes vs Nashville Predators.
Artemi Panarin over 2.5 shots (+105)
Line available at DraftKings at time of publishing 
After not registering a single shot in the season opener, Artemi Panarin put 2 on net on Thursday against the Starts. I like his chances to at reaching 3+ shots tonight. Panarin averaged just over 2.5 shots in 42 games last season, and the Canadiens have looked a bit shaky on the defensive end through 2 games. Montreal was out-shot 36-31 by the Sabres in their last outing, and Buffalo is not known for their offensive prowess. The Rangers have a much higher ceiling offensively. New York has high hopes for this season, and getting Panarin going will be a big factor in their success.
These teams are a combined 0-3-1 so far this season, so the sense of urgency should be high on both sides. Look for a fast-paced game with lots of shots on both ends. Panarin should be highly involved, and the plus-money presents some solid value.
Be sure to check out our full game preview for New York Rangers vs Montreal Canadiens.