Best player props for Sunday's NHL slate: Gaudreau puts on a show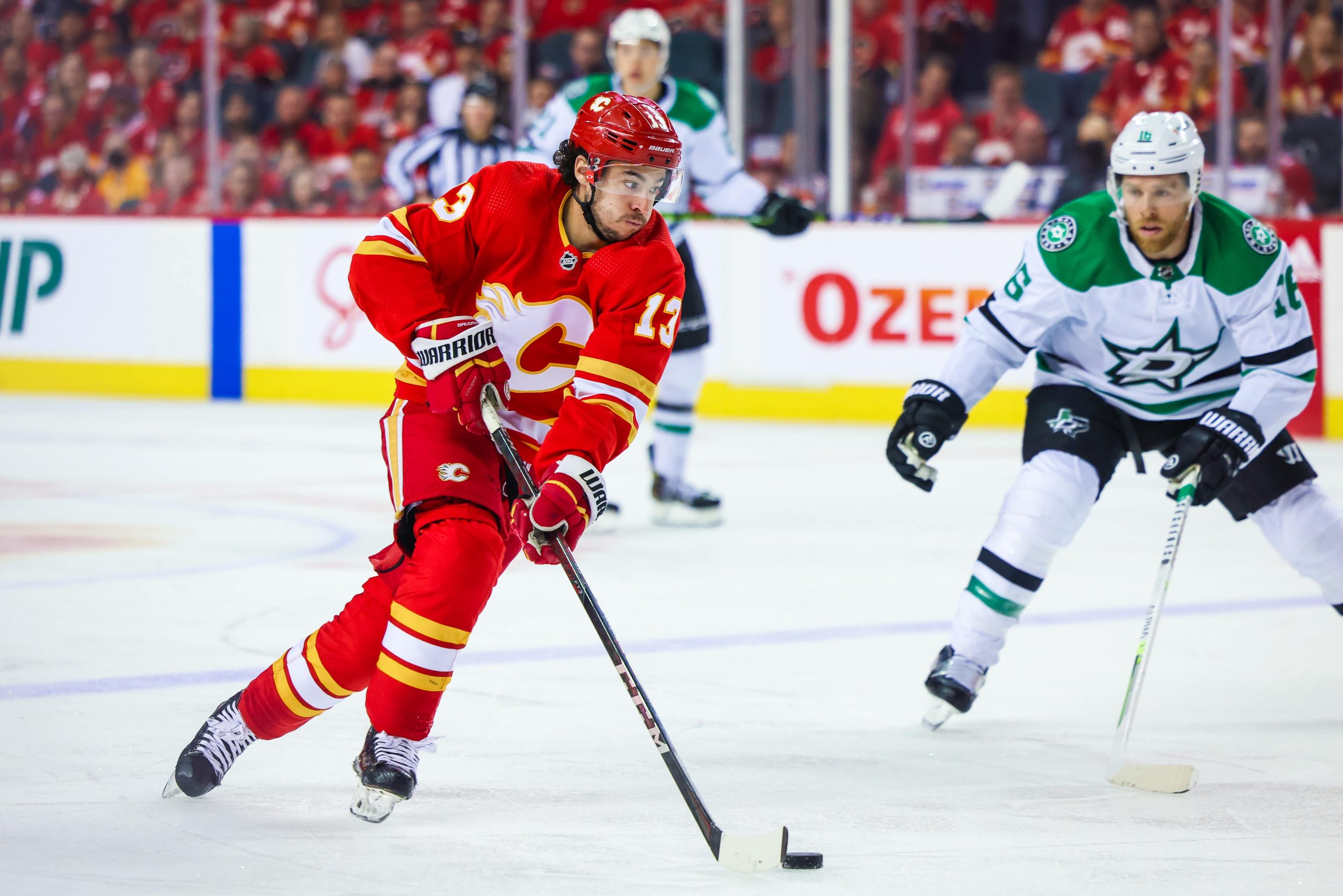 After a Saturday with 3 Game 7s, we are blessed with another couple on Sunday. The series between the Penguins and Rangers was expected to go down to the wire, but the Flames were expected to extinguish the Stars with ease.
Regardless, it provides more opportunities to find value in the player props market. Let's focus on skaters who have led their teams to this point, and need to shine when the lights are brightest. Along with our player props, be sure to check out our full game previews for tonight's matchups.
Johnny Gaudreau over 1.5 points (+165)
Although the Flames were nearly -300 favorites to win their series over the Stars, they find themselves in a Game 7. They were such heavy favorites as a result of their success in the regular season, which was largely due to superstar Johnny Gaudreau. He was the best plus-minus skater in the league, with a differential of +64. Plus-minus essentially means the amount of goals scored while that skater is on the ice versus how many were given up. In other words, when Gaudreau is on the ice, the Flames are very successful.
It also helps that he skates alongside the other 2 skaters of the top 3 in plus-minus in Matthew Tkachuk and Elias Lindholm. The trio skating on the same line provides Gaudreau with plenty of opportunities, and he nearly always takes advantage. He finished the season with 115 points, tied for the 2nd-most in the league, behind only Connor McDavid. Gaudreau also finished the season with a ridiculous 32 games of multiple points, including a 5-point performance against the Oilers. He may not be a Hart Trophy finalist for the MVP, but only Kirill Kaprizov had as many multi-point games. With the team on the brink of elimination, Johnny Hockey should step up and perform the same way he has in leading his team all season.
Be sure to check out our full game preview for the Dallas Stars at Calgary Flames
Artemi Panarin over 1.5 points (+185)
One series that has come to a Game 7 which is not much of a surprise is the one between the Penguins and Rangers. There has been plenty of drama in this series with a triple-overtime Game 1 and several injury concerns. One of those injury concerns remains that of Penguins starting goaltender, Tristan Jarry. With backup Casey DeSmith out indefinitely, Pittsburgh has been riding with 3rd-stringer Louis Domingue. With the series heading back to New York for the finale, it's time for Artemi 'The Bread Man' Panarin to finish off the Penguins.
Domingue has done his best for the Pens given the situation but has allowed 5 goals the last 2 games. Panarin had just 1 point in those games, but had 3 in Game 2, which was also played in Madison Square Garden. In fact, we had that prop cash for us in that game, and Panarin should come through once again. He's as consistent as they come, recording 96 points on the season. Although he did not reach the coveted century mark, he fell just 4 short while missing 7 games. Despite not playing every game, he still recorded multiple points 28 times this season, including another game against the Penguins in March. Now in a Game 7 in his home arena, expect Panarin to come through for us, and his team, once again.
Be sure to check out our full game preview for the Pittsburgh Penguins at New York Rangers
Pickswise is the home of free NHL Picks and NHL Predictions. Check back for our daily NHL Best Bets, including our favorite NHL Prop Bets.