Cleveland Browns: What will their 2020 season record be?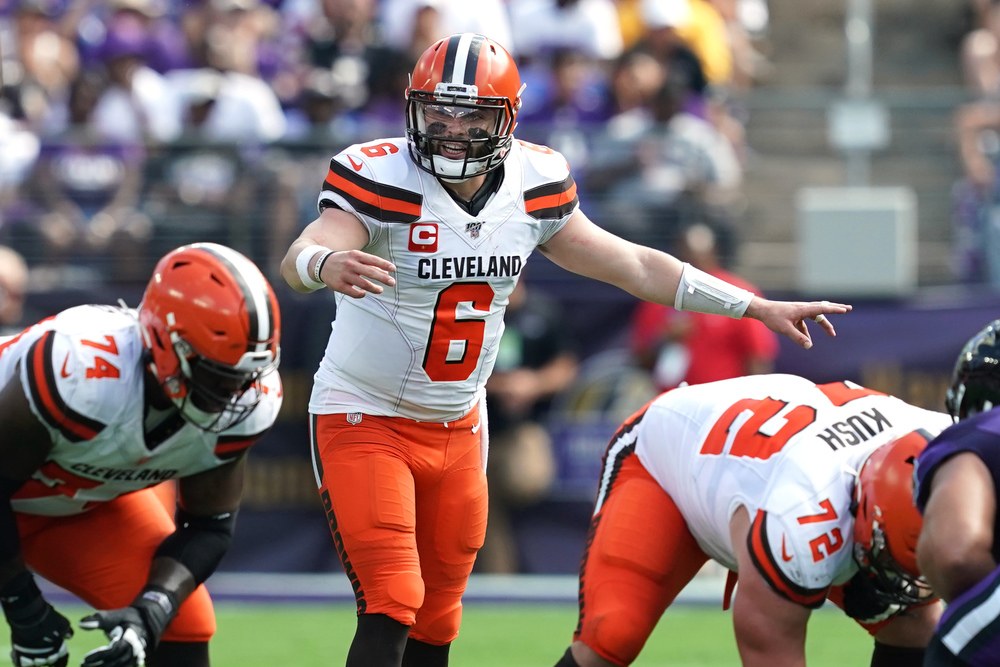 The Cleveland Browns could be on the verge of something special as they have added to the already loaded offensive unit. Cleveland acquired free-agent Pro Bowl tight end Austin Hooper and made him the highest-paid tight end in the NFL. The new contract is worth $42 million over four years, with $23 million fully guaranteed over the first two. The free agency period has been loaded with offensive changes like the Buffalo Bills going all-in on Stefon Diggs. With the league turning more and more pass-happy league, this was a perfect move for Cleveland. Hooper comes into Cleveland posting career numbers in 2019 with 75 receptions, 787 receiving yards, and six touchdowns. The young TE has the potential to really shine in Cleveland and oddsmakers are making a note of that. The Browns odds to win the Super Bowl went from 40-1 to 33-1 and winning the AFC from 16-1 to 15-1. So, does this new Browns offense with Baker Mayfield, Nick Chubb, Kareem Hunt, Odell Beckham Jr. Jarvis Landry, Austin Hooper, and David Njoku have a chance to win it all in 2020? Let's take a look at it game by game and predict the outcome for the Browns this season.
Away Games
Dallas Cowboys
The Cowboys were one of the best home teams last season and I do not see that changing heading into the 2020 season. Especially with how the Browns are always inconsistent, not sure they can turn it around against a consistently good home team. Loss 
New York Giants
QB Daniel Jones had a promising rookie season with the Giants, but I'm not sure the rookie has enough weapons to compete with the Browns for the whole game. It's a sloppy game, but Cleveland takes the W. Win
New York Jets
The Browns easily took care of the Jets a season ago and even though QB Sam Darnold was not playing in that game, it will not be much different if he starts in this one. Win
Jacksonville Jaguars
Can Mayfield takedown Minshew Mania? Remember Cleveland only won two games on the road in 2019 and will once again have their hiccups in 2020. Minshew steals one away from Cleveland. Loss
Tennessee Titans
QB Marcus Mariota got benched in 2019, but even his poor performance was enough to easily destroy the Browns. Just wait until Tannehill introduces himself. Loss
Cincinnati Bengals
Mayfield had three interceptions against the Bengals in 2019 which led to another road loss. I have a good feeling he can bounce back against a rebuilding Cincinnati team. Win
Baltimore Ravens
A season ago, Cleveland embarrassed Baltimore back in week four. The Ravens almost have to thank the Browns for that as it launched Baltimore on an impressive run following the loss.  They will make sure Cleveland does not destroy them once again. Loss
Pittsburgh Steelers
The Browns are currently on an impressive road losing streak against the Steelers. It currently stands at 15 straight games against them. That will continue. Loss
Home Games
Indianapolis Colts
The Colts have a new QB under center in Phillip Rivers and this will be no easy home game for the Browns. Cleveland had some impressive wins at home in 2019 and this will be one of them in 2020. Win
Philadelphia Eagles
Since 2000, Cleveland have lost five straight times to the Eagles and I do not see that streak stopping anytime soon. Philadelphia has the weapons to keep this game close and will win it late. Loss
Las Vegas Raiders
Derek Carr, Marcus Mariota, it does not matter who is starting for Las Vegas as this should be a controllable game for the Browns. Cleveland has the ground game to easily control the game against a weak Raiders rush defense. Loss
Washington Redskins
Washington still has a very young team to work with and 2019 showed they will still make those careless mistakes. Those mistakes will happen on the road as Cleveland gets a solid win. Win
Houston Texans
Can the Texans win without DeAndrew Hopkins? Can the young DeShaun Watson lead an offense without a star player? Too many questions for Houston as Cleveland takes the cake here. Win
Cincinnati Bengals
Another winnable game here for the Browns as they should be able to control the game with Chubb and play-action passes with Mayfield. Win
Baltimore Ravens
Unless this game favors the Browns by coming off a bye week, short week for Baltimore or a key injury, I'm not sure Cleveland can steal one away from the Ravens. Another tough loss here. Loss
Pittsburgh Steelers
Cleveland might not be able to take care of Pittsburgh on the road, but they will be able to take care of Pittsburgh at home. Browns take one away from the Steelers and finish with a divisional record of 3-3. Win
Taking an early look at the 2020 Cleveland Browns season, I have them finishing with an 8-8 record. In 2019 they finished with a 6-10 record and finished 3rd in the division. In 2020, they will be running toe-to-toe with the Steelers for a hopeful wild card spot but at 8-8 I'm not sure they can. Until the Browns show the world they can win with so much talent, do not hype them up.