College basketball Monday three-team mega parlay (+1074): Three straight for Beavers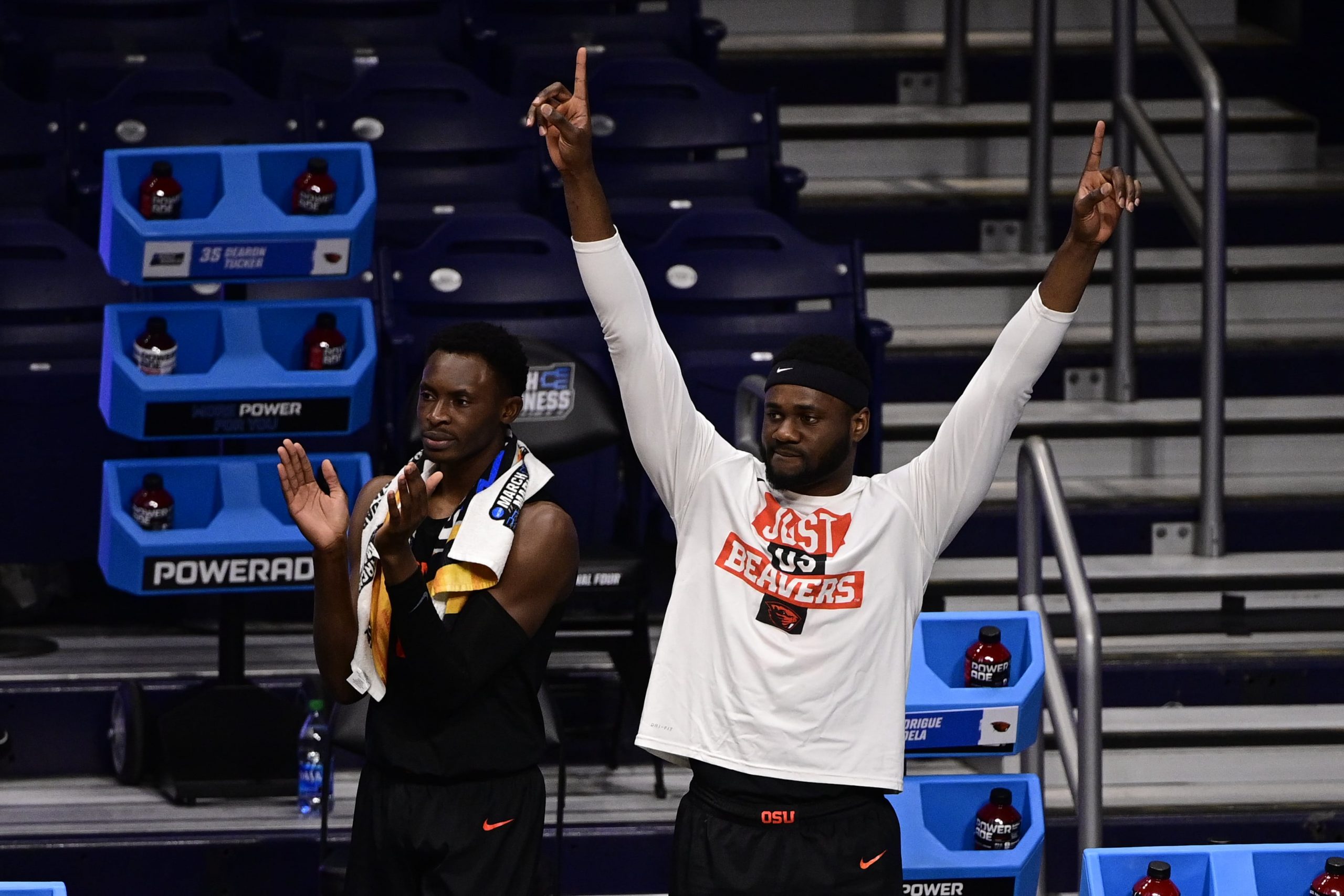 Welcome to our third college basketball mega parlay of the calendar year. We came within a Nebraska win in overtime of cashing Sunday's +1631 effort, but the Cornhuskers (+375 underdogs) fell just short in the extra frame and they succumbed to Ohio State. Alas, we have another opportunity today with several other Big Ten teams taking the court. Among those in action on Monday night are Purdue, Wisconsin, Iowa, and Maryland.
Let's take a look!
Iowa -9.5 (+105)
Arizona -29.5 (+200)
Oregon State -13.5 (-110)
For this parlay we are going with three favorites against the spread – two on an alternate number. Let's break down each of the three legs one by one.
Iowa -9.5 over Maryland (+105)
The Terrapins have been one the most puzzling teams to figure out this season. After beginning 2021-22 ranked in the AP top 25, the Terps have lost a home game to George Mason, saw head coach Mark Turgeon resign, and have recently won 3 straight games after losing 3 in a row. The biggest issue for Maryland has been scoring. Despite having one of the best backcourts in the Big Ten with Eric Ayala and Fatts Russell, the Terps are averaging only 70.3 points per game and they have the 2nd-worst 3-point percentage in the conference, making only 30% of their shots from deep. The Hawkeyes have been the complete opposite. Iowa boasts the 2nd-best scoring offense in the nation, averaging 87.9 points per game and a big reason why is the emergence of Keegan Murray, who leads the nation in points per game with 23.7. Iowa can win this one by double digits.
Check out our Maryland vs Iowa preview
Arizona -29.5 over Washington (+200)
The Huskies are just not good this season. They are solid on defense, but the Huskies are the worst offensive team in the Pac-12 by a wide margin. That is even with guard Terrell Brown Jr., the Arizona transfer, averaging 21 ppg. Washington just lost to Utah Valley State at home by 16 points even though it was a -5.5 favorite. Unfortunately, that is just the latest in a number of disappointing outings for the Huskies. Washington is 3-7 against the spread. Arizona is no  longer among the ranks of the unbeaten as it lost its last game at Tennessee by 4 points. There is no reason for concern, though. Tennessee is a very good team and that is a tough place to play. Even with the loss, the 'Cats are still the highest-rated team in the conference per KenPom (7th in the nation). Don't be surprised if Arizona wins this one by 30.
Check out our Washington vs Arizona preview
Oregon State -13.5 over Sacramento State (-110)
Oregon State is coming off an 88-76 win over Utah last Thursday. Up to this point in the season the Beavers have been a bit disappointing, but they enter tonight's game on a 2-game winning streak — defeating both opponents by 12 points. The Beavers are led by Jarod Lucas and Warith Alatishe, who were instrumental in Oregon State's Elite 8 run in last season's NCAA Tournament and the only players currently averaging double-digit points per game at a respective 13.8 ppg and 11.8 ppg. Sacramento State is coming off a 64-51 loss to Southern Utah last week. The Hornets boast only a single win against a Division I team with a winning record this season — the UC Davis Aggies — and have played only the 311th most-difficult schedule in the country. With the Beavers rounding into form, they should be the pick.
Check out all our college basketball previews and picks for Monday
Pickswise is the home of free College Basketball Picks and College Basketball Predictions. With top College Basketball picks available daily, including our College Basketball Best Bets.