College basketball Tuesday three-team mega parlay (+1173): Party for Sparty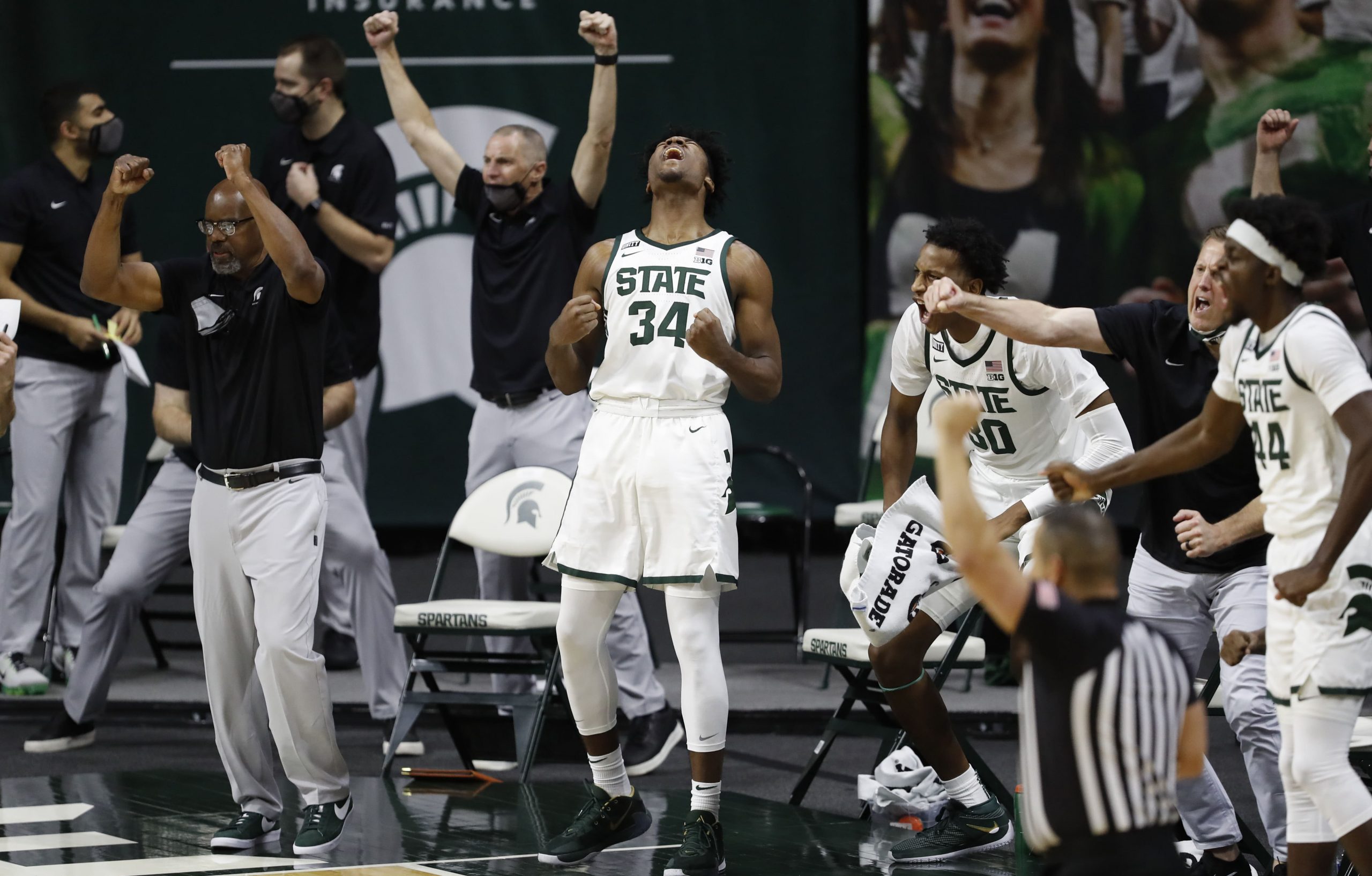 Colleges are on Christmas break, but basketball never stops. There are a couple of huge slates this week, and today sees one of them. Among the teams taking the court are Kansas, Alabama, Michigan State, Iowa State, Villanova, and Xavier. Although coronavirus-related cancellations continue to put a blemish on the schedule, there is more than enough to work with as we try to formulate a winning mega parlay.
Jacksonville ML (+190)
Fresno State ML (+130)
Michigan State -11 (-110)
For this parlay we are going with one favorite against the spread and two underdogs on the money line. Let's break down each of the three legs one by one.
Jacksonville ML over Pittsburgh (+190)
Pittsburgh actually won a game this past Saturday, beating St. John's 59-57 at Madison Square Garden on Jamarious Burton's runner with 0.4 seconds remaining. John Hughley leads the Panthers with 15.1 ppg and a team-high 8 rpg this season; Burton and Femi Odukale are the only other players averaging double-digit points per game with 11 ppg and 10.8 ppg, respectively. Jacksonville is coming off an 87-48 win over the Webber International Warriors, an NAIA school. Motivation may be tough to find for the Panthers, who just played in MSG against a Power 5 opponent and have an ACC showdown against Notre Dame next up on the schedule. With Pitt scoring more than 60 points in just 4 of its 11 games, this is a nice opportunity for Jacksonville to pull off a minor upset.
Check out our Jacksonville vs Pittsburgh preview
Fresno State ML over Utah (+130)
Utah is coming off an 83-75 loss to Missouri last weekend. Following a 6-0 start to the season including the championship at the Sunshine Slam basketball tournament, the Utes have gone 2-4 and have fallen to 2-4 against Power 5 opponents. Seven-foot senior Brandon Carlson leads the Utes with 13.9 ppg and 6.1 rpg, while Both Gach and David Jenkins Jr. are the only other players averaging double-digit points per game with 13.4 ppg and 12.4 ppg, respectively. The visiting Bulldogs are coming off an 83-48 win over Cal Poly at home on Friday and enter tonight on a 2-game winning streak. Fresno State has won 4 of its last 5 games and has won by an average margin of 20.3 ppg in that span. Junior Orlando Robinson (7'0") is leading the Bulldogs with 18.3 ppg and a team-high 8.1 rpg. He should match up well with Carlson. The Utes lack a strong primary playmaking guard, which could prove troublesome against a stingy Bulldog defense. Fresno State forces 14.8 turnovers per game.
Check out our Fresno State vs Utah preview
Michigan State -11 over Oakland (-110)
Michigan State is the recommended side in this in-state battle. This game is being played closer to Oakland's campus but obviously East Lansing is close to Detroit, as well. Jamal Cain is averaging 21.2 points and 10.5 rebounds per game for the Grizzlies and is just way too athletic for many of mid-major players he goes up against. That obviously won't be the case in this matchup with the Spartans, as they have several wings similar to Cain. We should still expect a good game from him, but it would likely take a heroic game from him to cover this spread; the rest of the matchup favors the Spartans. Oakland is playing a familiar zone under head coach Greg Kampe, but it's a zone Tom Izzo and the Spartans are very familiar with. Just last season, Michigan State scored 109 points in a win against Oakland. Sparty has the shooting ability to punish the zone, ranking 25th nationally in three-point percentage.
Check out all our college basketball previews and picks for Tuesday
Pickswise is the home of free College Basketball Picks and College Basketball Predictions. With top College Basketball picks available daily, including our College Basketball Best Bets.