College basketball Wednesday three-team mega parlay (+1217 odds): Defending champion Baylor to come up big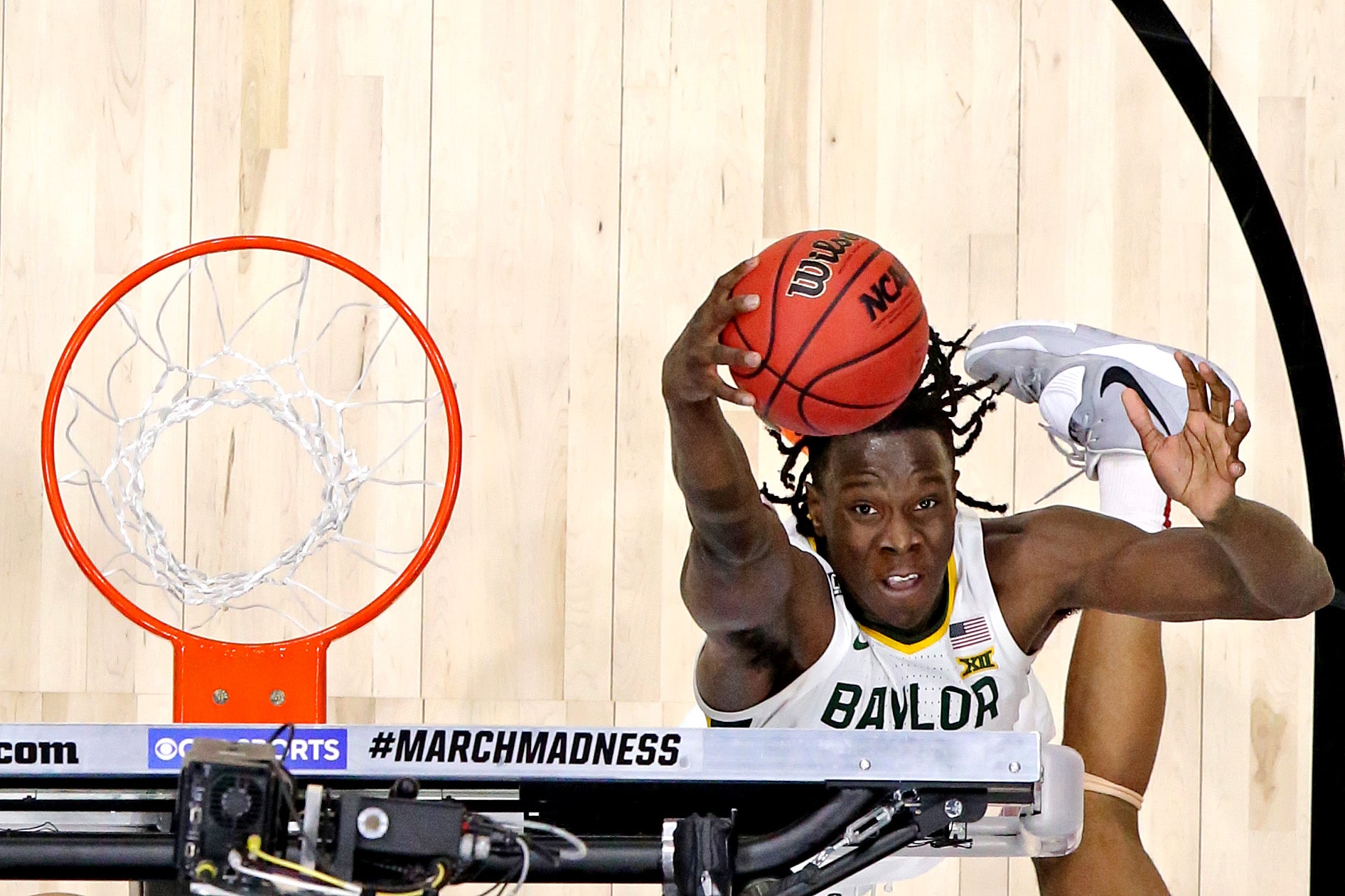 What a time to be a college sports fan. It's rivalry week in college football, conference championships and bowl games are almost here, and the college basketball season is heating up with various Thanksgiving tournaments. Among the teams in action on the hardwood on Wednesday are Baylor, Michigan, Michigan State, Memphis, Oklahoma, Houston, Oregon, and Wisconsin. Baylor is a big piece of today's mega parlay.
Loyola Chicago ML (+130)
Syracuse to win by 11+ (+200)
Baylor -11.5 (-110)
For this parlay we are going with two favorites against the spread (one on an alternate number) and one underdog on the money line. Let's break down each of the three legs one by one.
Loyola Chicago ML over Michigan State (+130)
The Ramblers have become pretty well known by most college basketball fans by now. This is a pivotal season, as they are playing without former head coach Porter Moser and former star big man Cameron Krutwig. So far they are 4-0. Sure have not really played anyone yet, but early returns are encouraging. This program is not going to be intimidated by taking on a Big Ten foe. It knocked Illinois out of the NCAA Tournament last spring. Michigan State has bounced back from its loss to Kansas in the season opener. The Spartans have won and covered in their last three, but this one will be another real test. They have been winning big even though top recruit Max Christie is not giving them a ton and veteran forward Joey Hauser even less. If they don't get a top effort from just about everyone, they may not be able to beat the Ramblers.
Check out our Loyola Chicago vs Michigan State preview
Syracuse to win by 11+ over VCU (+200)
This showdown is taking place in the Battle 4 Atlantis Tournament. The Rams are coming off a 56-54 loss to Chattanooga on Saturday, when they shot just 30.8% from beyond the arc. Their offense has struggled all season, averaging just 50.8 points per game. Syracuse comes into this event with a 2-1 record. The Orange fell to Colgate for the first time in forever and gave up 100 points in the process (they at least scored 85 points, themselves), but there is no reason to think that VCU – or really anyone else – can inflict that kind of damage. Colgate caught fire from beyond the arc, pouring in 18 3-pointers on the Orange's typically difficult zone. Syracuse's offense has been stellar through the first 3 games, averaging 85.7 ppg. This is an interesting matchup between two completely opposite teams. VCU has been impressive defensively, not letting up more than 58 points through their first four outings. Syracuse has struggled guarding their opponents but has been impressive on the offensive end. Something has to give in this one and I expect Syracuse to bounce back from that upset loss this past Saturday. The likely scenario is that VCU can't keep up with the Orange's ability to score. Cuse is favored by 6, but I think there is good value on teasing the number considerably higher.
Check out all our college basketball previews and picks for Wednesday
Baylor -11.5 over Arizona State (-110)
Baylor is looking very sharp to start the season, Most recently the defending champs dismantled Stanford 86-48 at home. They have covered their last 3 games as they look to beat another Pac-12 opponent in Arizona State. The Bears are one of the deepest teams in America; nine players are averaging more than 15 minutes per game. They thought Adam Flagler and Matthew Mayer would be the leaders, but they have struggled offensively. Even so, you wouldn't know it from the results. Baylor has so many options that it can overcome daily struggles from more than a couple of guys. Arizona State is 2-2 with two close losses. The Sun Devils are definitely playing differently than they did a season ago, but improved results are not there. This team is playing much slower, scoring in the 60s and giving up points in the same range. Forward Kimani Lawrence is leading the team at 16 ppg. That is a sign of improvement, but Marcus Bagley and transfer Marreon Jackson have been big disappointments this season. Baylor is deeper and more talented and most importantly it knows how it wants to play. Arizona State is still looking for a lot of answers and taking on the champs hardly seems the place to find them.
Check out our Arizona State vs Baylor preview


Pickswise is the home of free College Basketball Picks and College Basketball Predictions. With top College Basketball picks available daily, including our College Basketball Best Bets.