College football futures watch: Stroud surges to top of Heisman Trophy race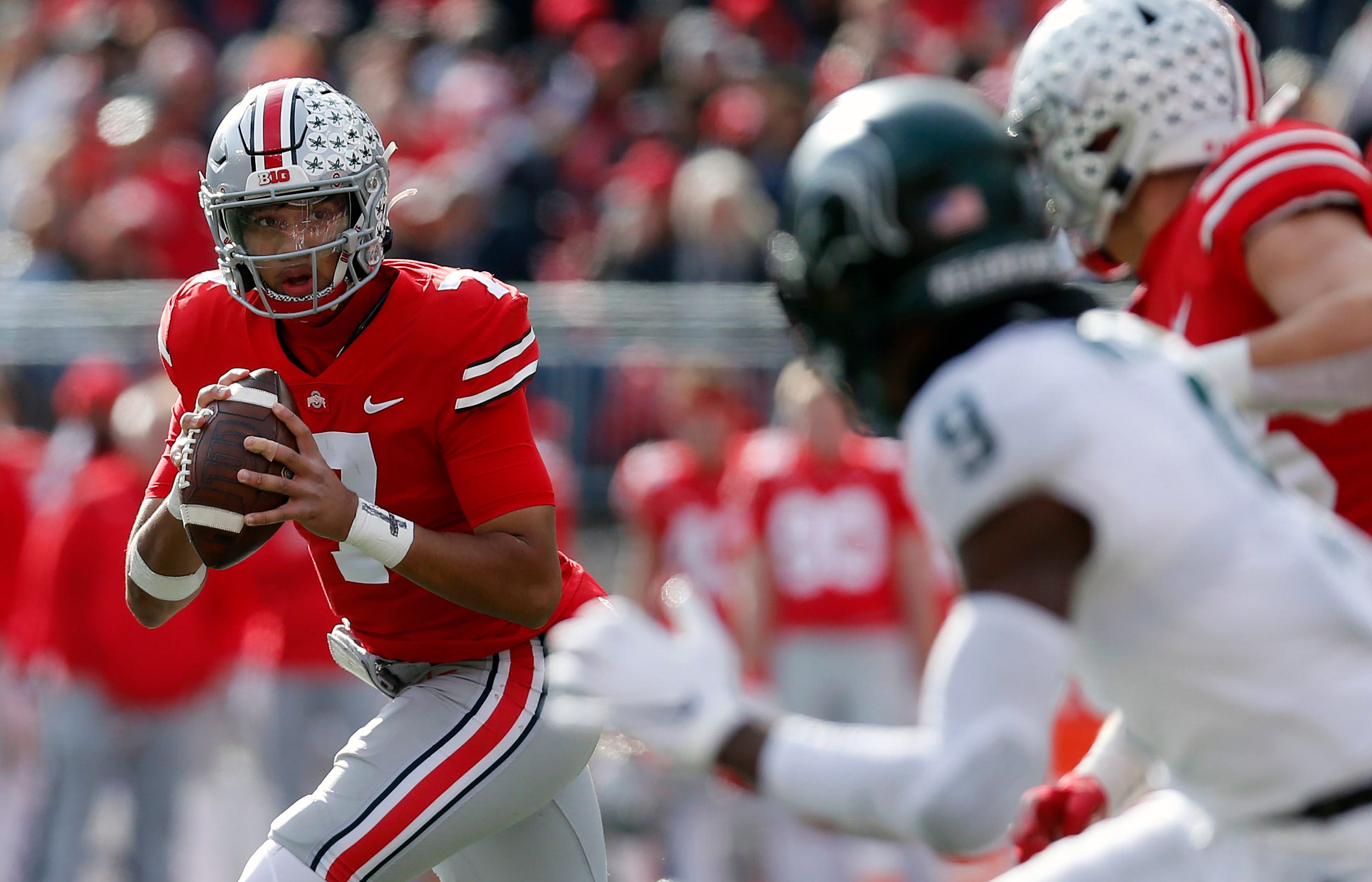 CJ Stroud and Ohio State made a move on the list of Heisman Trophy and National Championship favorites, respectively, when they hammered Purdue 59-31 in Week 11 of the college football season. They made an even bigger statement on Saturday, when the Buckeyes destroyed Michigan State 56-7. Georgia is still favored over the entire field, but Ohio State seems poised to make things interesting.
Let's take a look at where some of the futures markets stand following 12 full weeks of college football action.
National Championship
Georgia -120
Ohio State +300
Alabama +400
Cincinnati +3500
Michigan +4000
Oklahoma +4500
Oklahoma State +5000
Notre Dame +5000
Georgia is still No. 1 – both in the rankings and the odds – but there is a new No. 2 in each department. Ohio State surged into the second spot in the AP poll on Sunday, leapfrogging Alabama, Cincinnati, and Oregon (the Ducks lost to Utah this past weekend). The Buckeyes are also the second favorite to win the College Football Playoff, as their odds improved from +400 to +300. Due to both Ohio State's dominant display and their own struggles, the Crimson Tide dropped from +360 to +400 following an unimpressive 42-35 victory over Arkansas.
Who is the primary beneficiary of Oregon's second loss? Ohio State and Alabama already controlled their own destiny, although the Ducks' result could come in handy if either one suffers a second loss of its own down the road. Michigan will also get into the College Football Playoff if it upset Ohio State and wins the Big Ten title, so nothing changed for the Wolverines. Right now, Cincinnati and Notre Dame gained the most. The Bearcats' odds spiked from +5000 to +3500, while the Wolverines soared from +8000 to +4000. Some of that had to do with their own victories of 34+ points, but it can mainly be attributed to Oregon opening the door.
Heisman Trophy
CJ Stroud, QB, Ohio State -200
Bryce Young, QB, Alabama +150
Matt Corral, QB, Ole Miss +2200
Kenneth Walker III, RB, Michigan State +2800
Kenny Pickett, QB, Pittsburgh +4000
Jordan David, DT, Georgia +6000
And then there were two…. Kenneth Walker III was in the very realistic Heisman discussion heading into Michigan State's date with Ohio State, but a 25-yard effort in a blowout loss all but ends his chances. Now nobody other than Stroud and Young has better than +2200 odds to lift the stiff armed-statue. Stroud was +240 prior to his most recent performance; now he is -200. Just how good was the freshman? Well, Young threw for 559 yards and 5 touchdowns and he still fell out of his status as Heisman favorite. Stroud may be able to put an exclamation point on things when Ohio State and Michigan square off on Saturday in Ann Arbor.
SEC and ACC
It was always a two-horse race in the SEC, and now it's official with Alabama joining Georgia in clinching division titles. The Bulldogs are -195 to win next month's SEC Championship, while the Crimson Tide are +165 to pull off an upset.
It's also likely down to two in the ACC. Despite its loss to Clemson, Wake Forest is still a +260 second choice to capture the title. Pittsburgh is a -165 favorite. NC State (+800) and Clemson (+1600) are mathematically alive in their efforts to reach the championship game, but both need help.
At Pickswise we offer free expert College Football Picks and College Football Predictions for all games in the Power Five conferences and the top 25 teams outside of Power five, including our College Football Parlay picks each week.