College football Week 4 reaction: What's going on in the ACC?!?!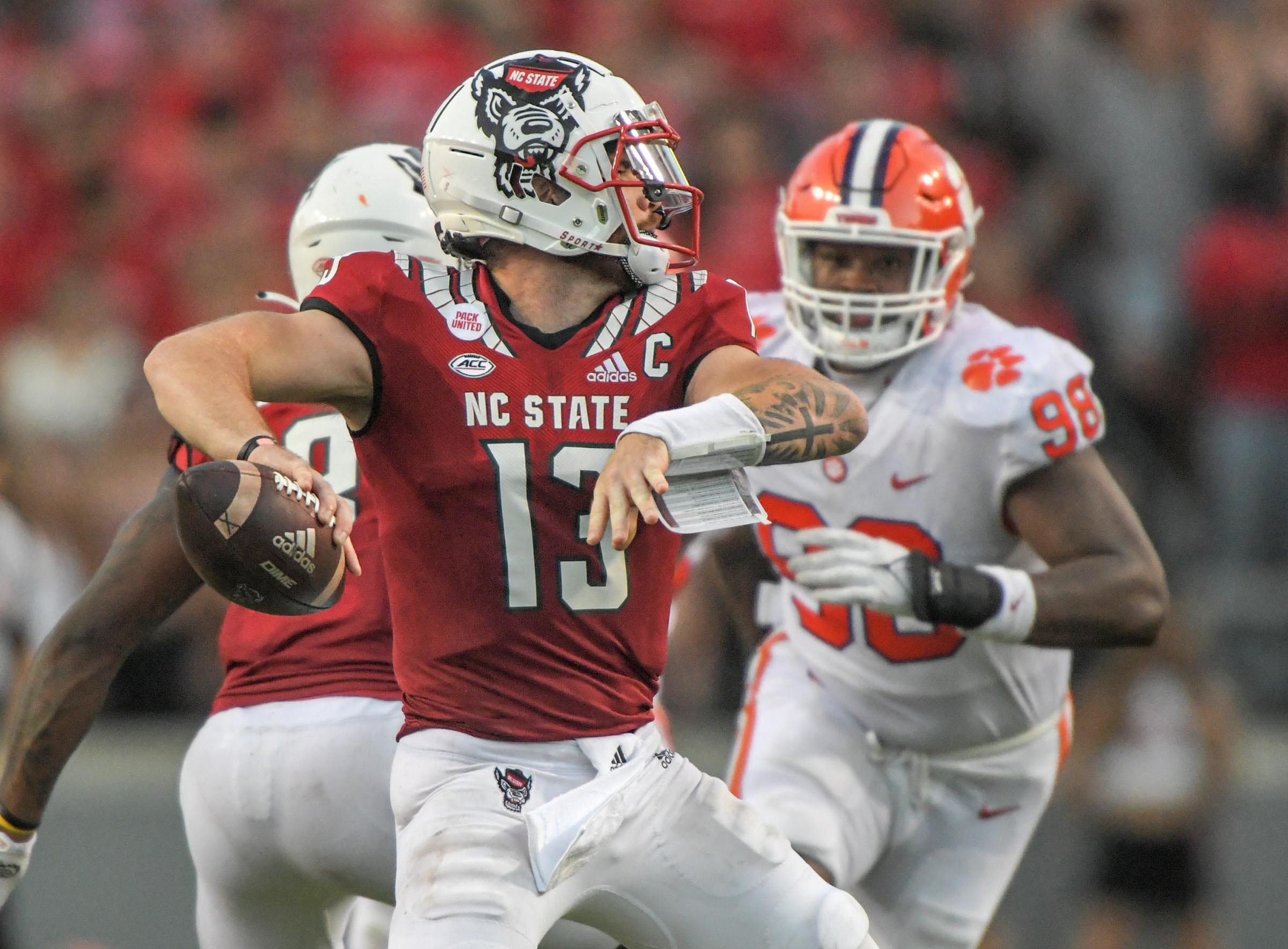 Clemson played with fire one too many times in the ACC and got burned by N.C. State in overtime on Saturday. North Carolina got blown out by Georgia Tech 45-22. Take a gander at the ACC standings and you will see Wake Forest atop the Atlantic Division, followed by Louisville and N.C. State (Clemson is fourth). Virginia Tech is first in the Central.
For the first time in a while, ACC title odds are actually going to be interesting when they are released on Saturday night or Sunday morning. At long last, the Tigers are no longer locks.
Let's break down some of the things we learned—or think we learned—during another wild weekend of college football.
Stick a fork in Clemson
Clemson's 27-21 double-OT loss to N.C. State all but ends the National Championship hopes for head coach Dabo Swinney. In a season when things get really crazy, some powerhouse program with 2 losses could conceivably get into the College Football Playoff. That won't be Clemson in 2021—not when you have a loss to N.C. State and looked offensively inept against Georgia (10-3 loss) and Georgia Tech (won 14-8). For whatever it's worth, the Tigers are now +6000 to win it all.
By the way, it was good day to be Alabama. Clemson's ouster from College Football Playoff competition opens the door for several other top teams to lose once and still coast into the semifinals. There is no reason to think that the Crimson Tide will lose at any point, but if they do it may not be a serious problem. Oh, yeah; it should also be noted that Auburn looked terrible this weekend. It would have been fun for 'Bama fans to make fun of the Tigers following a home loss to Georgia State, but even a last-second win is pretty sad. The Iron Bowl is shaping up to be a snooze-fest in 2021.
More Notre Dame controversy is coming
Is it a true college football season if it doesn't have controversy involving Notre Dame and the College Football Playoff? Well, we probably won't find out this season because it looks we will have it—again. The Fighting Irish pulled away from 18th-ranked Wisconsin for a 41-13 victory, improving to 4-0. Based on the remaining schedule, chances are good that head coach Brian Kelly's team finishes with one loss. If that's the case, let the controversy begin! Heck, Notre Dame haters (of which there are many) would probably complain about the Irish's CFP inclusion even if they go undefeated. Going to overtime with Florida State and scraping past Toledo 32-9 are already borderline black eyes on the resume that can be flagged.
But for those hoping that ND loses twice, well…don't hold your breath. Saturday's performance against the Badgers suggests losses will be few and far between in South Bend.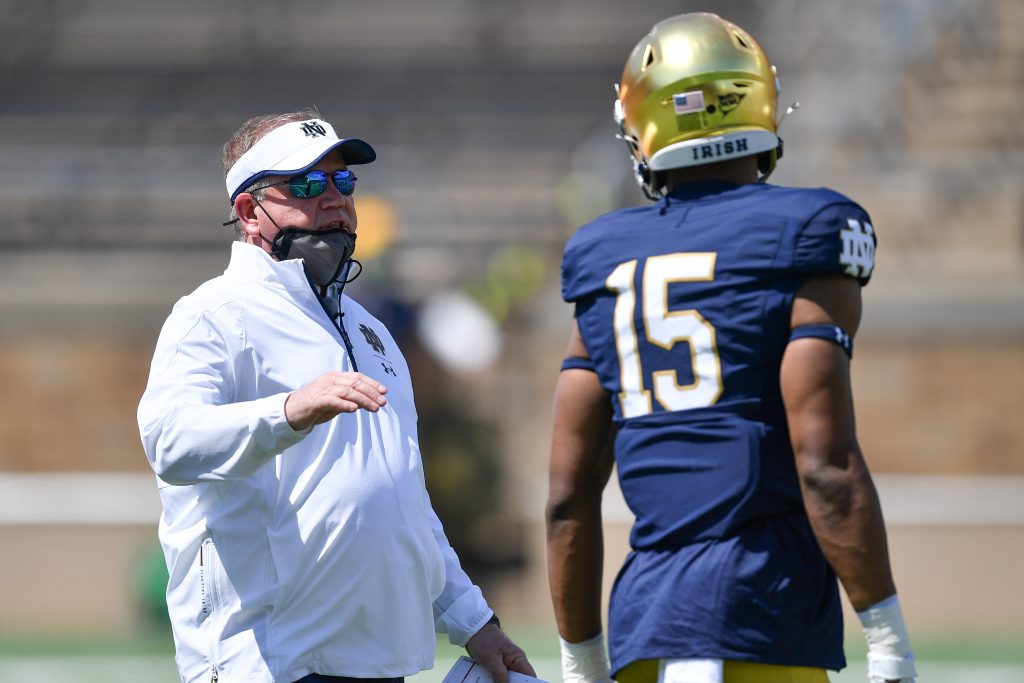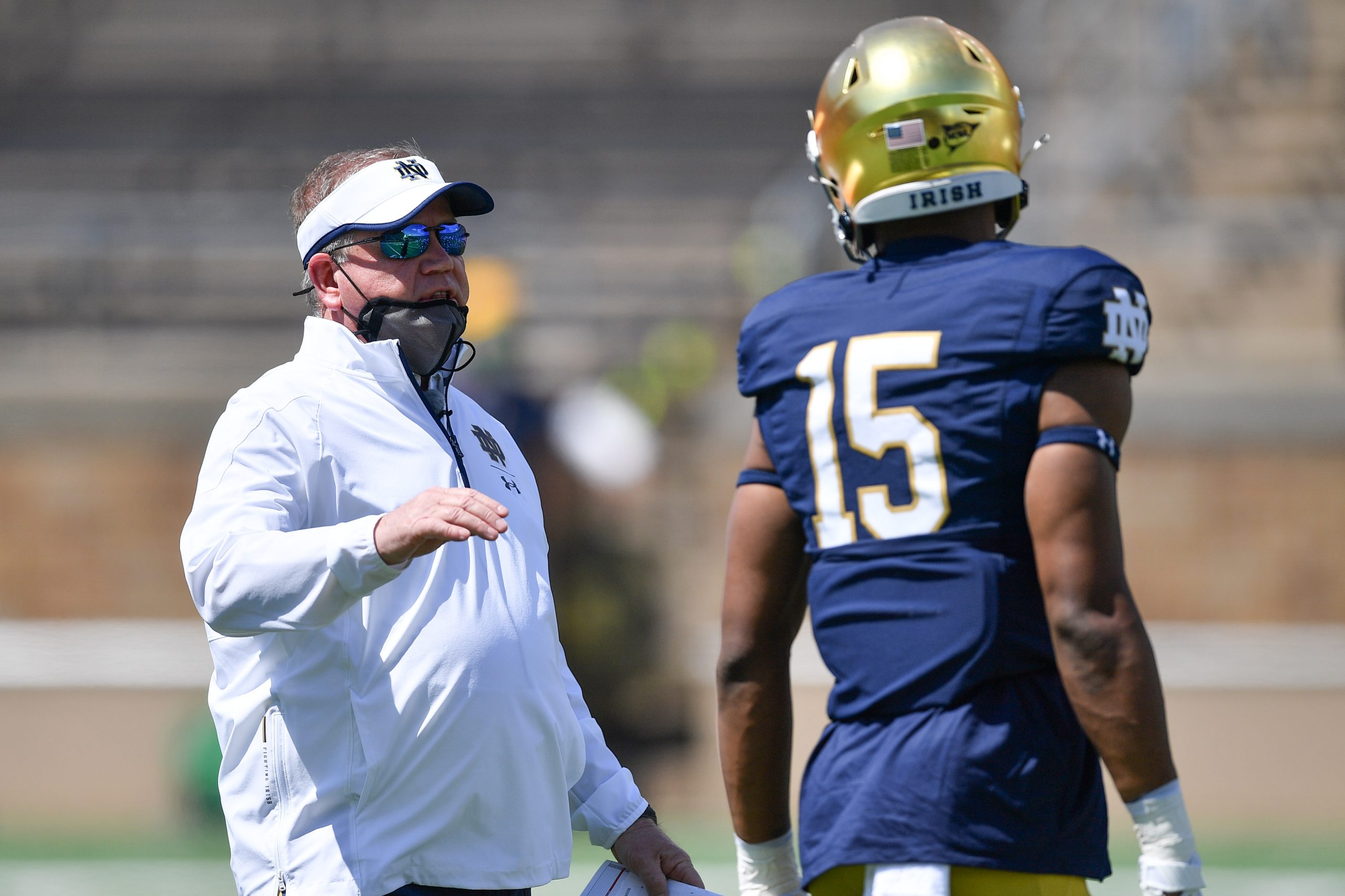 Arkansas is the real deal; Oklahoma is not
I told you Arkansas would cover against Texas A&M. Of course, the Razorbacks didn't just cover; they dominated 20-10 in a game that was never particularly competitive. I heard experts saying that the Aggies would control both sides of the ball with first-round NFL talent up front, but there was no reason to believe it. A&M did not impress in its only previous outing against a decent opponent (a 10-7 win over Colorado), whereas Arkansas had utterly destroyed three teams—including Texas. Head coach Sam Pittman has changed the culture in Fayetteville and year two under his direction is proving to be special. Speaking of special, KJ Jefferson is elite.
At this point I would sprinkle a few bucks on Jefferson at +10000 to win the Heisman Trophy a lot quicker than I would on Oklahoma QB Spencer Rattler at +2500. The Sooners are still undefeated, but after beating West Virginia 16-13 they have now endured serious scares against all three of their Division I opponents (also Tulane and Nebraska). That's it; I'm off the OU and Rattler bandwagons.
At Pickswise we offer free expert College Football Picks and College Football Predictions for all games in the Power Five conferences and the top 25 teams outside of Power five, including our College Football Parlay picks each week.