Early Birds: NFL Week 4 opening lines, early bets and market predictions - Bears bounce back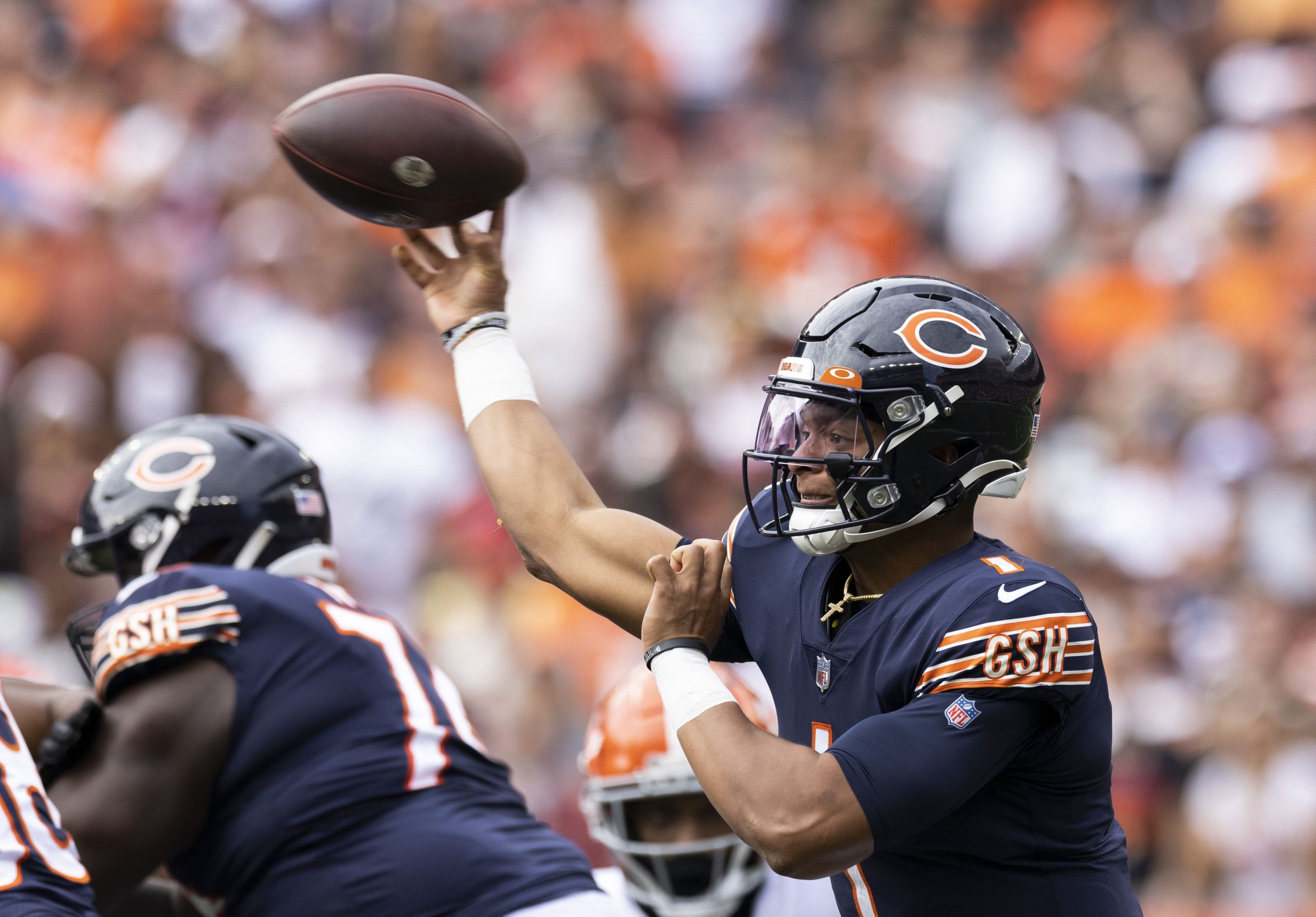 Let's turn our attention to the lines for Week 4 in the NFL and Week 5 in college football. This weekly column will serve as a guide for games we are targeting early in the week and our predictions for how the market might move.
Ole Miss Rebels at Alabama Crimson Tide
Ole Miss +14.5
*Bet at MGM on Sunday night
The Rebels have been a big market mover in the early stages of the season, most notably quarterback Matt Corral, who is now the favorite to win the Heisman Trophy at MGM, moving from +2500 before the season began to +160 now. The lookahead line for this game was +16.5 and has moved considerably in the Rebels' direction despite them sitting idle. Alabama didn't show much either in a cupcake win over Southern Miss.
On paper, these teams are relatively even, in fact the Rebels have a higher Net Yards Per Play (2.7) than the Crimson Tide (2.3) and I think they also have an edge at quarterback (Corral) and play-caller (Lane Kiffin). I'm already starting to see +14 at some shops and would not be surprised if this closed at 13.5 or shorter as steam builds on Ole Miss.
UL Monroe Warhawks at Coastal Carolina Chanticleers
Coastal Carolina -32.5
*Bet at MGM on Sunday night
The Warhawks might be the worst team in the FBS. They are 130th (dead last) in YPP (2.9) and 110th in Opponent YPP (6.5), which means their net number is almost minus-5. Yikes. Meanwhile, the Chanticleers are starting to strut their stuff and are coming off a 53-3 drubbing of UMass. I hold the Minutemen in similar regard as I do ULM, so I could see a similar scoreline playing out this week. The lookahead line in this game was -31.5 and I've already seen -34.5 at a couple of spots so I'm expecting a close to around -35 or longer.
Find out the latest college football market moves in our futures focus!
Detroit Lions at Chicago Bears
Bears -3 (-115)
*Bet at DraftKings on Sunday night
This line reminds me a lot of the Dolphins/Raiders game last week. The lookahead line was Bears -6, so it's now moved a full three points against Chicago, and I think the market has overreacted a bit from what we saw on Sunday. Sure, Justin Fields did not look great against the Browns, but it was his first career start, on the road, facing a pair of No. 1 overall picks at defensive end (Garrett, Clowney).
The Bears will see a much softer front this Sunday against Detroit, who are coming off a highly physical game against the Ravens that ended in heartbreaking fashion. I don't love the way Matt Nagy has utilized Fields so far, but this is a good buy-low spot for the rookie, laying only a field goal at home against one of the worst teams in the NFL on paper.
Carolina Panthers at Dallas Cowboys
Panthers +5
*Bet at Unibet on Sunday night
This is my favorite NFL spot of the week so far at this early stage. Carolina gets 10 days of rest and is catching 5 points against a Cowboys team that will be coming off a tough divisional game on Monday night. The Panthers also tipped their hand this week, trading for former first-round pick CJ Henderson from the Jaguars. It's an aggressive move that shows how the Carolina front office feels about their team this season, which is clearly a win-now mindset.
I'm also not as concerned with the Christian McCaffrey injury as others may be. Chuba Hubbard and Royce Freeman should fill the void at running back and Henderson will replace the hole left by fellow first-round corner Jaycee Horn, who suffered a broken foot last Thursday against the Texans.
The lookahead here was Cowboys -5, so we aren't gaining any value on either side, but if Dallas struggles on MNF against the Eagles, I can see this sinking to -4 or shorter very quickly.
NFL Week 4 opening lines
Let's look at the early lines for this week's NFL Week 4 slate, courtesy of FanDuel Sportsbook:
Thursday Night Football
Jacksonville Jaguars (+7.5) at Cincinnati Bengals
Sunday afternoon
Washington Football Team (-1) at Atlanta Falcons
Detroit Lions (+3.5) at Chicago Bears
Tennessee Titans (-7.5) at New York Jets
Cleveland Browns (-1.5) at Minnesota Vikings
Indianapolis Colts (+2.5) at Miami Dolphins
Carolina Panthers (+4.5) at Dallas Cowboys
New York Giants (+7.5) at New Orleans Saints
Kansas City Chiefs (-6) at Philadelphia Eagles
Houston Texans (+17.5) at Buffalo Bills
Arizona Cardinals (+6) at Los Angeles Rams
Baltimore Ravens (+1) at Denver Broncos
Sunday Night Football
Tampa Bay Buccaneers (-5.5) at New England Patriots
Monday Night Football
Las Vegas Raiders (+3) at Los Angeles Chargers
Make sure you also check out the opening lines for Week 5 of the college football season!
Pickswise is the home of NFL Picks. Check out our latest playoff picks and round-by-round analysis as well as our free Super Bowl predictions.